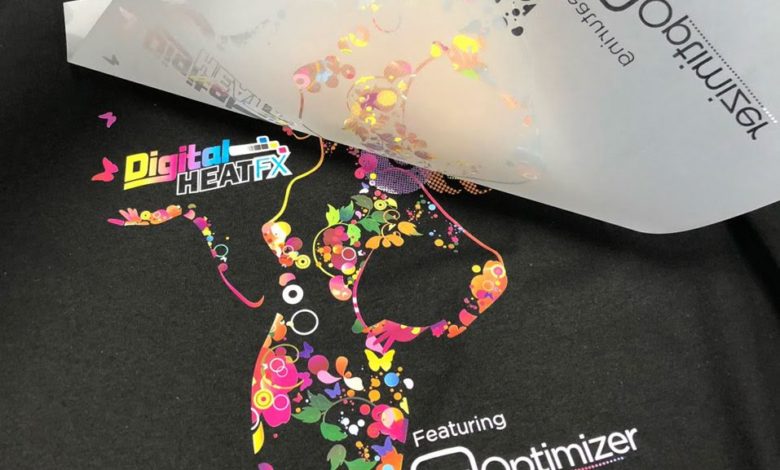 T-Shirt printing supplies can mean many different things. To a screen printer, it's pales of ink. To a sublimation shop, its sublimation ink and blanks. A white toner transfer shop buys toner and transfer paper. Then there are digital printers and the print and cut vinyl users with a pretty broad array of needed supplies. All just to print custom T-shirts! 
So, what supplies do you need for different kinds of garment printing, and how do you source them?
Sublimation supplies
If you're not running a large sublimation printer for roll-to-roll applications, you're probably using a desktop unit to produce custom T-shirts.
The Sawgrass VirtuosoSG500, SG1000, and the larger VJ628 all share the need for three things:
Sublimation inks

come in cyan, yellow, magenta, and black cartridges and sell for between $77 and $131 each. 

Sublimation paper

comes in sheets or rolls and a huge variety of sizes. The price for a 100 count of 11″ X 17″ paper is just over $31, so you can use $.31 per sheet for estimation. 

Blank imprintables

or special sublimation blanks are needed because they're either made of or coated with a polyester material that allows the ink to bond permanently with the item. Polyester shirts, like those in the Vapor Apparel line, are made for sublimation and give the best results. 
It's a good idea to purchase supplies from a company that sells printers. Companies that sell sublimation printers tend to have more support staff with experience of actually using the printer you're using. That puts them in a better position to recommend the right supplies and the motivation to make sure your printer stays up and running—because you're their customer in more than one way. 
OKI white toner printer supplies
There's a difference between printing transfers on a home inkjet or laser printer and using a white toner printer, like those from OKI or UniNet. 
All you need for the more home-grown style transfers is a decent transfer paper. But that's not sufficient for a business selling custom Ts.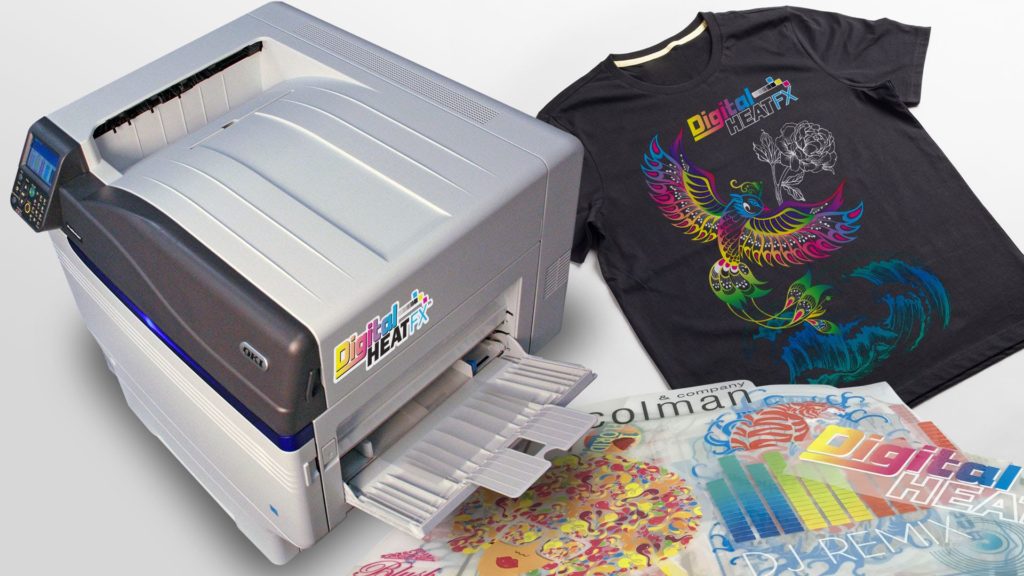 Unlike sublimation, the white toner printers use toner and not liquid ink. They're basically a commercial full-color LED/laser printer, and they combine cyan, yellow, magenta, black, and white to make the image transfers. 
That white toner is why there are only two required supplies to make full-color transfers.
Transfer paper

: This is not the same as sublimation or home-based transfer makers. The white toner transfer paper, like EZ Peel or Forever Dark brands, is designed specifically for that toner and to adhere to almost any material. Pricing per completed transfer sheet is between $4 and $4.50 typically.

Toner:

Toners are basically powders applied to paper, then heated/melted onto it very quickly. So while the cost per toner cartridge is much higher than sublimation ink, every toner cartridge holds much more. That means you have to order less often and don't have to worry about storing inks. Typical toner prices for an OKI pro8432WT printer, for example, are $172 each for CMY and about twice that for white. The good news is your return on investment for toner cartridges is incredibly high. 
If you'll notice, there's no requirement for special blanks. White toner transfers can be applied to light or dark shirts, polyester, or cotton. You can also use them on untreated substrates, unlike sublimation. 
DTG printing supplies
Direct-to-garment or DTG is a digital inkjet printing method. It works almost exactly like your color inkjet printer at home, just on a larger scale and more purpose-built.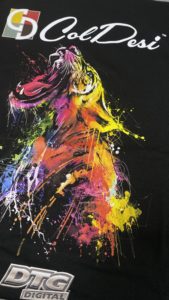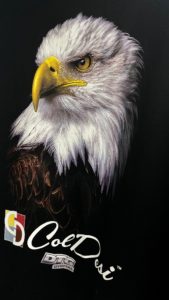 You load a piece of paper into your home printer and send a file over. It pulls the paper in and sprays a combination of different color inks to make an image. Ink is used just where the image is printed. 
A DTG printer does the same, only with a blank T-shirt. 
For supplies, it uses the same colors as the white toner printers do: cyan, yellow, magenta, black, and white. It usually uses two or more white cartridges because it's used at about twice the frequency of the other colors. 
Also, the shirt must be treated to accept and bond the print to the fabric. The printing supplies look like this:
Ink cartridges

: Each DTG printer uses specific cartridges that have chips built into them. That allows the printer to tell you when ink is low and make sure you're putting the right ink into the right spot. For example, you'll spend between $72 and $144 on an ink purchase for a G4 DTG printer, but there is a wide variety depending on printer brand and cartridge size. 

Pretreatment:

This liquid comes by the gallon or liter. You spray it onto each shirt using a hand sprayer or, more typically, an

automatic pretreat machine

. The liquid costs about $.35 per shirt and a gallon of it sells for roughly $79. 

Blank shirts

: Like a sublimation printer, a direct-to-garment printer does the best printing on a specific kind of material. For DTG, it's natural fibers like 100% cotton, hemp, bamboo, and rayon. T-shirt printer resellers recommend 100% ringspun cotton material for the best results.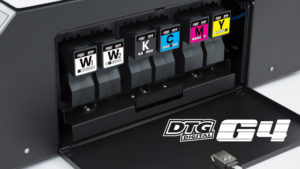 The best part about printing with white ink is, similar to white toner printers, you can put an image onto a dark-colored or blank shirt. 
Print-and-cut T-shirt vinyl supplies
A print-and-cut system is the combination of a vinyl cutter and an inkjet printer. You load a roll of printable vinyl onto the cutter, it prints the image onto that vinyl, then cuts around it. Once the vinyl is printed and cut, you simply weed the interior cut pieces out and peel off your transfer to apply to a T-shirt. This is the only process that you have to weed. 
For example, the supplies you need to run a Roland BN-20 are:
Vinyl

: There are many options in vinyl rolls depending on length, special features, and application type. Look for heat transfer vinyl for printing and cutting designs for T-shirt applications.

Ink cartridges:

Remember, a print/cut system is a combination of inkjet, like DTG, and vinyl cutting. The inkjet part requires CMYK cartridges that cost about $73 each. There's no white ink needed because the vinyl you print on provides the white layer. 
In addition to these supplies, there are various ancillary parts and liquids you need to operate the device, including blades that need replacing regularly.
What else you need
Of course, all of these printers need some parts replaced or maintenance over time, and you'll need heat pressing supplies as well. Here's a shortlist of other items and parts you might need:
A fuser in an LED printer

Flushing/cleaning cartridges for DTG, sublimation, print/cut

Heat press supplies like:

Parchment paper

Teflon sheets

Heat press pads and pillows
T-shirt printing supplies vary widely depending on your device. Keep this in mind when you're choosing your printer in the first place. Making smart, long-term decisions could make a big difference in profitability just due to the supplies you'll need to purchase.
What kind of shirts can you sell? What do your customers want?
Sublimation printers only print on light colored polyesters—very inexpensive upfront but limited in apparel options

Direct-to-garment printers cost much more upfront, but each shirt can be just pennies in ink (Washes incredibly well and feels great but only on cotton fabric) 

Print-and-cut requires weeding, which can be time-consuming, and you have to purchase both vinyl and ink (It's incredibly versatile; you can make stickers, signs, and more)

White toner printers are cost-effective upfront and can be applied to almost any fabric or color
Whatever you choose, start with your customers and sales potential first, but keep those T-shirt making supplies in mind.