Features
Suuchi Inc. Set Out to Change Apparel Manufacturing Industry
Suuchi Ramesh, founder and CEO of Suuchi Inc., is looking to revolutionize the apparel manufacturing industry.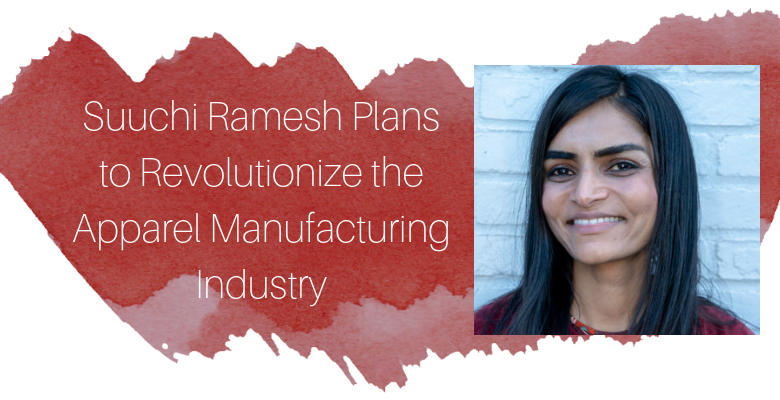 Suuchi Ramesh is a first-generation immigrant bringing hundreds of jobs to the U.S. and allowing entrepreneurs the opportunity to start an apparel brand through a revolutionization of the apparel manufacturing industry.
With a background in technology and software engineering, Ramesh saw an opening in an industry that was "old-fashioned" and "fragmented." She doesn't come from a manufacturing background or even fashion for that matter, but she says her familiarity with supply chains and efficiencies along with the right team paved the way for her to "use simple technology and create a platform to mold the industry to the future."
Her New Jersey-based company Suuchi Inc. is a supply chain technology company. As she describes it, "Our technology provides end-to-end services for the apparel industry. We provide technology-enabled full-service solutions from design to cut-and-sew." All production processes happen locally. Additionally, the Suuchi Grid platform is a technology that stands on its own two legs, and Suuchi Inc. sells it to large and small fashion brands. With the Suuchi Grid, Ramesh works with 150 different apparel brands to take care of the supply chain in its entirety including sourcing the fabric, designing the CAD, tech pack, markers, production, and shipping. Regarding fabrication and decorating, the company offers washing, dyeing, beading, embroidering, and various kinds of printing.
To make this possible, the company works with a group of freelancers to take care of the CAD and tech pack aspects of production and partners with a network of factories to serve both large and small apparel businesses.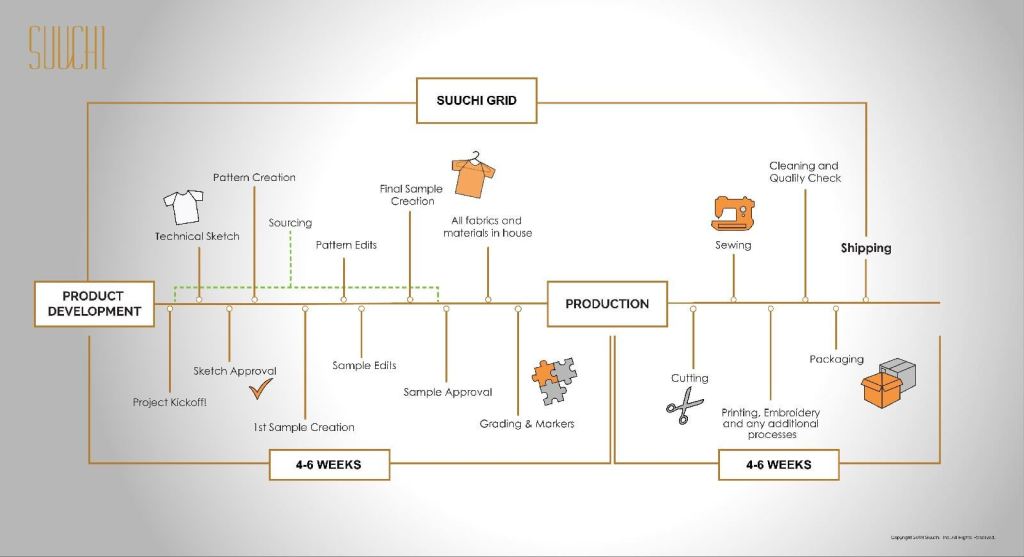 (All images courtesy Suuchi)
According to the Suuchi Grid website, the technology is designed to give businesses full transparency of production with real-time updates. The platform's website says it "puts the freedom and power back into the hands of our clients" and allows apparel brands to request changes, upload documents, and leave comments, directions, or insights at each step of production.
Beyond this, Suuchi Inc. offers white and private label programs to businesses interested in bringing their projects to fruition. Suuchi Inc. takes the ideas and designs of entrepreneurs, creates the patterns for them, and samples them. The designs belong to the companies, but Suuchi Inc. brings them to life. For smaller brands looking to get off the ground, the company offers a collection of white label assets that include designs and styles it knows are popular and do well. These assets belong to Suuchi Inc., but any brand can choose an asset and call it their own, allowing their company to be legitimate overnight. Ramesh says, "It's all about democratizing and lowering the barriers to entry."
Although Ramesh doesn't come from a background in the apparel industry, she's surrounded herself with the right people and equipt a leadership team that is familiar in the space. So, what does she bring to the table? According to her, process efficiency. She asks questions like:
How do we scale this?
How do we use technology to open up the fashion supply chain to brands of all sizes?
And also, how do we help them do it locally?
Because New Jersey has a vast history in textile manufacturing, and it being the embroidery capital of the country, Ramesh says Suuchi Inc. leverages the resource pool of skill sets and fashion brands and hires individuals that are familiar with the processes inside the walls of her facilities.
When asked what sets her aside from other domestic operations, she says apart from her biggest differentiator-the Suuchi technology and platform-the infrastructure to scale makes Suuchi Inc. stand out from the rest. "We don't have any other local partner that's able to do everything end-to-end. First of all, we provide a system of services, but beyond that, we're able to do small batch but also super large batches. The kind of infrastructure we're building across our headquarters in a network of factories is growing exponentially. Our goal is to bring back everything that's going abroad home. We're adding jobs back. We come from 27 different nationalities. There's the cultural aspect of who we are that differentiates us too."
For her, being mostly-women owned and operated has happened both by design and due to the nature of the industry. She notes that a lot of skilled workers tend to be women, and about 65-70% of her employees are women. However, most of all, Ramesh looks at an individual's merit when hiring. She adds, "When you look for a homogenous pool, you don't get a diversity of opinion. Which again goes back to having a not-so-strong foundation." Whether you're a 70-year-old man or 20-year-old woman, none of that truly matters, says Ramesh, just as long as there's merit.
Over the years, Ramesh has seen successes and challenges in her mission to produce American-made apparel. She says, "The bigger joy has been the addition of jobs and being able to invest in technology to be able to make sewing a glamorous, sexy career choice again, and to bring back jobs. I think that's been the biggest win and the biggest joy." As for the challenges, she mentions the struggle with education. She calls for a large-scale transformation. She notes that brands are going after the eco-friendly, environmentally responsible supply chains more and more. To make this transition happen, she says there needs to be tremendous re-education. There's also the struggle with price. She adds, "We're trying to price competitively to show people that when prices are competitive enough, there is no reason you should be going abroad."
With this kind of mindset and philosophy for change in supply chains, Ramesh has seen growth in the last three years. Today, the company employs 130 people. In the beginning, it was Ramesh, some apparel stores, and a consultant technologist. Recently, Suuchi Inc. was awarded a $38 million state grant to continue to fund its growth and support its goals. Additionally, the company is moving into a 115,000-square-foot facility and plans to add 500 jobs in the next three years. Ramesh states, "It takes a village to get this far. It's definitely not just me. I have a fabulous team of executives in leadership and technology, and sales, as well as in manufacturing and design."
Aside from it taking a village, Ramesh attributes her rapid growth to perseverance and a culture of people who care for the company and one another, as well as understands what Suuchi Inc. is trying to accomplish. She advises other business owners to be particular about who they bring into their business. "We are very frank and candid with people that don't match the culture and part ways."
Looking ahead another three years from now, Ramesh wants to continue to build a global network of local supply chains. She wants to recreate the model she's built, across the country. "We want to make our platform a global technology standard for the apparel manufacturing industry, and we want to continue to add jobs. We want to make manufacturing a big industry in the United States again." She continues adding that less than 2% of apparel is made in America. With that, the cost of goods sold of that is $250 billion. Ramesh's goal is to bring that money home, to the U.S. In the coming years, Ramesh sees herself expanding outside of clothing into shoes and bags. Her goal is to scale and become a global standard and powerhouse.
Ramesh concludes, "Without the tech and platform, we'd be just another manufacturer, and you know you could argue that we wouldn't have survived. And I think it's because of the platform, because of the technology, that we're able to add more jobs, we're able to scale this, and we're able to think large theme and execute against that dream."