Features
Summa America Designates The Mosaica Group as Distribution Partner
The Summa laser cutting systems are the focus of this agreement.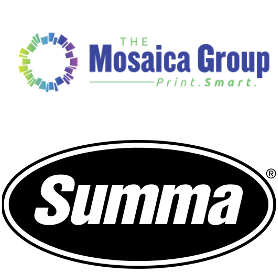 Sussex, Wisconsin-based The Mosaica Group, a full-service distributor of commercial printing equipment and supplies that also has locations in Indianapolis and Minneapolis, announces a partnership with Summa America, providers of Summa-branded vinyl cutters, flatbed cutters, thermal printers and related media and materials. Under the agreement, The Mosaica Group will be offering Summa's laser cutting technology to the apparel and textile markets, along with retail, signage and trade show event markets.
The announcement says that The Mosaica Group will focus on providing clients with Summa's L Series of laser cutting systems, including the L1810 laser cutter and the L3214, "the largest and fastest laser system of its kind." The L1810 laser cutter is especially suitable to cut textiles, such as sportswear, dye sublimation garments, according to Summa, but also a variety of raw materials used in the composite industry.
"We now have a complete and comprehensive dye sublimation solutions portfolio with the addition of fabric laser cutting equipment due to our partnership with Summa America," says Randy Peters, president and CEO of The Mosaica Group. "As our clients look at ways to enhance their capabilities, we can make bundle or package recommendations that offer significant savings for investing in everything from equipment, such as the high-speed Panthera S4 dye sublimation printer, to heat presses; plus ink; transfer; and tissue paper, along with in-house paper converting services."