For years, there had been a stigma about shops that operated solely using a heat press as their primary decoration technique. You wouldn't find too many of those types of small businesses driving the industry, but companies today find it easier and easier to build a business on the back of the heat press than ever before.
With so many heat-applied products available, it's easier than ever to create unique and eye-catching designs. Decoration techniques and options have finally unlocked the creative potential of the heat press and businesses are literally pressing money.
We'll explore a handful of heat-applied products to find the best quality, ease of use, and creative techniques to bring your customers' garments to life. Open up your toolbox and grab the heat press… we're going to make some money.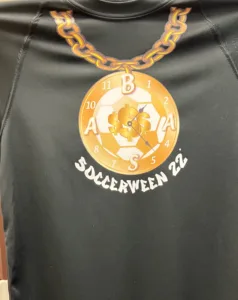 Heat-applied vinyl
For starters, simple heat-applied vinyl has been a popular choice for apparel decoration for years. It's simple, has many color options, and is extremely durable. We still use it for individual names and numbers on tees, hoods, jerseys, etc. You can also create simple one- or two-color designs for the small runs. It's a staple product for a lot of shops.
Glitter, rainbow, cheetah prints, reflective, safety, hologram, glowing vinyl … all these options can be used to wow your clients when used creatively.
Sublistop, for instance, is a printable vinyl that inhibits dye migration on poly garments. This is perfect for your local youth sports teams that want a creatively colorful logo on a run of 12 team shirts. Think about your local soccer club that has a five-color crest on its left front chest. Design it, print it, press it.
The cons are that weeding vinyl is very time-consuming and particularly difficult on fine detail and designs. It's also a heavier product and sometimes doesn't have the greatest feel on the back of performance apparel.
Obviously, some materials are better than others, but the right pieces for the right garments help tendentiously. Also, for you to be able to use some of the materials, you may need to invest in some newer print/cut technology.
Heat-applied patches and emblems
These are amazing products and come in a wide variety of styles. Whether it's PVC, woven, embroidered, leather, or even 3D emblems, these products really give your customer a sense of creative retail-ready gear.
We often thought we had to have sewing machines or embroidery equipment to get patches sewn onto garments and hats. With the proper backing, most of these products are permanently heat applied in under a minute.
That saves a lot of time in the embroidery department when you can remove a 3D stitched logo off a machine production and instead turn it into a 3D embroidered patch to be heat pressed.
The cons of heat-applied patches are that the heat, pressures, and materials need to be closely monitored and have processes created. Leather patches have a different heat and pressure application than PVC patches.
If you don't get those application recipes correct and documented, you'll hurt your reputation when clients come back because their logo fell off. You may also need to invest in a heat press that allows for constant bottom heat. That way, you can bring the heat to the backside of the product while pressing from the top at a lower temperature to ensure that you don't scorch garments during the application.
Heat-applied DTF
One of the best and brightest products being used with the heat press are the DTF (Direct-to-Film) prints. Direct-to-Film printing is a relatively new technology in the world of apparel decoration, but it has been a creative force for heat press decorators.
DTF allows for full-color designs and can produce high-quality, detailed images. When screen printers must price jobs by considering a handful of different variables, the DTF doesn't care about any of it. Does your client need an 11-color left front chest on nine shirts? Design it, print it, press it. Can you imagine the cost if this was screened?
One of the benefits of DTF printing is that it can be used on a variety of fabrics, including cotton, polyester, and blends. Plus, the resulting design is soft to the touch and has a matte finish. DTF prints are extremely lightweight and leave little to no feel on the apparel.
One of the best parts about the DTF technology is that you can allow for standalone text on your graphics. Previously, a heat press product design would have to be contained, connected, or be surrounded by a larger outline because the fine designs and text were too small to weed.
The cons of the DTF prints are that larger prints feel funny, for lack of a better term. Matte finish and soft feel, true, but a larger 11" x 7" full front logo on a cotton tee isn't going to have the same feel as your screen-printed garment. It just doesn't.
Also, just like anything else, operator error can wreak havoc on DTF prints. If prints are not heat applied correctly or to manufacturer suggestions, they can go bad quickly. Peeling, cracking, or just falling off completely. I would recommend a lot of trial-and-error testing before DTF becomes a part of your arsenal.
Moreover, don't forget about ventilation and the use of gloves and a mask when working with the powder, if you're printing DTF in-house. Better safe than sorry with any airborne chemicals, right?
Heat-applied rhinestones
Don't think you won't get into rhinestones and glitter. If you want to get on any pom, dance, or cheer mom's good side, you better offer up rhinestones and glitter.
"Everything looks better with rhinestones," some may say, but seriously, the added rhinestone feature on a garment really creates a decoration that can wow a client. They pop, they sparkle, and they turn the simplest image into a statement piece. Take your one-color team's name and outline it in rhinestones and turn your simple $8 tee into a $18-$25 tee with a 30-second press.
The cons of using rhinestones is that you may have a rhinestone or two fall off the carrier sheet. It's a bummer, but it happens. Have a handful of rhinestones available to replace any that get lost. Also, if you don't have a rhinestone machine, you'll have to rely on a manufacturer to create them. They will take time and often have minimums.
Pro tips
Not all heat presses are equal. Find a press you can trust. Does it hold temperature accurately? Does it hold pressure accurately? Do I get support from the manufacturer or sales rep? These are all things that are important when choosing the proper heat press for you.
Also, investigate what types of accessories are available. Particularly with patches, bottom heat is important. If you can add a heated platen to your press, I would highly recommend it. For performance garments, you can lower the top heat and add the bottom heat to adhere DTF prints while eliminating the scorched heat press square.
Extra tip: If you haven't purchased the bottom heat platen yet, pre-press the platen before loading for about 20 seconds. That will heat up the bottom. Not ideal, but it will work until you're ready for an upgrade.
If you want to heat press hats, whether vinyl, patches, DTFs or anything else, get a good hat press. Bottom heat is essential. Don't be afraid to use the heat tape to keep hat patches or emblems in the right spot. It's there for a reason, so use it.
Lastly, use the correct application pads. Using the wrong pad could ruin an emblem of design on a garment. You'd hate to design a beautiful PVC patch only to melt it while trying to adhere the logo to a hat front.
Not all materials are equal. Do the research. Test, research, test, and then test again. Everyone says they have the best product on the market. Do your own due diligence. There are a lot of vendors selling what they call the best DTF prints, the best vinyl, and the best screen-printed transfers.
Find out what works for you. Consider the costs of product, shipping, customer service, and reliability. Build a playbook for different materials and how to adhere them to particular garments.
Finally, don't be afraid of minimums. When working with heat-press materials, you'll typically find that the orders are smaller than your traditional screen-printing runs.
Don't be afraid to make clients get to the minimums. If a client wants to create a 3D emblem for 15 trucker caps, but your emblem manufacturer has a minimum of 24 pieces, for instance, you can do it one of two ways.
Tell the client they must get to the minimum to place the order with you. It's something I don't really like to do. I hate showing clients an amazing product and then pulling the rug out from under them and telling them they have to buy 24 or no deal.
Instead, I may not even mention a minimum and factor the net cost of the vendor minimum number for emblems and divide it into the cost of 15 pieces instead of 24. The price for the customer will ultimately be higher, but that's what happens with lower quantities.
The heat press is riding high right now with some of the coolest decoration options on the market. What can't you do with a heat press? I'll tell you… you can't not make money.