Features
Sublimation Summit Event to Take Place This September
The two-day event comes to Peachtree City, Georgia.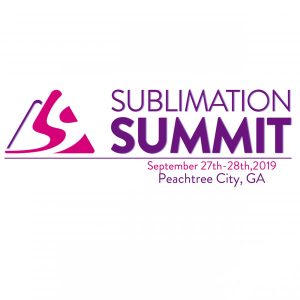 This year marks the inaugural Sublimation Summit, a two-day event in Peachtree City, Georgia for those interested in sublimation to come together to learn skills for sublimation from some of the industry's experts. The conference takes place on September 27-28th, 2019.
"It's the first of its kind because it's dedicated to sublimation and heat transfer," states Cheryl Kuchek, one of the event organizers and owner of Just My Imagination DeZigns. "There's going to be classes for everyone."
There will be over 40 classes, including everything from beginner, intermediate, and advanced. Along with multiple chances to grow their skills, attendees can mingle with fellow decorators and visit with vendors.
Sean Kouplan, CEO of Regent bank in Tulsa, Oklahoma and Secretary of Commerce for the state of Oklahoma, will be the keynote speaker. The list of presenters includes Jimmy Lamb and Vik Patel of Sawgrass; David Gross of Condé; Aaron Montgomery of MontCo Consulting and 2 Regular Guys podcast; Joe Dovi of UniNet; Rich Zydonik of Rowmark LLC.; designer Karen Schulz; CorelDRAW expert Roger Wambolt; Matt Vassallo of The Rhinestone World Inc.; Aaron Knight of Geo Knight; Maradith Schwandner of Coastal Business Supplies; and more to be announced.
It costs $349 for a two-day pass, or $169 for a one-day pass. The conference will be at the Crowne Plaza Atlanta SW Peachtree City, with rooms available at $125 a night when you use the Sublimation Summit Booking Link. There will be snacks and beverages available all day during the conference, as well as a complementary breakfast and lunch daily. Each attendee will also receive a vendor goodie bag and have several chances to win door prizes.
For more information, visit sublimationsummit.com.