Sublimating Hard Substrates: The Proper Process
Discover popular hard substrates and how to achieve the best results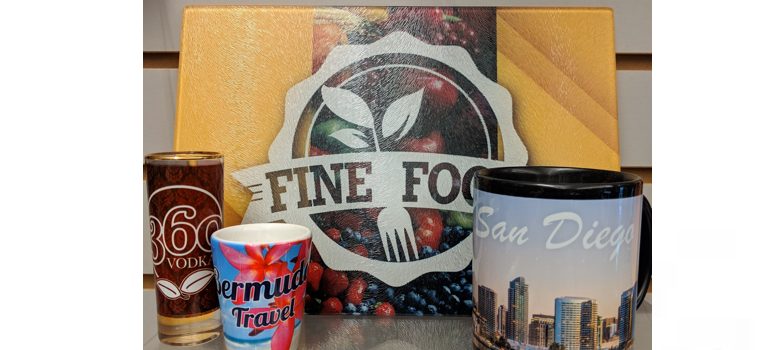 If you have a background in soft goods, sublimation on hard substrates can be quite intimidating. There are many variables with each product including the temperature, time, pressure, accessories, and, finally, how to layer everything in your heat press. Working with a good supplier is a great place to start if you're new to the sublimation process. They will usually have step-by-step instructions to achieve optimal results with each product whether you're sublimating anything from a T-shirt to a plaque. In this article, we will briefly go over some popular hard substrates and how to achieve the best results.
Popular products
Some of the most popular hard substrates for sublimation include drinkware, aluminum sheet stock, name badges, and photo panels.
Drinkware is arguably the most popular product line. Ceramic mugs have been a top-seller since the beginning. For a minimal cost, a ceramic mug gives your customer a functional tool they will utilize on a regular basis. If they don't use it, they are likely to give it to someone who will. From a business standpoint, this is a brilliant way to market your brand because it will create a lasting impression. If you don't do much promotional business, a mug with World's Best Grandma, and a picture of the grandchildren is also a success every time.
Tumblers are a wonderful addition to the drinkware category as well. Until recently they were only made to be laser engraved. Multiple companies have now implemented a sublimation coating for the ever-popular vacuum insulated tumblers. The process of sublimating tumblers is about three times faster than ceramic making this a more efficient process regarding labor.
With a ceramic mug, and technically a tumbler as well, you can purchase specific paper that will fit perfectly around the mug, or trim 8 1/2″ X 11″ paper down and make two transfers from one sheet. There is no right or wrong way, and it seems the crowd is split down the middle as far as what they prefer. Using a mug press, a ceramic mug takes 4 to 4 1/2 minutes to sublimate. The aluminum tumbler will take 1 1/2 to 2 minutes. Alternately, in a convection oven using mug wraps, the time necessary to sublimate both substrates significantly increases. Ceramic mugs will take around 11 minutes while aluminum tumblers will take 6 to 8 minutes.
Another product that covers a wide range of products is aluminum sheet stock, it will add a valuable asset to your business. It is most commonly used with trophy plates, plaque plates, name badges, and dash plaques for car shows. On a trophy plate, you can use a popular silver or gold stock with classic black text, or you can use a white stock to create vivid full-color designs. The labor time used to create 100 trophy plates via sublimation is much faster than laser and rotary engraved plastic or metal trophy plates. Car show dash plaques are also quick and easy and allow you to nest around 8 to 12 precut plaques on one sheet of 8 1/2″ X 11″ paper, depending on size, of course.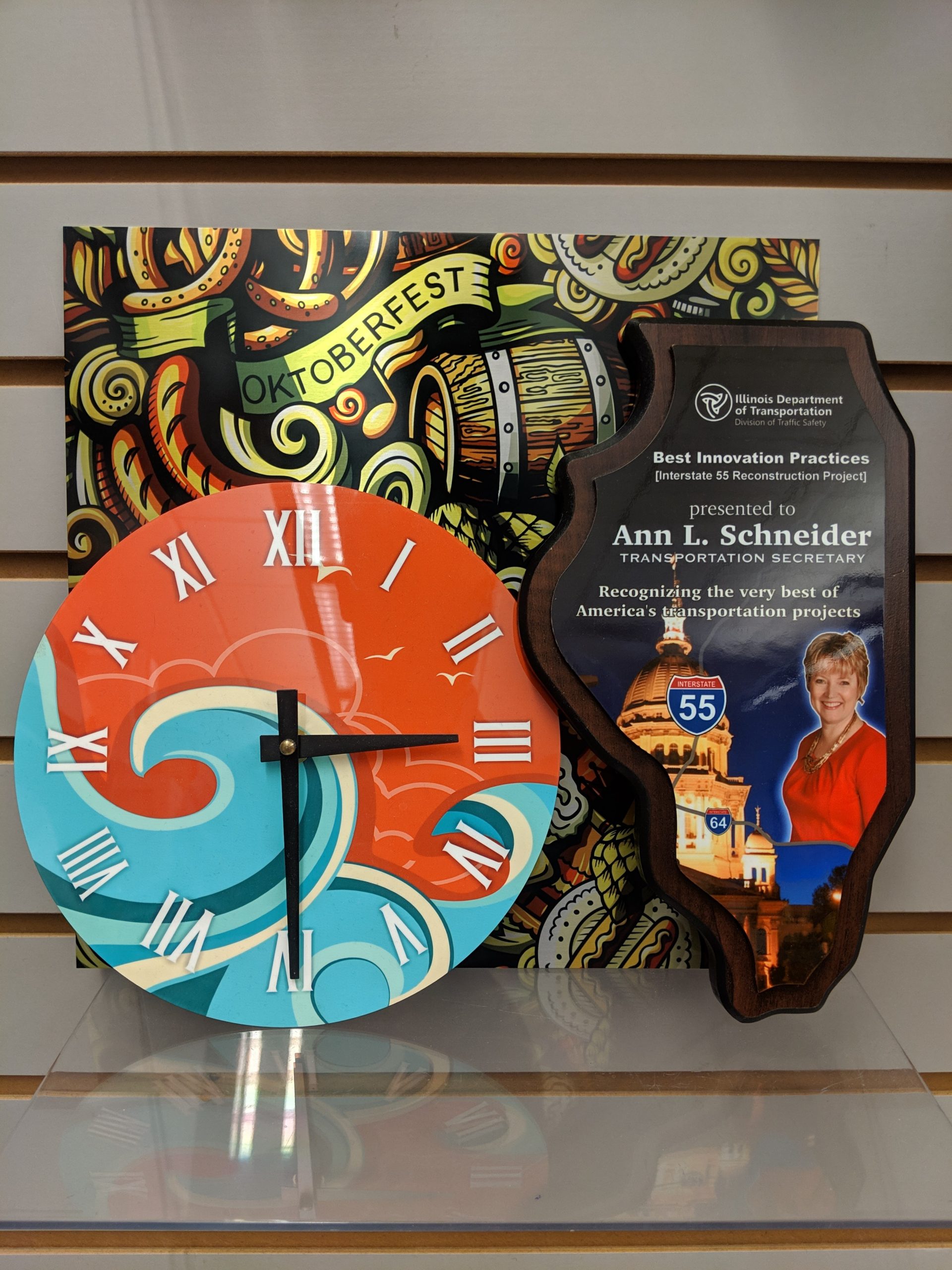 Aluminum sheet stock covers a wide range of products, including plaque plates.
Another very common substrate used is Fiber Reinforced Plastic (FRP). Ideal for name badges and bag tags, FRP is a very durable plastic that will not melt under the temperature necessary for the sublimation process to occur, unlike most plastics. Again, like trophy plates, you can nest many name badges or bag tags on one sublimation print. It is also available in a sheet stock which allows you to cut custom shapes and sizes on a CNC Router. Most FRP substrates are sublimated at 400 degrees for around 1 minute and 15 seconds. Larger and custom-cut pieces may take additional time.
Photo panels are another great item to add to your hard substrate repertoire. They are very easy to press and a durable and permanent way to display photography. Using archival paper that will not yellow over time can cost the same as a metal print. Many professional photography studios use metal photo prints for high-end, high-dollar photography and digital art. You can also use the same panels for family photos. Using metal photo panels tremendously increases the perceived value of the print. A customer is likely to pay four to five times the amount of a regular photo print for a metal photo print. The metal photo panels are generally thicker than metal sheet stock and the sublimation process usually takes 1 to 1.5 minutes.
Whether you are a beginner with sublimation or are primarily apparel-based, don't be afraid to try something new. Hard substrates can open a new avenue of profitability for you and your company. Offering one type of product to one type of client is great but offering multiple types of products to multiple types of clients can be far more profitable.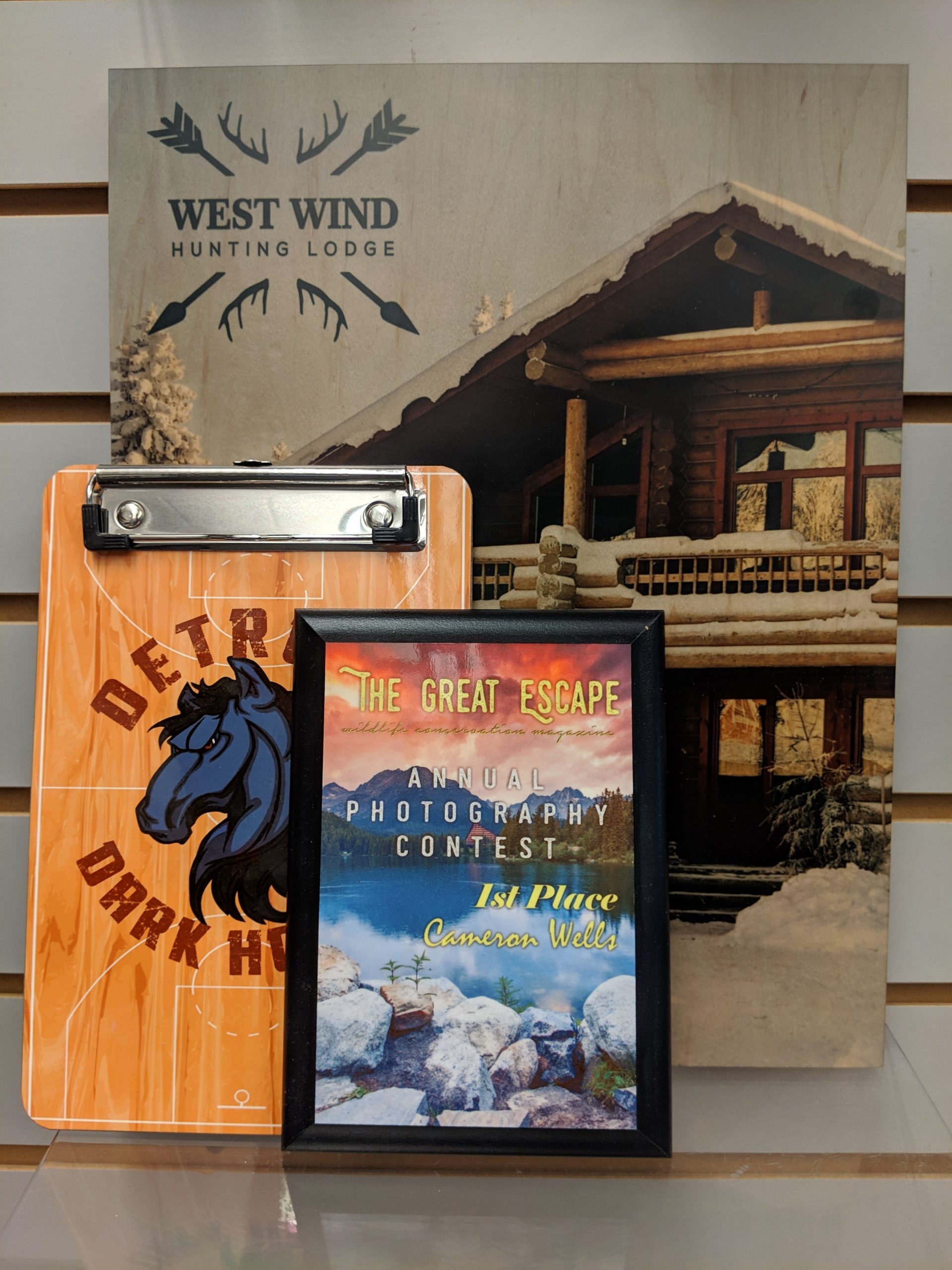 Hard substrates can open new avenues of profitability for your business. 
Side Note:
For most metal substrates, it is best to heat the product face down through the back to decrease the chances of affecting the front coating. Metal is a very good conductor of heat, so it heats very quickly from one side to the other. Using this process, you can increase your output while taking significantly less time, which means less money. Sublimate the precut aluminum for around 45 seconds and you have 10 dash plaques complete in the same the time it took you to do one individually.
A 16″ X 20″ heat press is recommended, as this will allow you to do up to two sheets of 8 1/2″ X 11″ paper very comfortably, which can increase your productivity even further.