Features
Stahls' Launches Heat Press For Profit Podcast
Stahls' says decorators can gain real-life insight and enjoy listening to conversations with entrepreneurs from around the country.
Stahls' launches a new podcast to teach apparel decorators how to use their heat press to serve current customers better, attract new clients, and increase sales.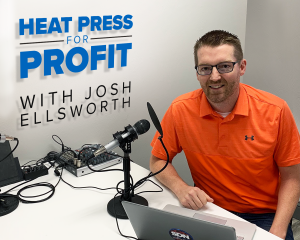 Stahls' says decorators can tune into "Heat Press For Profit" to get insights and information on how to start and improve a heat-applied graphics business.
GroupeSTAHL senior VP Josh Ellsworth, an industry veteran with more than 20 years of experience, hosts the broadcast. Ellsworth is known for providing education via trade magazines, trade show seminars, and webinars on apparel decoration.
According to Stahls', listeners can expect discussions on entrepreneurial challenges, as well as interviews with industry experts and successful shop owners.
The broadcast is available on Apple Podcasts, Google Podcasts, Spotify, Stitcher, and more.
Fine more details here: http://bit.ly/stahls-podcast.