Features
S&S Activewear Opens Environmentally-Friendly Illinois Distribution Center
S&S Activewear relocates its Bolingbrook, Illinois distribution center to nearby Lockport.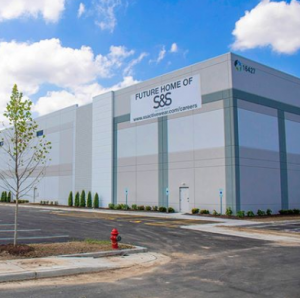 BOLINGBROOK, Ill.-S&S Activewear relocates its Bolingbrook, Illinois distribution center to nearby Lockport. The company says the new location is the "most sustainable distribution center" in its network.
The Lockport location boasts 750,000 square feet of space, bringing S&S's nationwide total to 3.5 million square feet across its multiple locations. The company designed the facility with a focus on providing customers increased access to fashion-forward apparel while maintaining a commitment to sustainability.
"This was a wonderful opportunity to build a facility in line with our mission and values statement, which include sustainability objectives," says S&S Activewear COO Frank Myers. "When we look at any greenfield project, we define a spec that includes all the details and features we require, ranging from more traditional operational items to important energy and sustainability features."
S&S Lockport's sustainability-focused fixtures include solar panels, high-efficiency LED lights with motion sensors, radiant heat, as well as a series of hands-free, waterless urinals. S&S estimates the waterless facilities will save roughly 1 million gallons a year. Through these sustainable implementations, the location also now holds a Silver LEED rating from the U.S. Green Building Council. The council focuses on sustainably designed buildings and is comprised of five main categories: Sustainable Sites, Water Efficiency, Energy and Atmosphere, Materials and Resources, and Indoor Environmental Quality.
Jim Shannon, president of S&S Activewear, says the new facility came as part of the company's continued growth.
"Our Bolingbrook facility was reaching capacity, so we needed to identify a location that could support our increasing demands for space and maintain our current employee base,"  states Shannon. "The Lockport facility provides significantly increased capacity for storage, along with state-of-the-art material-handling automation and technology."
In addition to sustainable initiatives, the new location is projected to add 100 jobs at S&S and the local community.
"We're thrilled to create additional jobs in the Lockport area," Shannon says. "We take a lot of pride in supporting all of our local communities across the country."
For more information, visit www.ssactivewear.com.