Features
Small NC Manufacturing Company Turns to Face Mask Production
Carolina Cut 'n Sew owner Ellen Guarini shifts production to keep doors open and employees staffed.
In North Carolina, Carolina Cut 'n Sew, a small manufacturing company, turns its attention to making face masks from its stock of T-shirt fabric and elastic. The facility sits in Mount Gilead, a town with a population of only 1,148, yet it's making big impacts within the community.
"The factory is located in one of the poorest counties in North Carolina and was created by me to give jobs to people who lost them in the '90s when everything went offshore," says Ellen Guarini, owner of Carolina Cut 'n Sew. "My employees just want a job using the skills they learned growing up and to make a fair living."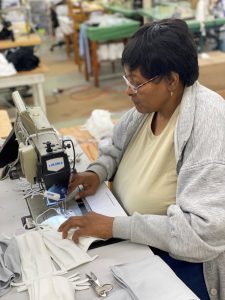 She explains that the "typical sewer" at her facility is in their early 50s without a high school education, and skilled in their craft.
On a typical day, pre-COVID-19, sewers produce activewear clothing for small private companies.
Much of the company's business comes from customers in the sports sector, in need of uniforms, T-shirts, practice apparel, and jerseys. With the demand for these items vanishing and all current customers putting orders on hold, Guarini says mask production was the only way to avoid sending employees home and closing its doors.
Even after the country works its way back to its new normal, she plans to continue producing masks and gaiters for those in need.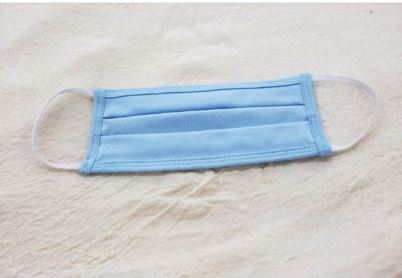 When it comes to the safety of its workers, Guarini says there are rules in place for monitoring temperatures and keeping the facility clean. She also has workspaces spread out to avoid any close contact between workers.
When asked about advice for other shops navigating downtime and battling the unknown, Guarini encourages cross-training and product variety.
"They (employees) may start out the day on a Serger, then go to a single-needle, and finish up on an overstitch machine," she explains.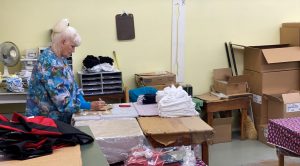 Guarini encourages cross-training among her entire staff, not only prepping them for work that may come up at Carolina Cut 'n Sew but also preparing them should they choose to apply for a position elsewhere. Now is an opportune time to start teaching staff new skills, and Guarini says to "embrace the need for everyone to be multifunctional, able to change quickly and willing to learn new things."
As for product variety, she says it's smart to be versed in various areas. There will be downtime in a shop, and having a variety of offerings allows a shop to keep people on and service customers in need.