Digital signs have been used by communities for decades to communicate safety messages, publicize events, promote local businesses, and convey public service announcements.
Municipalities of all sizes were early adopters of first-generation, monochrome message centers because they provided an attractive, efficient, and economical way to keep residents informed.
Wainfleet, Ontario, about 25 miles northeast of Niagara Falls, is a great example. A rural community of just 6,400 residents, Wainfleet was able to capitalize on tourist activity in the area by promoting events and attractions on its 19mm monochrome display located in front of city hall (pictured above).
As digital signage manufacturers innovated to offer high-resolution color displays and video boards, municipalities again were among the first to understand how to leverage these signs to keep their communities vibrant.
Gateways with style
As cities and towns battle for shopping and entertainment dollars, officials have upped their gateway game. Gateways create a sense of place for cities where first impressions are essential. Increasingly, cities are incorporating digital displays in gateway planning to introduce the community and all it has to offer.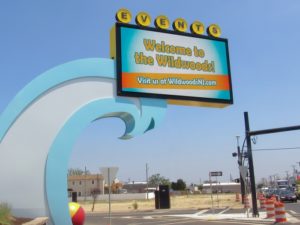 This is done with stunning success at The Wildwoods Grand Gateway in New Jersey. This vacation area welcomes visitors to the New Jersey corridor and capitalizes on its mid-century modern architecture with a "Doo Wop" nostalgia-themed placemaking sign in the shape of a surfboard. A second sign in the form of a massive wave features a digital display used to promote events throughout the island (pictured left).
The gateway signs and dozens of large cement beach ball bollards strategically scattered around the gateway make favorite backdrops for social media posts, delivering the buzz that every vacation spot craves.
Non-vacation areas also understand the benefits of creating memorable gateways. Miami Township in Milford, Ohio, created a recognizable identity that also served as a beacon to draw vehicles driving by on I-275. The pylon sign with a color LED display promotes upcoming events to the area and public service announcements and further develops the surrounding property.
Quick safety measures
Communities also tap digital signs to provide community safety messages, such as evacuation orders and health advisories.
The city of North Myrtle Beach, South Carolina, traded pole-mounted banners for a new gateway installation that includes a large digital display. The sign features a brick base with the North Myrtle Beach logo and a 12'5" X 18'3" 10mm, full-color digital message center (pictured below).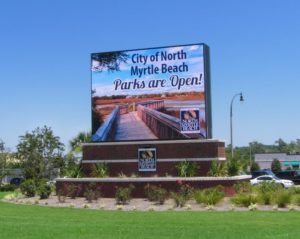 The city's urban planner specified a digital sign because she wanted an easy way to promote all the events happening in the area and public safety messages, including weather advisories and evacuation instructions to residents and visitors when hurricanes are forecast.
This summer, the city also used the sign to educate visitors about changing COVID-19 regulations in bars and restaurants.
Supercharged tourism
In addition to outdoor welcome signage, cities are discovering the impact indoor digital signage can make in civic/community centers, visitors bureaus, and transportation hubs. These high-resolution signs are perfect for up-close viewing in areas with a lot of pedestrian traffic.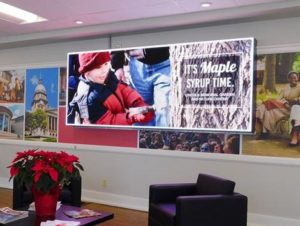 The Springfield Convention and Visitors Bureau (SCVB) in Springfield, Illinois, uses digital signage (pictured right) to provide nearly 20,000 bureau visitors annually a visual experience of the area that motivates them to visit important attractions.
The SCVB features a wall of color photographs highlighting tourist attractions, along with comfortable seating, brochures, and travel experts to provide guidance. The center of one wall features a large full-color digital message center that displays tourism videos and advertises events, historical sites, architecture, arts, area winery/brewery trails, entertainment, and Route 66 destinations.
The tourism director divides the digital display into content zones for photos, videos, and other content to maximize his messages.
Digital signs also make an impact in transportation centers, such as airports, where they can be programmed to display welcome messages for convention attendees and other VIPs.
The Louisville Muhammad Ali International Airport installed a welcome wall to promote tourist attractions in an area known for horse racing and bourbon tasting and to showcase accolades the city has received (pictured below).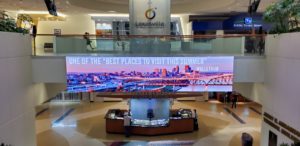 The welcome wall is viewed by more than 4.2 million passengers who travel in and out of the airport annually and anyone visiting the airport to pick up or drop off passengers. It has become an attractive selling point for convention planners.
Small-town vibes
Digital signs are not just for vacation spots and large cities. Many smaller towns find that LED signs fit in just fine with their small-town vibe and provide an easy way to keep residents updated.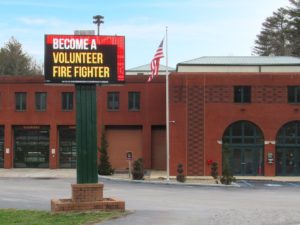 The Etowah Horse Shoe Volunteer Fire Department in Etowah, North Carolina, installed a digital sign to help recruit volunteers and provide important safety information to this rural community (pictured left).
The department, located in the picturesque Smoky Mountains, protects the community with a staff of about 11 paid employees and 60 volunteers, who provide firefighting and emergency rescue. They used a grant from the Federal Emergency Management Association (FEMA) to install a 16mm color digital sign outside the main firehouse, which has allowed the department to expand volunteer recruitment beyond word of mouth.
The small town of Venture, Iowa, a rural community of just 717 residents located along Clear Lake, installed a digital display at the Ventura Community Center.
Ventura is nicknamed "Iowa's Sportsman's Paradise" because of its popularity for hunting, fishing, and boating. The seasonal population quadruples when outdoor enthusiasts flock to the area.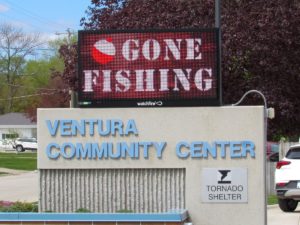 The digital sign (pictured above) is a community information source, providing residents and visitors information on fishing and boating, elections, weddings, fish fries, and other events.
Flexibility and ease of use
Digital signs are ideal for municipalities catering to various constituents who often have different information to communicate. Since digital signs can be updated within minutes from any location using cloud software, they have replaced more traditional and time-consuming channels, including posters, banners, and newsletters. At the same time, digital signs deliver a visually appealing and dynamic way to communicate.