Etchings by Emma, located in Chandler, Arizona, and owned by Emma Reum, has been growing since its inception in 2017. She started out in the wedding industry, creating everything she made by hand, but as that industry began to revive after the pandemic, she knew she couldn't keep up with the increasing pace of the industry if she only did hand lettering.
In 2022, she experimented to see if UV printing would help her speed things up and keep her work at the standard she wanted, and she found success. For her UV print production, she purchased a Roland DG LEC2-330S F-200 flatbed UV printer.
"We chose this printer because of its size and price point," Reum says. "It can print up to 29″ X 59″, and my largest seating chart is 30″ X 48″. I didn't want to invest in a smaller machine and then wish I chose a bigger one that would work for my largest signs."
The addition of the printer has allowed her to do precise, quick work for an ever-growing customer base. She still gets to design by hand with her iPad Pro and Apple Pencil, which she then moves over to her laptop to finish the designs in Adobe Illustrator. Her workflow is done in the following steps:
Receive all info from clients to create files
Design and make files in Adobe Illustrator on the MacBook Pro
Once multiple revisions are done and approved by the client, export them as an EPS file to a folder in iCloud
Go to the Windows computer connected to the printer and drag the files from the iCloud folder to the Versaworks printing software
Pull the materials needed for a specific project
Prep the file in Versaworks by changing the font color and direction, if needed
Press print, and within 5 minutes, one sign is finished
Once printed, clean and wrap the sign immediately to avoid further fingerprints, as most of Reum's material is acrylic plexiglass
The work isn't necessarily limited to these steps, though. The material types can vary based on what's needed for the project, and the shop has been trying some new materials recently.
"We print directly on to acrylic/plexiglass. Lately, we've been experimenting with printing on wood and linen! We haven't had experience with vinyl, but it's something I'm open to trying; however, my machine doesn't cut," Reum explains. "Acrylic in the wedding industry has become super popular over the last couple years, so we've been following this trend."
Not only does Reum need to be sure she can print on any material she needs, but she needs her colors to print correctly as well.
"What's funny is that about 65% of my jobs are all white ink, which sometimes feels like we aren't tapping into the printer's amazing capabilities. But when we do have full-color print opportunities, I typically print based on the final color in Illustrator, and it's been turning out amazing. However, I know the correct way to do this would be to use Roland Color Swatches so the printer and my design software are on the same page; we just haven't leaned into this resource yet," Reum says.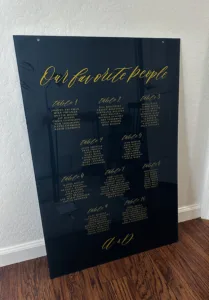 She's marketing herself and her business by using Instagram Reels and posts, mixing her brand with personal content, and sharing the behind-the-scenes work with the public.
"With these tools and a couple of Reels going viral, I have 14,400 followers and counting," Reum says.
There's a lot Reum does to run her business, so she has to be sure to keep all of her ducks in a row to get the job done efficiently. "I would be very lost without my CRM Honeybook, list making, and my wonderful assistant! I delegate us things each week to tackle what is needed. And I have deadlines with my clients to keep things on a schedule. Creating primarily for the wedding industry, we work week by week as opposed to fulfilling orders. So, on a given Monday-Friday, we're working on items for the upcoming weekend and next weekend. And then on Thursdays of each week, items are picked up by the client," Reum says.
Though the work may be difficult, Reum has passion and talent for what she does thanks to her degree in print and digital design, and with the capabilities of her UV flatbed printer, she's showing no signs of slowing down.