Features
Shorten the Distance: Increase Embroidery Sales with This Unique Tool
How many times have you tried to help a customer match a color?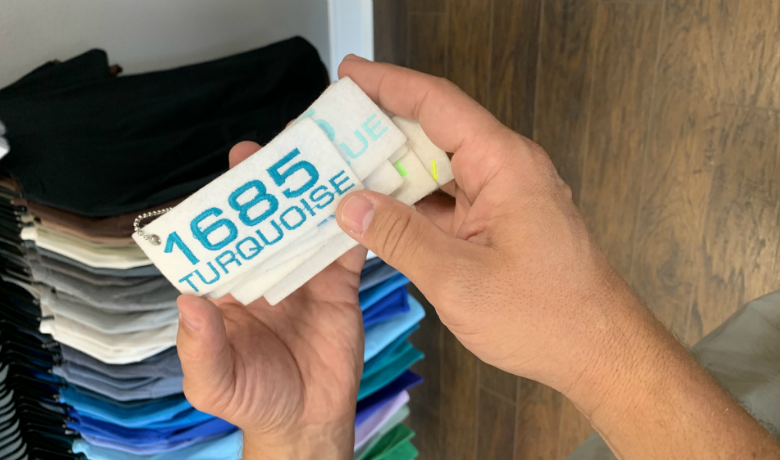 How many times have you tried to help a customer match a color? Squinting, holding a thread chart, and a garment up to various types of lighting, trying to find the best match with a garment that drapes over both your hands and a quarter-inch by half-inch thread winding? We recently came across an idea of our customer's that we thought was brilliant! In a customer-service brilliant sort of way.
Print Works, with showrooms in Texas and Oklahoma, promises to be a "premier decorated apparel company," offering excellent customer service. One way they strive to do this is by simplifying the initial task of color matching. With stitch outs of color number and name, the large format stitch out makes color matching so much easier. Owner and CEO Stephen Terrell prides himself and his team on solving customer problems. He's grown a company from a dining-room-table operation to a five-location corporation that employs 30 people in less than a decade.
Any marketing professional worth their salt knows that shortening the distance between introducing a customer to a product and closing the deal depends on a short path. By taking the time to create a tool that enables customers to quickly and confidently choose a thread color for their embroidery, Terrell shortened the distance to the sale by simplifying the process. His idea was to stitch out the color number and name. You could also try color-specific stitch outs using your logo if it is appropriate, or a local icon such as a flamingo, a pine cone, or a snowflake. Letters of the alphabet could also work.
Sometimes the production process is one that seems all so basic. However, stopping to reflect on improving any of the steps that cut down on waiting, thinking, and deliberating will always work in your favor. Try experimenting with this simple initial step of the embroidery process, and see how the unique offer of size-and eliminating some of the need to imagine-speeds up pre-production.
"To take a company from a garage to a multi-location, multi-shift operation, you have to understand that people make the difference," explains Terrell. "From one employee in 2012 to over 30 employees and five locations today, Print Works understands that without great customers, there is no Print Works."
He has proven right at the beginning of the embroidery production process just how valuable his customers are, with the provision of this unique tool to ease the journey.