Features
SGP Announces Keynote for its Upcoming Community Day
The day-long event is Wednesday, Nov. 14, in Cincinatti.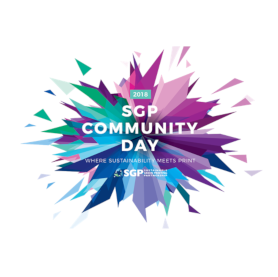 The Sayville, New York-based Sustainable Green Printing Partnership, a nonprofit organization that provides sustainability certification in the graphics communication industry, announces its keynote speaker for its upcoming Community Day Wednesday, Nov. 14, in Cincinatti.
The theme of this year's event is "The State of Sustainability," and delivering the keynote address will be Ryan Mooney-Bullock, executive director of Cincinnati's Green Umbrella Regional Sustainability Alliance, addressing the state of sustainability, how it has evolved and where it's going.
Now in its 10th year of operation, SGP offers a whole-facility certification program for the print communication industry in North America.
The nonprofit says aside from the keynote speech, the day-long Community Day will feature panels on sustainability trends and data about in-store retail, plastics and packaging, textiles, and events and building graphics. Focused roundtable discussions will share best practices, challenges, and other industry-specific topics. SGP says it's an opportunity to network with printers, suppliers and Fortune 500 brands who are leading the sustainability trend in the print industry. There will also be a 10th anniversary gala dinner.
2018 SGP Community Day takes place Wednesday, Nov. 14, in Cincinnati.