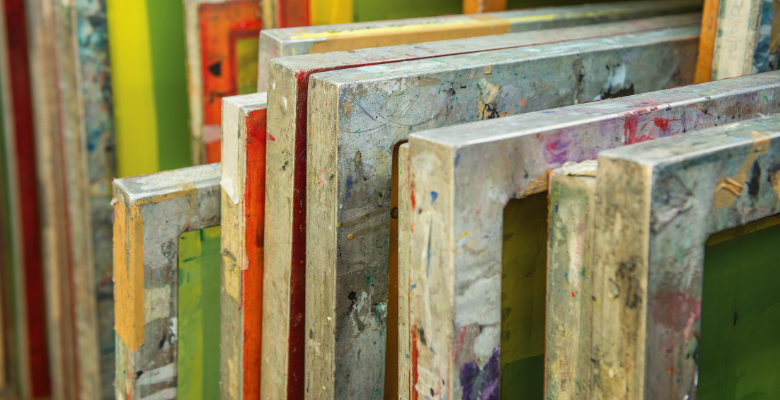 To set up a proper space for drying screens, we first need to understand why we need a specific environment for screens in the first place. The UV sensitive nature of emulsion calls for a dark space when working with coated screens that haven't fully cured yet. However, when the emulsion is exposed to high amounts of concentrated UV light, it becomes hardened.
A darkroom is any UV-free environment prepared for working with UV-sensitive materials. Contrary to belief, it is relatively inexpensive to create a proper UV safe environment for screen printing. Although photographic darkrooms require complete darkness, screen printing darkrooms only require that UV rays are filtered out of any light source, which you need to see and work in your darkroom. This is achieved by filtering out the rays as they pass through a semitransparent piece of film or tinted bulb. The most common colors used in tinted bulbs or film are red and yellow, but there are many colors used in UV filtration. Printers can turn any space into a darkroom by covering all windows and entry points with UV filtering film or blackout curtains.
An important thing to remember is that most emulsions have a working time of a few minutes before hardening, so a few seconds of exposure to low levels of UV will not ruin or affect your screen. Now that we understand the light sensitivities of drying spaces let's look at the other enemy of emulsion-humidity.
It could be tempting, and, in many cases, shops will opt to include their drying space with their washout area. However, it's not professionally recommended for one big reason. In the same space you are trying to remove moisture you are introducing it with the use of your washout area. While this method may not cause any problems immediately, in the long run, it won't be safe or economical to create a drying environment this way. Even if you don't set up a multiuse space for your screens, it's always a wise idea to consider putting in a dehumidifier regardless. If you go with a dehumidifier, make sure that it pulls water out of the air and discharges it away from your darkroom. Many smaller units have self-contained reservoirs that hold the water in the same environment you're trying to remove it from, and you don't want that.
Another great option to consider for your drying space is a drying cabinet. Most units have fans installed which circulate the air around the screens allowing them to dry evenly and efficiently. Keep in mind that for drying cabinets to work the temperature inside cannot exceed 100 degrees F as this will cause a spike in humidity. Also, make sure the fan in your drying cabinet has a filtering system installed to ensure any dust particles or debris won't contaminate your screens. Taking the time to correctly set up a drying space for your screens that's UV and humidity-free will help ensure that you consistently produce quality screens for your jobs.
Now, go cultivate a productive environment for your screens.
For additional screen-printing know-how, check out the Texsource blog.