Features
Selling Plackets Beyond the Corporate Market
Go beyond the traditional corporate sale for a holistic, 'mind, body, and soul' approach that incorporates new markets
We all have our routines. When we're feeling good, those routines are our groove. We like the groove. On the flip side, this can also turn into a rut. No one likes the rut, especially when it comes to selling.
So how do we keep our sales from falling flat? We go beyond the traditional corporate sale for a holistic, 'mind, body, and soul' approach that incorporates new markets and the variety of placket shirt styling that's become popular with consumers.
Mind
As for the mind, the education sector presents numerous opportunities for branded apparel. While fleece and Ts may be the first things that come to mind when you think of campus sales, staff uniforms, clubs, and alumni groups are good targets for placket shirt sales. Embroidered crests and mascots work nicely on the traditional cotton piqué, and you can also achieve varsity-inspired looks using laser appliqué patch decoration.
Tip: If buying for younger groups, such as school bands or choirs, consider a higher quality shirt with a pass-along program. (All images courtesy Vantage Apparel)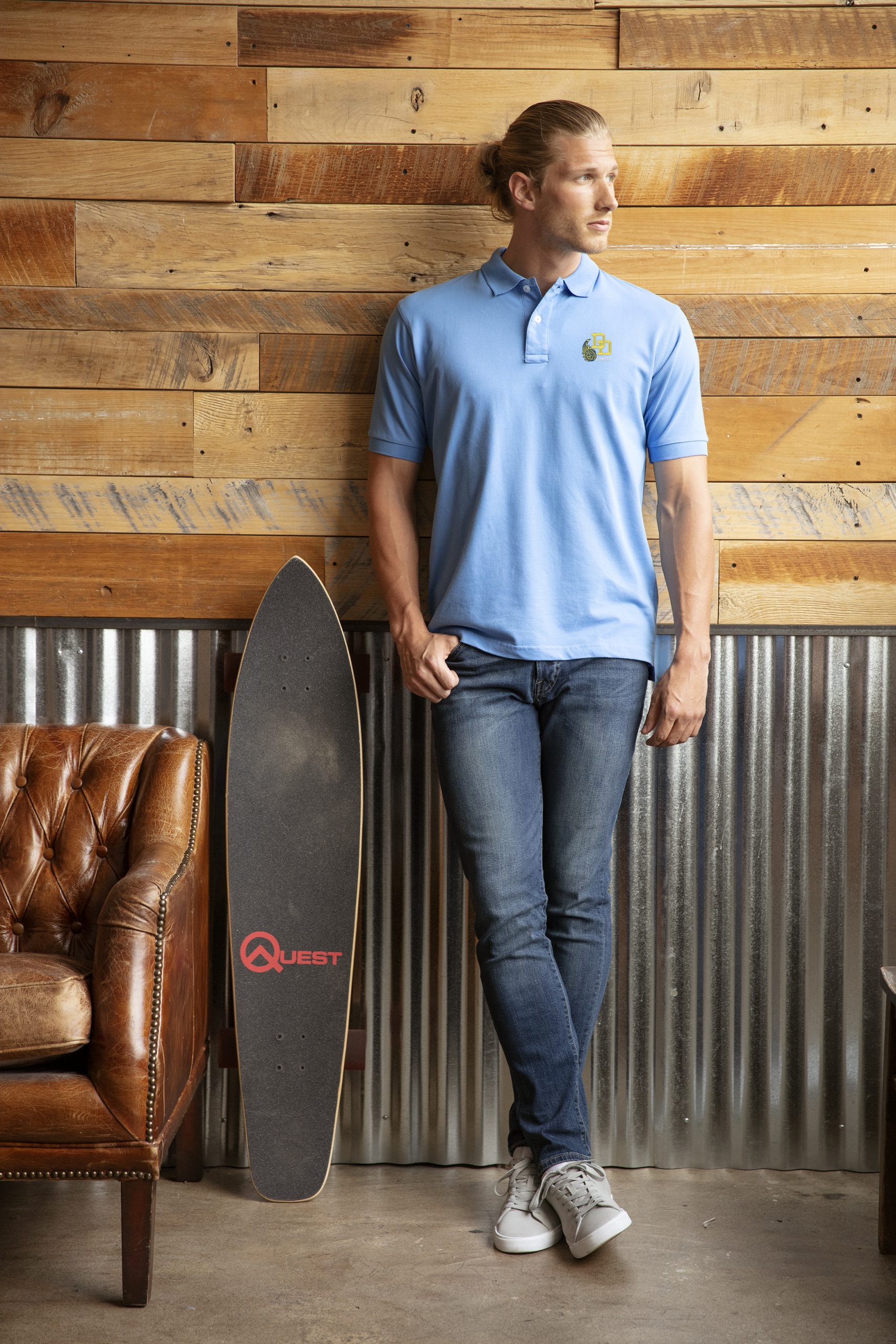 Ready to keep building on the list of new prospects? The construction industry is booming and shows no signs of slowing anytime soon. Think of all the service-related businesses needed to support these dwellings: design firms, cleaning companies, security teams, pest control, landscaping, and more. Looking professional and being identifiable is critical to smaller businesses, and the home-laundering and low minimum of polo shirts are attractive.
The transition of uniforms to casual crested apparel has made the polo shirt the official non-uniform, uniform, and really opened the playing field for placket shirts. Be sure to consider sizing availability, color consistency, and washing instructions when shopping for polos needed for ongoing programs. The ability to monogram, handle the ordering, and drop-ship small quantities direct to employees, are all value-added services that will help to close these types of programs.
Tip: If wearing name badges, add placement dots for the pin under the logo to ensure tags are worn straight and in a standardized location.
Body
Moving along to the body, we get to the next big area of health and wellness. With everyone being more health-conscious and leading active lifestyles, athletic and athletic-inspired apparel is in high demand.
According to Entreprenuer.com, "Fitness is one of the biggest franchise industries and one that continues to grow year after year. From big-box gyms to boutique studios, there's something for everyone-including kids, who have a large number of sports and fitness franchises aimed at them."
These facilities all require apparel for their employees that's comfortable and doesn't restrict their ability to move. Performance polos, instead of typical gym apparel, make it easier to separate staff from members. Fabric features, including stretch, moisture-wicking, and anti-microbial properties, are important characteristics for this market. No collar golf shirts are the latest fashion must-have and offer a bridge between T-shirts and traditional polo shirts.
Tip: Lighter-weight decoration methods, including laser etching or heat transfers, are good options for branding on sports fabrics. Consider decorating the back of a polo shirt with "Follow the trainer" or the gym's tagline.
At the other end of the movement spectrum, when we're not on the top of our game, there's physical therapy groups, rehab centers, and a growing number of professionals dealing with an aging population, including assisted-living facilities and home aides. Here, too, we find the importance of comfortable, easy-to-care-for, and professional attire.
Not quite ready for your back nine? Stay in the game with a good golf tournament. Companies of all types and sizes host annual golf events for clients or outings for their associates. Even smaller organizations may hold golf outings for fundraisers. Participant gift packs and prizes are excellent opportunities for logo products, especially apparel. Bigger tournaments will likely have staff and volunteers that require uniforms.
Corporate clients may also sponsor different sporting events or tournaments throughout the year. Co-branded apparel is great for employees and clients that attend the event.
Tip: Full-button or camp-style golf shirts are a trendy option for outdoor events and uniforms.
Soul?
A quick turn from golf green to going green, and we arrive at soul with a renewed interest in sustainable apparel. Today's eco-friendly shirts are premium quality, super comfortable, and make us feel good while doing our part to conserve natural resources. Many brands even offer a charitable contribution that gives back to the community or the environment.
Environmental advocates, green businesses, and anyone focused on the outdoors are a natural fit for sustainable fashion, but don't stop there. The demand for eco-friendly polo shirts is growing as more companies look for ways to integrate environmental and social issues into their business operations. Investing in sustainability not only helps to improve our planet, but it also positions a brand as a purpose-driven leader.
Tip: Fast fashion doesn't work here. Stick to easy-care, high-quality basics with year-round appeal.
By now, the secret to reaching new heights in placket shirt sales should be clear. Get out of the office and balance your days with new mind-, body-, and soul-satisfying experiences in placket shirts.
This article appears in the February issue of Printwear. Don't miss out on other industry-related articles like this one-subscribe here.