Today's movie theaters tend to all look the same: sprawling buildings adjacent to shopping malls. But at one time, theaters were community landmarks that combined rich architecture with exciting marquees.
Many of these historic cinemas and stages have been demolished, but there are still close to 6,000 historic theaters across the United States, and many of them have been lovingly restored.
Owners of these historic theaters often struggle with how to bring modern technology to aging marquees. Preserving these beautiful marquees is crucial, but maintaining the old signs and operating them can get pricey, and that's if you can even find the right materials and parts.
Several historic theaters have turned to digital displays in recent years, benefiting from modern technology and efficient energy usage while maintaining historical integrity.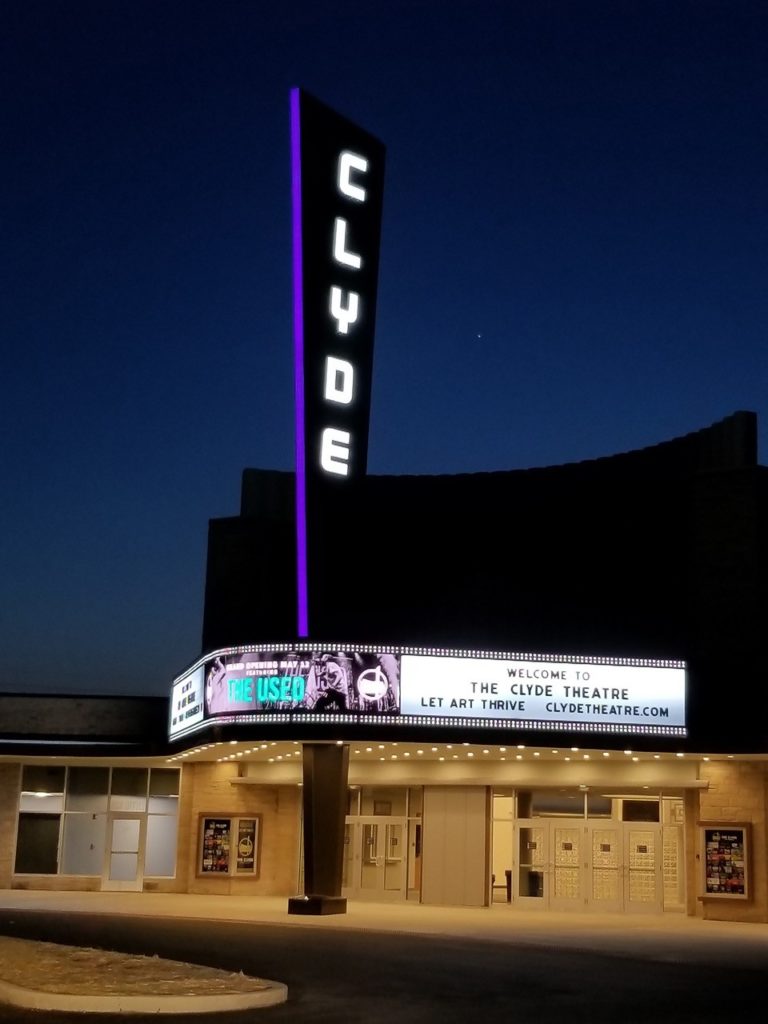 There are various benefits of incorporating a digital display into a historic marquee.
Theaters can keep their landmark status
Restoring a sign using LED lights can maintain the same look of old-fashioned incandescents but can be operated at a fraction of the cost. The Clyde Theatre in Fort Wayne, Indiana, was designed by A.M. Strauss, an architect famous for his many landmark buildings in Indiana and Ohio throughout the early 20th century.
Built in 1951, the art deco building was purchased at a tax auction in 2012. The new owners embarked on a $9 million restoration of the theater, including rebuilding the marquee and its 60′ spire using original blueprints. The new marquee is anchored by a 4′ X 20′ curved digital message center that wraps around the theater's front and displays dynamic content. It is surrounded on both sides by traditional manual message boards.
Digital signs can be retrofitted into existing marquees
Instead of starting over, most marquees can be retrofitted with a digital sign. The Embassy Theatre in Fort Wayne, Indiana, is a great example. Opening in 1928 as a movie palace and vaudeville house, The Embassy has hosted iconic stars including Perry Como, Louis Armstrong, Tony Bennett, and Doris Day.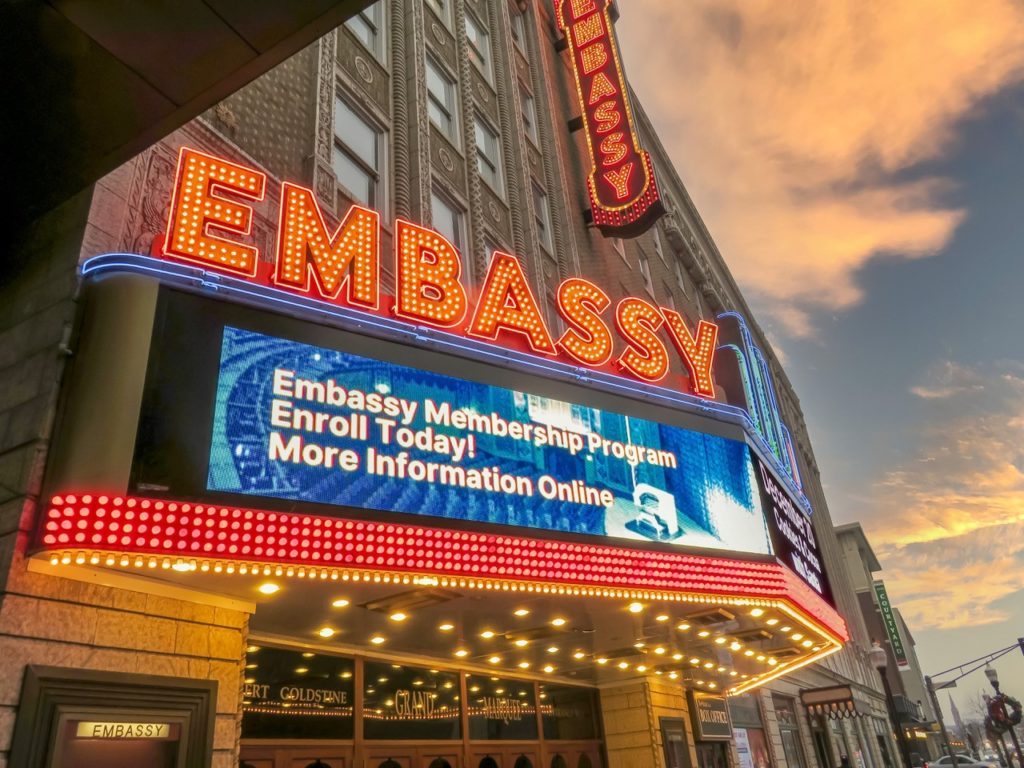 The historic theater was rescued from the wrecking ball in 1972. Two decades later, it underwent a major renovation to bring it up to the modern standards required for national Broadway productions, concerts, cinema, and educational programming. The digital marquee installed as part of the theater's 75th anniversary was recently replaced with a 6mm digital display, the highest resolution in the state.
Programming can be made to look like old signs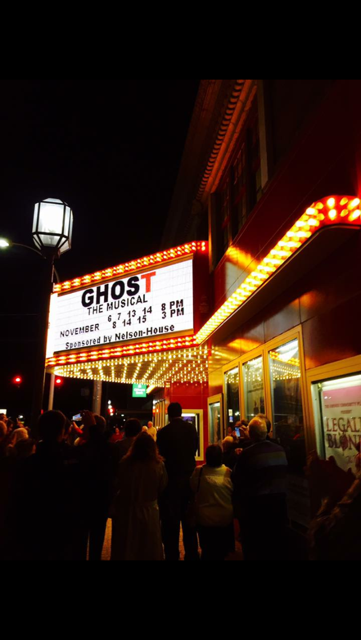 There's something about the nostalgia of old Bakelite panels, but the panels are hard to replace, and the accompanying letter tiles are difficult to change out. The Lebowsky Center in Owosso, Michigan, came up with a solution. Originally a 1,200 seat vaudeville house in 1926 and converted to a movie theater in 1985, the theater underwent a painstaking reconstruction after suffering a fire in 2007. Since the front of the building and the original marquee were spared during the fire, it was important for the exterior to keep the original design.
With many of the original Bakelite panels broken in the marquee, the prospect of a total restoration was difficult and potentially expensive. Instead, the marquee was retrofitted with a 16mm LED sign. The sign's content management software allows it to be programmed with lettering that copies the original marquee's look—right down to a font that matches the old manually applied letter tiles.
Digital is more economical
LED signs are more ecologically friendly because they operate with just a fraction of the electricity required for traditional incandescent bulb signs. Since LED lights use 75% less electricity than incandescent lights, the energy savings can be significant over time. When not as much brightness is needed at nighttime, the signs automatically dim, lowering power consumption even further. LEDs also last much longer than incandescent lights. The average incandescent has a 750-hour lifespan, compared to 100,000 hours for an LED. This cuts down significantly on maintenance and the number of disposable used bulbs.
More eye-catching promotions
In addition to looking great, LED signs deliver more current and eye-catching content than static marquees. With LED signs, theaters can show live video from inside the theater, display video of upcoming acts, showcase an entire season's worth of attractions, promote private rentals, and quickly provide important community updates. All this content can be programmed from anywhere with an internet connection and doesn't require someone to change letters manually.
During the pandemic, digital marquees even helped historic theaters survive state shutdown mandates. The Embassy Theatre promoted its virtual events to keep patrons engaged while thanking its donors and posting community messages of encouragement. Some historic theaters have even opened as vaccination distribution sites. Digital marquees are instrumental in getting the word out, organizing crowds, and sharing clinic details.
Finally, many historic districts have strict zoning regulations that often forbid the installation of LED signs. However, many municipalities make an exception when they learn that adding a digital sign to a historic marquee is a positive choice that benefits the community, is ecologically friendly, and maintains these beautiful buildings' historic integrity.