Features
SanMar Corporation Appoints Two Vice Presidents
SanMar Corporation announces the appointment of two vice presidents.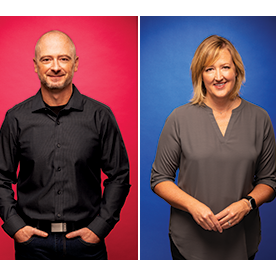 ISSAQUAH, Wash.-SanMar Corporation announces the appointment of two vice presidents. The company names Brian Thompson as vice president of distribution and Shelley Williams as vice president of marketing.
Thompson comes to the role after serving as director of distribution for SanMar, while Williams previously served as creative director for the company. Both appointees also hold experience in a diverse set of industries. Thompson is a Navy veteran with a tenure at SanMar that spans more than 25 years. Prior roles include call center, inside sales, and senior director of distribution.
Commenting on his time at the company, Thompson says, "The employees at SanMar are amazing, and the leadership is friendly and supportive. The opportunities to advance here have been incredible. There is truly a family atmosphere here."
Williams joined SanMar in the summer of 2019 after serving for more than 20 years in creative and marketing roles. Her previous companies include organizations such as Alaska Airlines and Disney. Williams also oversaw the creative strategy and design for a portfolio of websites for Walt Disney Parks and Resorts.
"I'm honored to be part of such an amazing, family-focused company with an incredible reputation and a heart for truly making a difference in our communities and our industry," says Williams. "There's an impressive foundation to build from and an abundance of great opportunities to make an impact."
Williams' promotion takes place as Lee Strom, vice president of marketing, prepares for retirement at the end of Jan. 2020.
For more information, visit www.sanmar.com