Features
SageNet and Adrenaline Partner on Enhancing Digital Experiences for Consumers
More than 3,000 financial institutions around the U.S. are using the companies' integrated products. Now they are targeting retailers.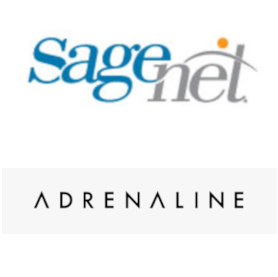 Tulsa, Oklahoma-based SageNet, a managed network solutions provider that serves a variety of industries, including with digital signage, announces a new partnership with Atlanta-based Adrenaline, a nationwide "experiential" design and consulting company. Together, the two companies will leverage each of their areas of specialties to, they say, "expand and enhance digital experiences for consumers in retail settings across the country."
The two companies say they will provide clients with a robust digital offering that they can deploy in retail environments. The offering will merge Adrenaline's focus on brand strategy, messaging, content management and programming with SageNet's comprehensive managed services, network management, enterprise deployment and digital monitoring. The partnership has already resulted in services that have been rolled out to more than 3,000 financial institutions nationwide.
"This strategic partnership will help us provide the always-on service our clients are looking for," says Mark Dodge, senior director of business operations for Adrenaline. "SageNet brings such a deep technical expertise in digital signage and managed network services that we are confident this will add to the seamless experience we're committed to providing to our clients."
Specializing in the financial, retail and healthcare industries, Adrenaline is now offering its experience design solutions to retailers in other vertical markets such as quick service restaurants (QSRs) and convenience stores, where SageNet has a large footprint. SageNet currently manages and supports connectivity to more than 220,000 endpoints across the U.S.