Features
A Word on Rough Surface Wraps
Film that sticks to the most demanding surfaces
Rough surface wraps have only improved with age, thanks to the development of new materials and adhesives. It is easier than ever to cover a brick or concrete structure with removable graphics that look like they were painted on.
A film that's not PVC-based, like most car wraps, conforms to rough surfaces and retains the shape of the surface really well, says Nate Place, senior application engineering technician, 3M.
"It also has a high tensile strength, which is beneficial to keeping the film intact during removal rather than tearing into bits and pieces," he adds.
Most rough wall applications are large, so the entire process from application to removal must be fast and clean.
Rough surface wraps are great for architectural uses, both inside and outside, in any place that used to have to use hard signage or banners. Wayfinding applications are another great use for rough surface wraps, eliminating the need for fixtures to anchor traditional hard signage. That makes it easier for buildings to change hands or design quickly.
"When you are trying to apply to brick textures or stucco textures or bare contact, you want something that will conform to the peaks and valleys," Joey Heiob, technical service representative Avery Dennison. "A film must not only conform but stay in there."
Avery Dennison pairs its rough wall film with a urethane clear laminate, which helps it with conformability and durability to weather the elements.
"We see an increase in facade graphics from an architectural standpoint. We are seeing more people utilize old building spaces with graphics of some sort, urban art, or actually POP-type signage," Heiob adds. "We are definitely seeing more people wanting to use the facades of their buildings to apply graphics to."
Arenas and stadiums are big users of rough wall wraps as well.
With the demand has come a need for better adhesives. Heiob points out that the adhesive has to be a little more aggressive than a standard removable adhesive, but it still needs to be removable.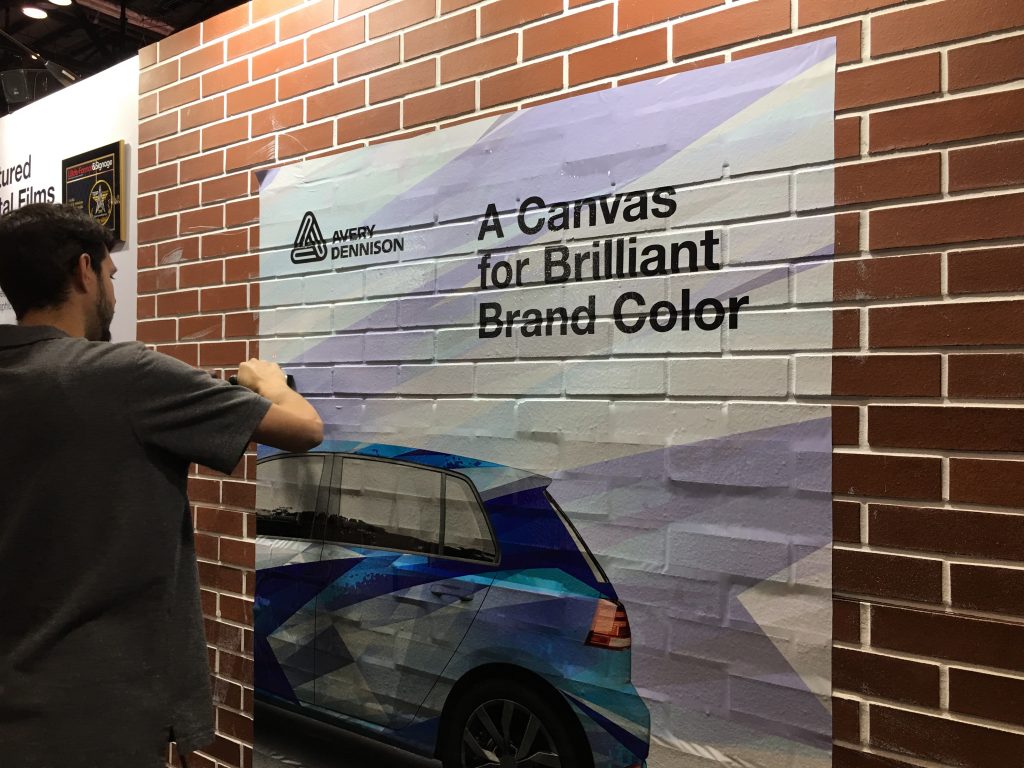 Most users of rough wall wraps are not expecting the graphics to be long-term. They want to be able to remove it quickly and with minimal adhesive residue left behind. Even though rough wraps adhere to rough surfaces, he says the substrate, whether it is brick or stucco, must be in good condition before the wrap is applied. Otherwise, it won't last as long.
He likens it to a car wrap: You can't expect to put vinyl on a rusty car and make it into a show car. The vinyl won't adhere to the rust. The same goes for any substrate.
Rough wrap material is definitely a "niche product," says Heiob. "It is not something people have in their everyday inventory. They order it in as they need it as application requests come up."
Most vehicle wraps are PVC cast film. Rough films are PVC-free and urethane-based, he explains. The film itself is white, so clients can digitally print their graphics onto the material using latex, solvent, eco-solvent, and UV inks. Applying a laminate over the top protects the ink and increases the graphic's rigidity, so it is easier to install.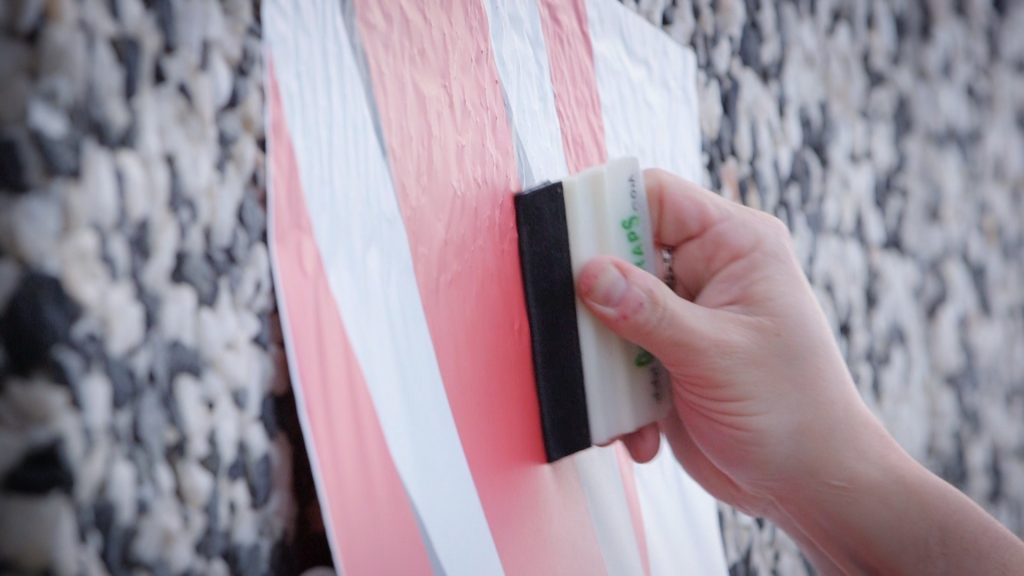 Jeff Stadelman, a Mactac retiree after 32 years, says professional baseball fields use rough wrap decals behind concession stands and around arenas. Schools use them for branding hallways, gymnasiums, locker rooms, and stadiums with their messages or logos. Stadelman has also seen them used on light posts outside buildings. Hospitals also use them to make patient areas more relaxed and people-friendly.
"Interest is growing only because it seems like, to me, the market is not so much about vehicle wraps anymore. It is about decorating space. Whether it is indoor or outdoor space and how you use the different products to create a space," he explains.
That could mean decorating a smooth wall on one side of a space and a rough wall on the other and include floors and windows.
"With the move to architectural space design, interior design and exterior design space, we are seeing combinations of products including rough wrap stuff," he adds.
Mactac also combines its rough wrap films with an overlaminate. Stadelman says he prefers a matte-finished product rather than a glossy finish because it makes the decal look as if it were painted onto the brick or concrete.
Some people prefer the gloss or luster finishes because they want it to stick out like a decal. Other customers put rough wrap on gloss tiles and then add a gloss overlaminate to match the surface of the adjacent tiles.
Place says he prefers a luster overlaminate because sometimes, when applying a rough surface wrap, banding can occur. Banding can happen when the wrap is put on with light or uneven pressure or with speed variations. It can make the gloss level of the material higher from one pass to the other. By switching to a luster overlaminate, "your gloss level is already being reduced slightly before you start application," explains Place. "So if some variation would cause gloss banding, it is not going to be quite as pronounced with the luster."
To apply rough surface wraps, a shop needs a heat gun capable of achieving 1,000 F.
"That may not be the actual temperature at the film surface during application, but the gun itself needs to reach 1,000 degrees Fahrenheit as the recommended temperature for the application," Place says.