Features
Roland DGA Named 2018 Top Workplace for 8th Consecutive Year
This marks the eighth consecutive year Roland is in the lineup.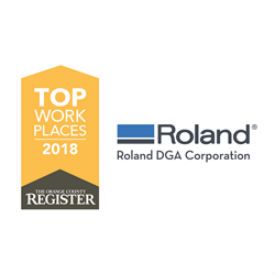 Roland DGA earned a spot on the Orange County Register's 2018 Top Workplaces list. This marked the eighth consecutive year Roland is in the lineup.
Top Workplaces bases the Top Workplaces on information obtained from anonymous employee surveys administered by Energage LLC (formerly WorkplaceDynamics), a provider of employee-based engagement tools. The surveys poll employees on points such as meaningfulness of work, leadership strength, training, workplace flexibility and diversity, social responsibility, and other "key elements that contribute to employee satisfaction," according to Roland. The results of the survey come from 40,564 employees at large, medium, and small-sized companies throughout Orange County, California. The newspaper's 2018 Top Workplaces list features 140 companies.
"Being recognized as an Orange County Top Workplace is a tremendous honor, especially because it's based on feedback from the employees themselves," notes Andrew Oransky, CEO of Roland DGA. "The fact that we've received this award eight times reflects Roland DGA's success in not only creating, but also maintaining, a positive, collaborative, and supportive work environment."
The newspaper honored companies on the list with an awards ceremony in December in Anaheim, California.
For more information, visit www.rolanddga.com.