Features
Ricoh President and CEO Kicks Off Climate Week NYC
This is the first major speech Yoshinori (Jake) Yamashita has given on U.S. soil since taking over as CEO in 2017.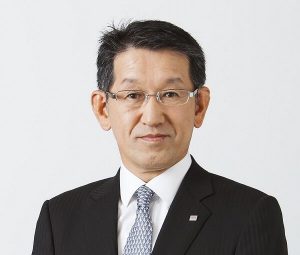 Yoshinori "Jake" Yamashita, president and CEO of Tokyo-based Ricoh, a manufacturer of commercial inkjet printheads, large-format printers and office imaging equipment, made his United States keynote speech debut recently when he spoke at the opening ceremony of Climate Week NYC.
Climate Week NYC, now in its 10th year, is presented by The Climate Group, an international, nonprofit organization that works with multinational corporations and businesses to address climate change. It took place the week of Sept. 24 in New York City.
Yamashita joined global business leaders on the dais, which included representatives from Bloomberg, Microsoft and ZipCar.
Ricoh says that in his speech, Yamashita shared insights into the many ways in which Ricoh is taking action against climate change and the measureable results the company has seen to date.
"At Ricoh, our mission is to pursue excellence, improve quality of life and drive sustainability," says Yamashita. "This commitment is not new to us, in fact, it has been part of our global vision dating back to our founder, Kiyoshi Ichimura. As Ricoh looks into the future, our commitment to these missions increasingly ignites and our desire to empower businesses and societies around the world to work smarter enhances. I am looking forward to sharing our long heritage of driving sustainable business practices and hearing from other leaders of their similar experiences in New York."
Ricoh is part of the United Nations Sustainable Development Goals (SDGs), and has committed to eight of that organization's outlined goals, including affordable and clean energy, responsible consumption and production, and climate action.
To read more about Ricoh's commitment to sustainable business practices, click HERE.