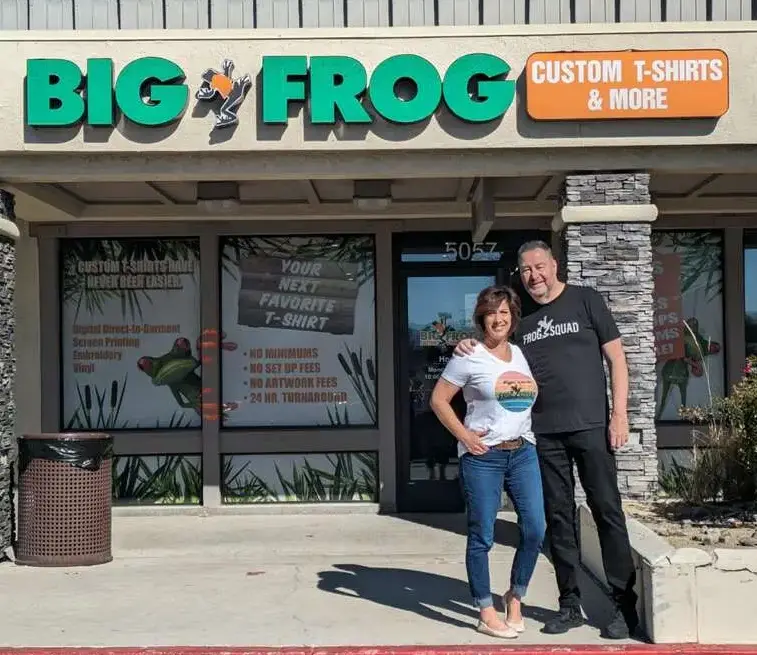 Jeff and Andrea Pearson (Image courtesy Big Frog)
Reno natives Jeff and Andrea Pearson have begun an exciting new journey of business ownership in their beloved hometown, with a Big Frog Custom T-Shirts & More of Reno franchise. This is said to mark a career milestone for the couple and is a "win" for the Reno community.
Jeff & Andrea
Raised in Incline Village on Lake Tahoe's north shore, Jeff was introduced to the hospitality industry at an early age, thanks to his family's bed-and-breakfast. This ignited a lifelong passion for service. With a bachelor's in hotel administration from the University of Nevada, Las Vegas, he went on to manage renowned resorts such as Hilton, Wyndham, and Diamond Resorts International. As western regional director, he led operations across five resorts spanning from Colorado to Hawaii.
In 2023, he was ready for a change and felt strongly about starting a business, working for himself, and building a legacy for his family. But he wasn't exactly sure what to do or where to begin. That's when he learned about the Big Frog franchise opportunity. He was impressed with Big Frog's exceptional training.
"I have attended Hilton Worldwide University, Wyndham Hotels & Resorts General Manager Program, as well as Cornell University's Professional Development Program," states Jeff. "I must say that Big Frog University provided training on par with these outstanding programs. I know that our success will be forever enhanced by the experience."
Andrea Pearson is a native of Reno and attended the University of Nevada. Prior to Big Frog, she was on the administrative team of the University of Nevada's Athletics Department for 11 years. She then worked as executive assistant to the director of athletics for 16 years before moving to the School of Public Health as executive assistant to the dean. She brings extensive administrative expertise to Big Frog of Reno and will manage marketing, promotions, merchandising, and a myriad of other details.
Big Frog Reno
At Big Frog's "Meet the Team Day," upon signing their franchise agreement, Andrea was amazed by the support from Big Frog's headquarters team. "We are so honored and thrilled to officially be a part of the Big Frog team!" says Andrea. "The support and encouragement we've received from everyone is so appreciated and has reinforced what we already knew was a great decision for us and our family."
According to the company, the Pearsons' passion for people, community engagement, and commitment to quality service make them ideally suited for the Big Frog franchise opportunity.
Big Frog of Reno is located at 5057 South McCarran Blvd., Reno, NV 89502. Its specializes in direct-to-garment printing (DTG), vinyl, embroidery, and more. The design team provides custom T-shirts, embroidered apparel, and branded merchandise to schools and universities, clubs and associations, businesses and non-profits, and individuals throughout Reno.
The Pearson are excited about this new chapter in their lives and look forward to meeting the custom apparel needs of Reno's residents and businesses.