Features
Recap: The First Annual Sublimation Summit
Sublimators escaped to a wooded resort outside of Atlanta to learn all about sublimation.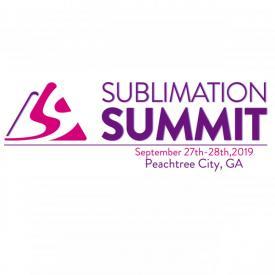 A quiet, wooded resort outside of Atlanta was home to the first annual Sublimation Summit on September 26-28, 2019. Close to 300 hobbyists, small business owners, and simply those interested in learning more about sublimation gathered at the event organized by A&E columnist and owner of Just My Imagination DeZigns, Cheryl Kuchek.
At the conference, attendees learned about several different aspects of the sublimation industry, from working with different substrates to setting up an e-commerce website. There were over 90 classes from Thursday to Saturday, with up to six classes to choose from each hour.
The classes were taught by industry experts including David Gross and Sprite Wood of Condé; Jimmy Lamb and Vik Patel of Sawgrass; Aaron Montgomery of MontCo Consulting and 2 Regular Guys podcast; Joe Dovi of UniNet; Rich Zydonik of Rowmark; Roger Wambolt of Corel Corporation; Aaron Knight of Geo Knight; Maradith Schwandner of Coastal Business Supplies; Anthony "Tony" Lorenc; Randy Braatz; Joe Piazza of Siser; and many more.
In addition to classes, a Sean Kouplen, the keynote speaker, presented near the end of the first full day of classes. Kouplen is Oklahoma's Secretary of Commerce, and CEO of Regent Bank in Tulsa, Oklahoma. Kouplen's speech, entitled "Five Questions of Significance," addressed living a life that leaves a legacy.
Following Kouplen's speech, a Question-and-Answer panel with David Gross, Jimmy Lamb, Aaron Montgomery, Randy Braatz, Rich Zydonik, Jim Tenholder of Imaging Supplies Warehouse, and Erika Ferraby of High Cotton Gifts took place. Attendees had the chance to send in questions beforehand to be answered during the panel.
The Summit Gala was held the night of the 27th. At it, were door prizes and an auction with the proceeds going toward Habitat for Humanity or Relief for the Bahamas, winner's choice.
According to Kuchek, the conference was intended to inspired people. "It was like a dream come true," Kuchek remarks.
For more information, visit sublimationsummit.com/.