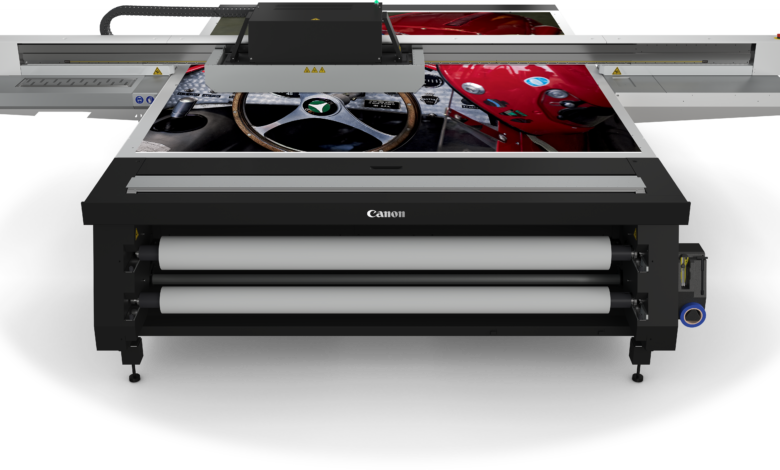 Explore the unlimited creativity, accuracy, and quality of a flatbed printer with UV-curable ink. As a shop, you want equipment in your arsenal that's quick, reliable, and low maintenance while also bringing print quality, versatility, and easy workflow integration for rigid and flexible media applications.
When shopping around, look for a printer that offers an impressive application range, limitless capability, and self-learning technology. These components will help you further expand your expertise and business quickly and efficiently.
If you're looking to beat out other print service providers (PSPs), production capacity, versatility, and creativity are key.
Production and workflow
When a valuable rush job comes in, you want to start it immediately, which means instant printing capability is a must. You don't want to waste time waiting for your machine to warm up. With UV flatbed printers, like those in the Canon Arizona 2300 series, you're ready to go as soon as you get an order.
Another area where you want to save on time and maximize workflow is taping. When you have a new job come through, you want equipment in your setup that offers hassle-free job switching and the freedom of productive multi-board or double-sided printing. How does this benefit you? It means far less masking and time spent on preparation and more time printing.
Maintenance is also a key factor to consider when making an equipment purchase. Look for a printer that allows you to stay productive. The Arizona 2300 series printers' automated maintenance system (AMS) offers hands-free print head maintenance, which allows for quick restoration of nozzle functionality. This applies to white, which traditionally has always been a difficult color to maintain for any manufacturer.
When shopping for any piece of equipment, it's easy to get caught up in how it will serve you right now, but it's also important to consider what your shop will look like and need in the future. Look for solutions that allow you to expand over time. Printers with four, six, or eight color channels let you create the exact hardware configuration you need. With a roll media option, you can print on media of up to 86.6″ wide and weighing up to 110.2 pounds. This includes thin, heat-sensitive media. This flexibility allows you to switch between rigid and flexible media jobs without any machine preparation, enabling safe, unattended overnight printing.
Other workflow considerations include a printer that allows you to create a job once and then easily adapts and repeats to save time on future projects.
Your business and creativity are bound to grow as a PSP—make it easier on yourself by investing in equipment that grows with you and allows you to automate your workflow even further.
Versatility and creativity
Having the ability to print on rigid or flexible media, including odd-shaped, heavy, smooth, and pre-cut media, is essential for you as a shop. It ensures you can take on a variety of custom jobs that come through your doors.
Print on unusual media or objects like canvas, wood, tiles, glass, or even large images tiled over multiple large boards. With Arizona 2300 printers, you can achieve edge-to-edge printing for media or objects of up to 98.4″ X 121.3″ depending on the model.
Offering photorealistic print quality, fine detail, and smooth gradients is more important than ever. Your current and potential customers have many options when it comes to choosing a PSP—offering superior quality is one way to capture and keep those customers.
Shopping for the right solutions—the features and capabilities you need now and for the future—will further set you apart from the competition.