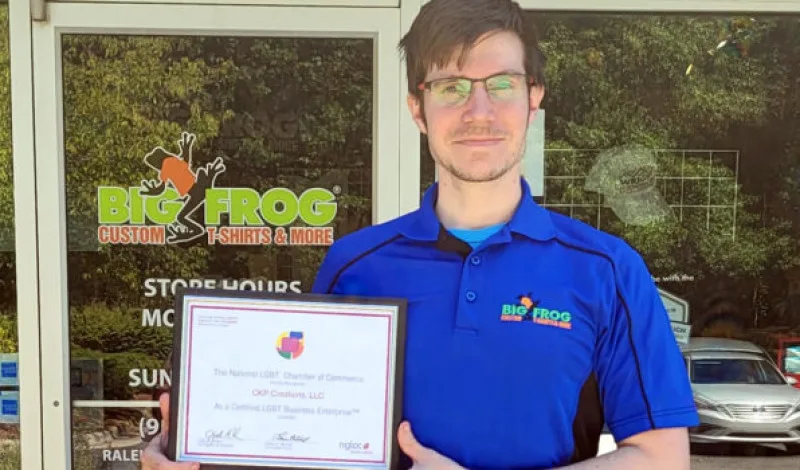 Co-Founder Kyle Perkins holding the NGLCC certificate (Image courtesy Big Frog)
Big Frog of Raleigh-North, based in Raleigh, North Carolina, is proud to announce its recent certification as an LGBT Business Enterprise (LGBTBE) through the National LGBT Chamber of Commerce (NGLCC) Supplier Diversity Initiative.
The NGLCC is the business voice of the LGBTQ community and serves as the nation's exclusive certifying body for LGBTQ-owned and operated businesses.
For the NLGCC certification, the shop gathered documentation to submit to the NLGCC and had an on-site visit and review; the process took about six months from start to finish. According to the company, the real qualifier was that:
Co-Founders Kyle and Keat Perkins are both bisexual
The space is a welcoming environment for LGBTQ individuals
The shop is verified as an LGBTQ-owned business
"We are so pleased to welcome Big Frog of Raleigh-North to the ever-expanding network of NGLCC-certified LGBT Business Enterprises and the hundreds of corporations and government agencies eager to put them to work," says NGLCC Co-Founder and President Justin Nelson and Co-Founder and CEO Chance Mitchell.
Mitchell continues, "According to NGLCC's groundbreaking America's LGBT Economy report, America's estimated 1.4 million LGBTQ business owners, many of them NGLCC certified, add over $1.7 trillion to the GDP and create tens of thousands of new jobs. We are proud to count Big Frog of Raleigh-North among those who prove every day that LGBTQ businesses are the future of the American economy."
Big Frog of Raleigh-North is now eligible to participate in the NGLCC's corporate partners' supplier diversity programs, can take advantage of the case educational opportunities promoted by the NGLCC, and can work to foster business-to-business relationships with other LGBTBE's worldwide throughout the year, and especially at the NGLCC International Business & Leadership Conference.
"We take immense pride in our official affiliation with the LGBTQ community," asserts Kyle Perkins. "The unwavering backing and encouragement we have garnered from local chambers, national organizations, and the wider LGBTQ community have been resoundingly positive. As store owners, we are honored to embody a vital aspect of the LGBTQ spectrum."
HARMONY involvement
Big Frog of Raleigh-North is also very involved locally in HARMONY, Raleigh's LGBT Chamber of Commerce. The shop created branded polos and shirts for HARMONY's new brand launch and will be shirt sponsors, pitch members, and exhibitors at HARMONY's Pride Life Summit and Expo in October.
Kyle and Keat explain, "As an NLGCC-certified business, we want to expand our reach and provide a safe resource for the LGBTQ community in the Triangle area. As not just allies, but members of the LGBTQ community, we want to promote inclusion and representation for a community that is often misunderstood."
They continue, "We also want to reach out to other LGBTQ businesses in the area and increase interaction between all parties, showing support for LGBTQ owners and businesses, and helping the community grow. All chamber members (any chamber we belong to) receive a 20% discount from 'members helping members,' which also extends to HARMONY members as well."