Features
Radian Laser Systems Partners with PAT Technology Systems
After testing a PAT Technology fume extractor with a Radian laser, the partnership was formed.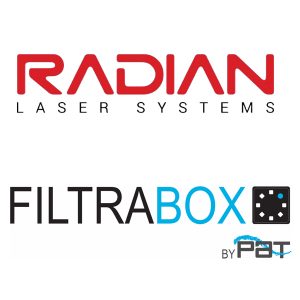 Radian Laser Systems announces a new partnership with PAT Technology Systems. According to Radian, the partnership allows the laser company to offer a fume extractor from PAT Technology, specifically the Filtrabox, when quoting marking systems for customers. The extractors will not be offered on the Radian webstie
"We chose to partner with Filtrabox in particular due to the quality of the machine, ease of maintenance, and trusted relationship," says Radian Laser Systems CEO Tom Tamburrini.
Radian recently tested the Filtrabox fume extractor with its new laser marking module at a trade show. Based on the results from those tests, the partnership was formed.
"Radian Laser and PAT Technology have similar values; we both believe in deploying innovative solutions to meet the demands of our customers for today and for the future," says PAT Technology President Wayne Baird.
"With any marking and engraving systems, a high-quality fume extractor is necessary to ensure the safety of the working environment from fumes, smoke, and unpleasant odor," adds Tamburrini. "We want to make the experience easy for the customer to get a complete system so they can easily be up and running quickly knowing that all components work together seamlessly."
To learn more, visit www.radianlaser.com or www.filtrabox.com.