Features
Producers Pivot to Survive Pandemic
Graphics shops around the industry are staying nimble to address and cope with COVID-19.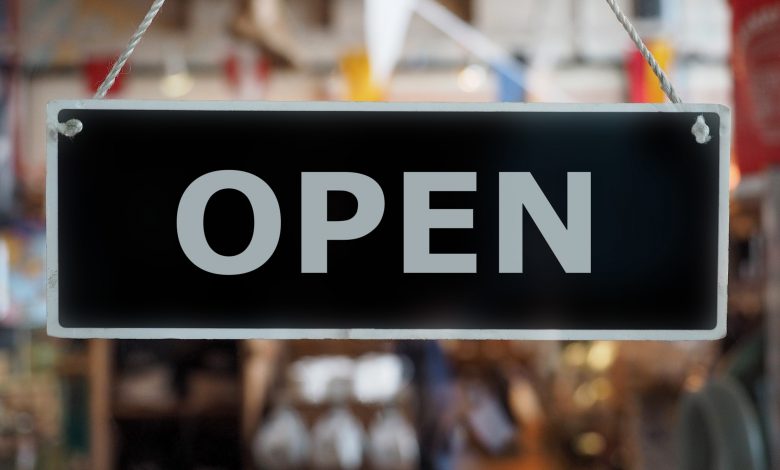 While states continue to experience either full or partial shutdowns, businesses in the various graphics markets have been hugely affected. This article serves as a roundup to spotlight the notable work producers in the apparel decoration, awards, customization, and printing markets are doing to help their communities, as well as keep their doors open.
In Springfield, Missouri, BJ's Trophy turns its attention to making protective counter shields during a time when the demand for awards is low.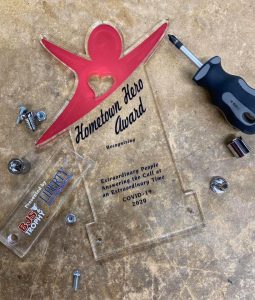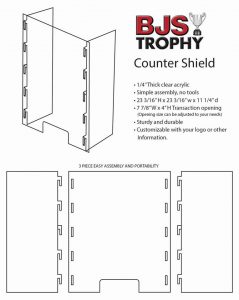 With the counter shield, BJ's Trophy aims to help fight the spread of COVID-19 by providing a protective barrier between individuals needing to interact. The small opening at the bottom of the shield allows for transactions of paperwork and the like to take place.
According to the awards shop's Facebook, the shields are made from thick 1/4" acrylic, with custom options available.
BJ's Trophy is also taking the time to recognize individuals doing good during this time, with a custom Hometown Hero Award.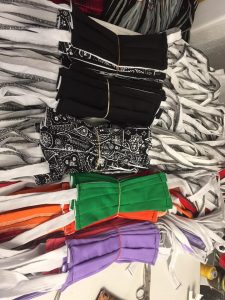 Only a few hours south of the GRAPHICS PRO office, Colorado Sublimation Printing pivots its production and begins sewing cotton and flannel masks from donated materials, giving them out to locals in need at no cost.
The shop, which offers sublimation services on an array of substrates from metal, wood, and acrylic to apparel, first entertained the idea of making masks on March 23.
The business put out a call on Facebook reading, "We have seen a lot of posts about shortages of masks. If there is any way COSUBPRINT can help out please let us know. We do have the sewing machines to make some for local medical offices that might need them. Send us a message if you know of any places that can use a few."
As of April 29, more than 2,000 masks had been made by the La Junta shop, with materials donated by the local community.
On March 20, New Jersey wrap, sign, and apparel shop Designer Wraps had to close its doors under state orders that all non-essential businesses must halt operations. With the shutdown, the shops' president Sean Tomlin knew he had to create a product that would deem the shop "essential."
The business directed its attention to making custom face masks using dye-sublimation equipment and recreated its apparel site to sell face masks solely.
Tomlin tells GRAPHICS PRO, "This lateral move has allowed us to 'stay alive' during this crisis and offer a product that is a necessity in most states and may well be in the coming months even after the economy opens back up."
For Excel Plastics COO Craig Koefod, the understanding of facing a possible shutdown started stirring thoughts of ways to help his community and employees during the pandemic.
Immediately following a team meeting on the company's approach to helping fight the spread of COVID-19, Koefod received a call from Greater Furgus Falls, a non-profit economic development arm for the City of Fergus Falls in Minnesota, inquiring about personal protective equipment (PPE).
This was a first for Excel Plastics, so the two organizations collaborated on building out samples and prototypes, resulting in the first batch of 4,000 units created for Lake Region Healthcare in Fergus Falls, Minnesota.
Koefod told Otter Tail Lakes Country, "As a local family-owned business, we pride ourselves not only on making great products but also in the way we care for our employees and our community. We are privileged to help in any way we can."
The company is also considering other products that can aid in the safety and protection of individuals, including sneeze guards or other plastic installations to be used in public settings.
Watch Koefod's full interview with Otter Tail Lakes Country below.
For FiveStar Awards & Engraving, located in Cary, North Carolina, helping came in the form of launching the Halos For Heroes campaign. According to the company's Facebook page, "As a designated essential N.C. business, we have set a goal to use our in-house Trotec lasers and Mimaki printer to produce up to 26,000 face shields for the countless local heroes saving lives every day."
The company invites customers and beyond to donate to the cause and assures that all donations will go straight toward the project and costs.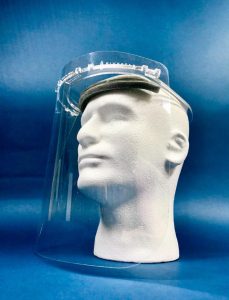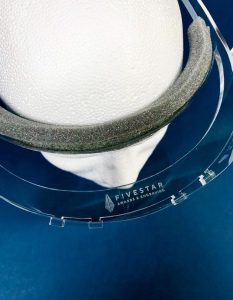 "We are grateful to be able to use our equipment and resources lying idle in these unprecedented times for the greater good!" the company adds. "FiveStar is completely donating our time, technology, and talents. We will not receive any payment for our role in the project."
To stay updated, follow FiveStar's Facebook page.
Just one state over in Norfolk, Virginia, G&W Awards by Allogram, a full-service trophy and awards store, is helping people stay safe and healthy during the pandemic.
The awards and customization shop recently debuted the Allo-Guard, a small device to help users navigate publicly shared spaces and avoid touching surfaces. According to Allogram's Facebook page, the tool is "4 inches of personal protection, allowing you to open doors and push buttons without fear of public surfaces." 
The World Health Organization website states, "Studies have shown that the COVID-19 virus can survive for up to 72 hours on plastic and stainless steel, less than 4 hours on copper and less than 24 hours on cardboard."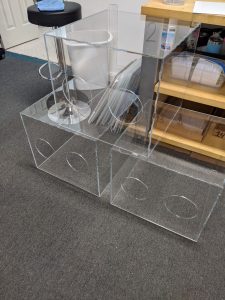 In Christiansburg, Virginia, New River Engraving, a source for corporate gifts, awards, and promotional products, is now in full production on intubation boxes and face shields.
On April 2, the shop first shared the news that it was exploring a way to help healthcare workers on the front lines of COVID-19. Since then, New River Engraving has produced and donated 45 boxes and 400 face shields for medical facilities across the U.S.
"We're now working on acrylic counter guards, acrylic lunch table dividers for cafeterias in manufacturing plants, and special face shields for dentists to allow for their loupes to fit under the shield," says Andrew Howery of New River Engraving. "We're also taking the scrap PET material from the face shields and cutting ear savers for health care workers to use with their face masks."
The box allows medical personnel to put their hands through the box and keep their face away from the patient during intubation.
The shop plans to donate all face shields and boxes and set up a GoFundMe page to raise funds to buy necessary materials for this initiative. According to the fundraising page, the boxes cost $125.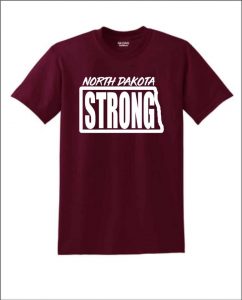 In North Dakota, Northern Trophy and Silk Screening partners with lifestyle brand ÂsceND to raise money for food banks.
For each COVID-19 Relief T-shirt purchased, 15% of the order will be donated.
There are six shirt design options to choose from and 10 shirt colors available.
Visit the T-shirt web store for more information.
For Pinebeach Ink, a Wyoming screen printing, embroidery, and promotional products shop, the way to manage the current situation was through the launch of WYCO-OP, a project aimed at supporting local Laramie, Wyoming businesses.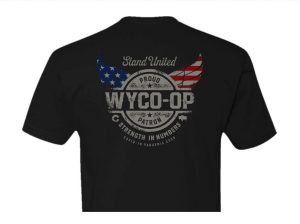 Through WYCO-OP, Pinebeach Ink offers merch from a variety of Laramie, Wyoming businesses at www.wyco-op.pinebeachink.com. For every shirt sold, Pinebeach gives $10 to the small business.
"Initially, it may seem like purchasing a T-shirt is too small a gesture to actually make a difference, but as every business owner knows little by little, a little becomes a lot," the site reads. "Be a proud patron, stand united, and support a local business. There is strength in numbers."
The print shop is accepting company logos/designs via email, creating a mock-up and proof for approval, and then uploading the business' product to the web store. It's batch printing on the first and 15th of every month, and on the 1st every month, Pinebeach pays out each participating business for shirts sold in the previous month.
"Not only will your purchase support the local economy, but what makes this shirt different from others is the unique commemorative logo printed on the back," the site continues. "And for years to come wearing this shirt in public will be a testament to your patriotic pride during a time of national crisis."
In South Easton, Massachusetts, Pop Tops Sportswear, a shop that usually delivers custom athletic uniforms and apparel to the sportswear market, shifts its production and printing to make custom face masks and face gaiters.
According to recent Facebook posts, the shop has produced masks for the Massachusetts State Police, UPS, among other local businesses.
https://www.facebook.com/poptops/videos/2864032660358864/
Pop Tops uses a triple-layer of polyester, with a sewn-in filter, to make the masks.
Ben VandenWymelenberg, the founder and CEO of WOODCHUCK USA, a custom wood production company specializing in gifts, enters into new production territory with the production of face shields.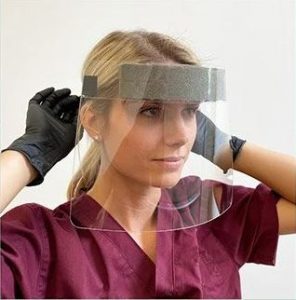 The Minneapolis, Minnesota-based producer first shifted half of its production to making shields for medical workers. After the word spread and need grew, WOODCHUCK USA turned 100% of its output to face shields.
During its start, the company produced 45,000 per day. As demand grew, it increased production to 250,000 units per day. The shields are compliant with N95 masks and John Hopkins' standards. According to VandenWymelenberg, "The face shields essentially elongate the lifespan of N95 masks worn by medical professionals on the front lines of this crisis."
On the website, VandenWymelenberg writes, "Myself and my entire team here at WOODCHUCK USA are standing by and ready to help in whatever way possible."
---
GRAPHICS PRO will continue to share stories of business owners shifting production and helping during this challenging season. If you own an apparel decoration, awards and engraving, or sign shop and want to share your story, please email Allee Bruce at [email protected].