Features
Printwear Pauses: Outerwear Trend Watch with SanMar's VP of Merchandising
Printwear chats with Shelley Renning SanMar's VP of Merchandising about outerwear and jackets.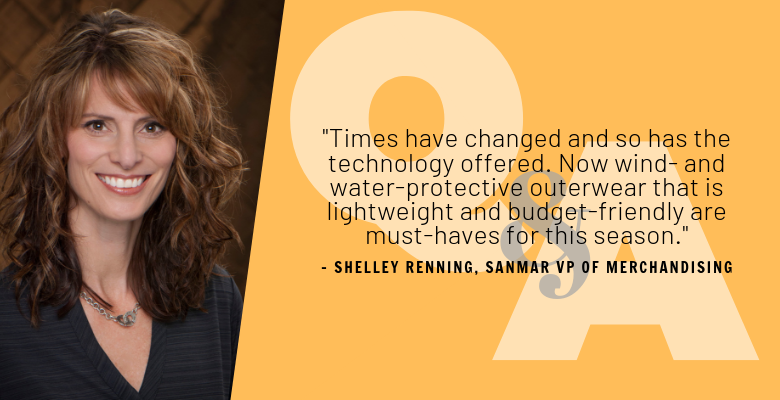 Welcome to Printwear Pauses, where we highlight one-on-one discussions with industry professionals in a Q&A format. These Q&As share the thoughts and opinions of some of the industry's most knowledgeable individuals. For this installment, we are pleased to chat with SanMar's VP of merchandising Shelley Renning.
What are the current trends within outerwear/jackets right now?
So many trends are going on in outerwear and jackets right now! The long-time trend of puffy coats doesn't show any signs of slowing down. As technology has improved, what used to be only available in a down option that wetted out in inclement weather is now a synthetic fill that mimics the warmth and weight of down, with the added benefit of water resistance and easy care. The North Face was a pioneer in this.
The new shirt jacket silhouette is right on trend! Shirt jackets bridge the gap from strictly outerwear to casual inside wear, plus they convey a more tailored look than a traditional puffy jacket.
For maximum weather protection, 3-in-1 outerwear can transform to meet our ever-changing weather needs. A 3-in-1 has a water-protective shell. However, the inner layer can range from cozy fleece to softshells to puffy, giving users the option of choosing the 3-in-1 that will best work for their region and climate needs.
In the past, ultra-light rainwear tended to be more expensive compared to more traditional waterproof fabrications. It was harder for customers to grasp that something lighter could be just as or even more protective than a heavier weight fabrication. Rainwear does not have to be bulky to be ultra-protective, so continue to look for lightweight rain jackets that offer water and windproof protection with high breathability.
How does that differ from what the wholesale market has seen in seasons past?
Times have changed, and so has the technology offered. Now wind- and water-protective outerwear that is lightweight and budget-friendly are must-haves for this season.
Softshells continue to be one of the strongest outerwear categories in our market due to the versatility and functionality. The popularity of softshells isn't slowing down, but heathers or smoother surfaces with welding bring new life even to simple silhouettes.
How is the shrinking gap between wholesale and retail affecting trends in outerwear/jackets?
The shrinking gap between wholesale and retail is happening across all apparel product types, not just outerwear, although trends in outerwear tend to be less volatile since outerwear is so functional and performance-driven.
What decoration methods and placements work well for the on-trend pieces?
Samples and testing are recommended before production. Equipment, materials used, and operator experience all play a role in successful decoration.
Embroidery and heat transfer is recommended for all of the styles mentioned above. Embroidery can be done on any waterproof jacket, and it can still maintain its waterproof properties if either a waterproof backing is used or waterproofing is applied to the front of the design.
For heat transfers, special care is necessary throughout the decoration process due to the nature of water-resistant coatings. A special adhesive heat transfer is required.
Consult a decorator or material supplier about which transfer material would work best for the material and look you are trying to achieve.
Laser etching and embossing or debossing are both great options.
Here is a link to our Decoration Placement resource page on SanMar U. This will help with general placement ideas and options.