Features
Printwear Pauses: 5 Minutes with Darci Jeffrey-Andersen of Coastal PRO
For this installment, Printwear is pleased to chat with Darci Jeffrey-Andersen of Coastal PRO, a subsidiary of Coastal Business Supplies.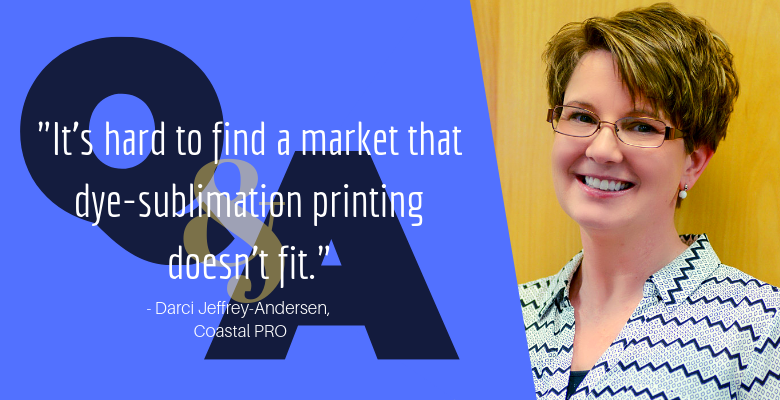 Welcome to Printwear Pauses: 5 Minutes with where one-on-one discussions with industry professionals are featured in a Q&A format. These Q&A's share the thoughts and opinions of some of the industry's most knowledgeable individuals.
For this installment, we are pleased to chat with Darci Jeffrey-Andersen of Coastal PRO, Coastal Business Supplies' wide-format department.
For those new to wide-format sublimation, can you tell me about some of its pros and cons related to apparel decoration specifically?
Truly, there are so many 'PRO' features. For example, there's a wide selection of items that you can sublimate, and it's so easy to do. You just have to print it, press it, and collect the profit.
In fact, once someone is set up with a reliable heat press and they are comfortable with the variables that come with the production flow, they simply need to grab some great graphics, and they're on their way.
Like anything else, sublimation does have a few drawbacks, so it's good to know them or ask for help when starting out. Probably the most common we see is that when working with dark apparel, especially black shirts, you can't sublimate directly onto the fabric. The dye within the ink won't appear on darker garments. However, there are ways around this. Using a heat transfer vinyl that's receptive to sublimation inks will solve that issue.
And how has wide-format sublimation printing technology developed over recent years? Have there been any significant innovations as of recent? 
The sublimation industry has changed quite a bit over the years. When it was first introduced to the market, manufacturers were using printers that were intended to be used for other methods like standard desktop printing and signage.
Eventually, manufacturers took those printers and converted them into dye sublimation printers. This worked for a while until print heads started to erode. Some manufacturers addressed this issue head-on by developing their own inks and print heads that are made specifically for dye-sublimation. I always recommend working with equipment that was made for the production it was intended for.
Now, the next step is happening in sublimation. Printers that were developed for sublimation are being reinvented with features that will increase productivity with faster printing speed, less downtime on maintenance, and better color control. The wide-format dye sublimation printers are being enhanced to better fit the needs and demands that the print shops are needing.
What are some applications where wide-format sublimation printing would be beneficial to apparel decorators?
It's hard to find a market that dye-sublimation printing doesn't fit, some way or another. The apparel and sign industries are the first obvious markets people think of. However, we are seeing this production used in the healthcare market, fishing industry, and yes, even in aerospace.
Are producers limited in blank products when it comes to wide-format sublimation printing?
You can really think outside the box when going beyond non-wearables. Dye sublimation production partners with polymer. This includes polyester fabrics as well as substrates that have a polymer coating. But, although it sounds easy, you have to be cautious. To accept a sublimation ink, the polymer coating must be suitable to the object's surface, which can resist high temperature. Any dust, scratch, or defect in the coating will show up on the transfe. In addition, there are some polymer coatings that are for indoor and outdoor use.
Why/when should an apparel decoration shop consider adding wide-format printing capabilities to its shop?
Here at Coastal, we recommend the three-day rule. What this means is, if you are already printing dye-sublimation on an average of three days or more per week, or if you plan on working with dye-sublimation production more than three days per week, you should definitely be looking at a wide-format printing.
Regardless of how small or large the item is that you are producing, this three-day rule ensures you're working in the most cost-effective way possible. It all comes down to production cost. Desktop printers have a lower startup cost, which seems enticing to some. However, when you consider the ongoing production cost of ink and paper, you will quickly realize that the profit margins are much more favorable with wide-format printing.
Are there any logistics to consider before making the big purchase?
Logistically, the size of the door opening, the space available, and the electrical issues are the most common items to consider when purchasing a wide-format printer. Just be sure to ask for the specs of the equipment you are purchasing and consider the size of the equipment versus the room size. There is some operational room needed to have around the equipment, and you should be aware of what your electrical requirements will be and whether they can be accommodated. You will also want to be aware of the network connections needed to connect to a PC.