Features
One Stop Marks Three Decades in the Apparel Business
Great Lakes-area apparel supplier One Stop marks its 30th anniversary in business.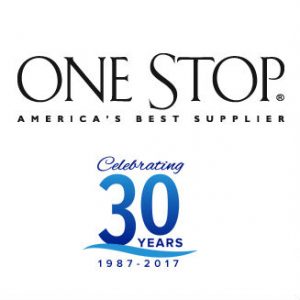 Great Lakes-area apparel supplier One Stop marks its 30th anniversary in business. The Michigan supplier, dba of its parent company Top Apparel, traces roots back to owner and president Bob Palmatter's first enterprise, a set of retail stores that catered to young men's and women's fashions known as The Depot. Palmatter eventually grew to running a screen-printing apparel operation as well, and sought interest in transitioning into the supply market.
"During the operations of running the screen-printing company, (Palmatter) was ordering T-shirts from suppliers and decided he would give a shot at opening as a wholesaler for apparel and (apparel decoration) supplies," explains Lisa Shaw, vice president at One Stop.
Still operating The Depot stores, Palmatter created Top Apparel as an umbrella company to cover his separate businesses, and effectively formed One Stop in 1987. Palmatter and his team operated out of Spring Lake, Michigan at the time, running One Stop out of a 2,000-square-foot facility, shared with his retail company's offices. Shaw says that before long, One Stop sought new facilities.
"One Stop grew very quickly, so we moved from Spring Lake to Grand Rapids in 1991," says Shaw. The company moved into a 46,000-square-foot facility at that time.
Despite that initial move, Shaw points out, One Stop continued to grow year-over-year. In 1996, the company moved to another facility in Grand Rapids, incrementally climbing to a capacity of slightly less than 200,000 sq. ft, where the company sits today.
Having a foothold in Grand Rapids has helped the company's growth, she says, for a variety of reasons. Proximity to a UPS shipping hub allowed One Stop to expand its shipping cutoff times for same-day shipping, plus broaden its customer pickup base.
In addition to physical growth, Shaw says One Stop counts milestones in the scope of awards and recognition over the course of the past three decades. The annual Inc. 500 list, a compilation of fastest-growing private companies in the U.S., chose One Stop in 1993 and 1994, ranking them 110 and 289 respectively. On a regional level, the company holds three awards from the Michigan Private 100, and a number one spot from Outstate Michigan Private 50 in 1993. The Private 50 rates companies outside of the Metro-Detroit area for highest net revenue growth in the first five years of business.
As the official anniversary draws closer in October 2017, Shaw says the company shows steady signs of continued growth. She points to the fact that at the time of winning the Private 50 distinction, the company had 39 employees, and now employs more than 210 individuals in the West Michigan region. One Stop continues to expand with the addition of brand lines, as well as its own private brand line, Enza. In the coming years, Shaw states that the company hopes to drive growth both through physical expansion, and through digital means.
"We're expanding the development of our internal systems so that we can stay nimble to the changes in the industry," she explains, adding that companywide, the main goal is creating efficiencies in core components like shipping programs, inventory management, and customer relations.
Ultimately, Shaw contends, she's seen stability in company culture at One Stop, where it's quite common to see the same management stay on for more than 10 years.
"We have a pretty seasoned crew that is very good at what they do, which allows us to maintain the consistency of our service, year-after-year to our customers," Shaw states.
For more information, visit http://onestopinc.com/.