Features
Print Perfect: Direct-to-Garment Tips from High-Production D2 Shops
Try these handy tips from Taylor Landesman for successful high-volume D2 printing.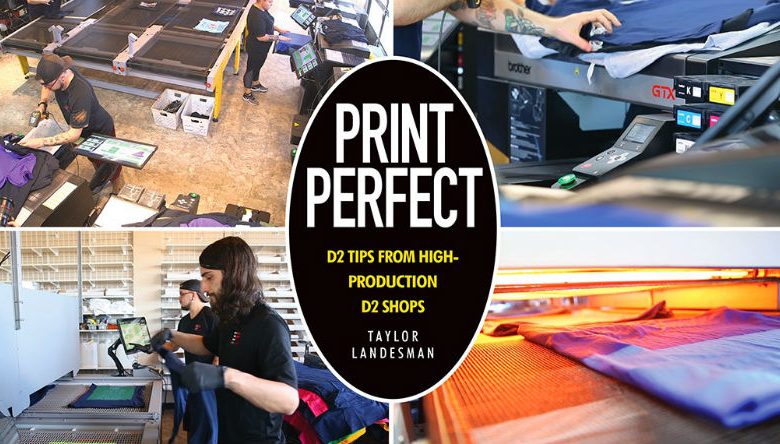 Everyone who does direct-to-garment (D2) printing is always looking to improve their prints and workflow process. Moving from a smaller to a larger scale D2 production facility takes planning and an understanding of the more nuanced and technical side of D2. Further, as your production grows, so will your staff. This might mean a new role for you, the shop owner. Having new operators means you need to produce a clear and executable standard operating procedure (SOP) to maintain quality prints. Having consulted with the industry to help D2 printers scale up their operations and maximize production workflow, there is both a science and art to producing the best D2 prints. Below are some helpful tips and tricks that large D2 operations put in place.
DOCUMENT EVERYTHING
The most successful D2 printers can repeat a job, whether it was one month ago or one year ago. This means being able to recall the exact same settings and parameters, including RIP settings, color density, and amount of pretreat solution used. Make a system for documenting your work. Writing it down on paper is helpful, but consider keeping this information in an electronic file, such as Excel, Word, or a Google Doc.
USE QUALITY GARMENTS
D2 printing works best with 100% cotton shirts. Look for garments that are high quality and ring spun. A T-shirt that is of lower quality might result in a less than desirable print.
Some D2 printers have had success with 50/50 and tri-blend material garments. Those that are making it work have done significant testing prior to offering it to their customers. During testing, you want to check both for color brilliance and washfastness.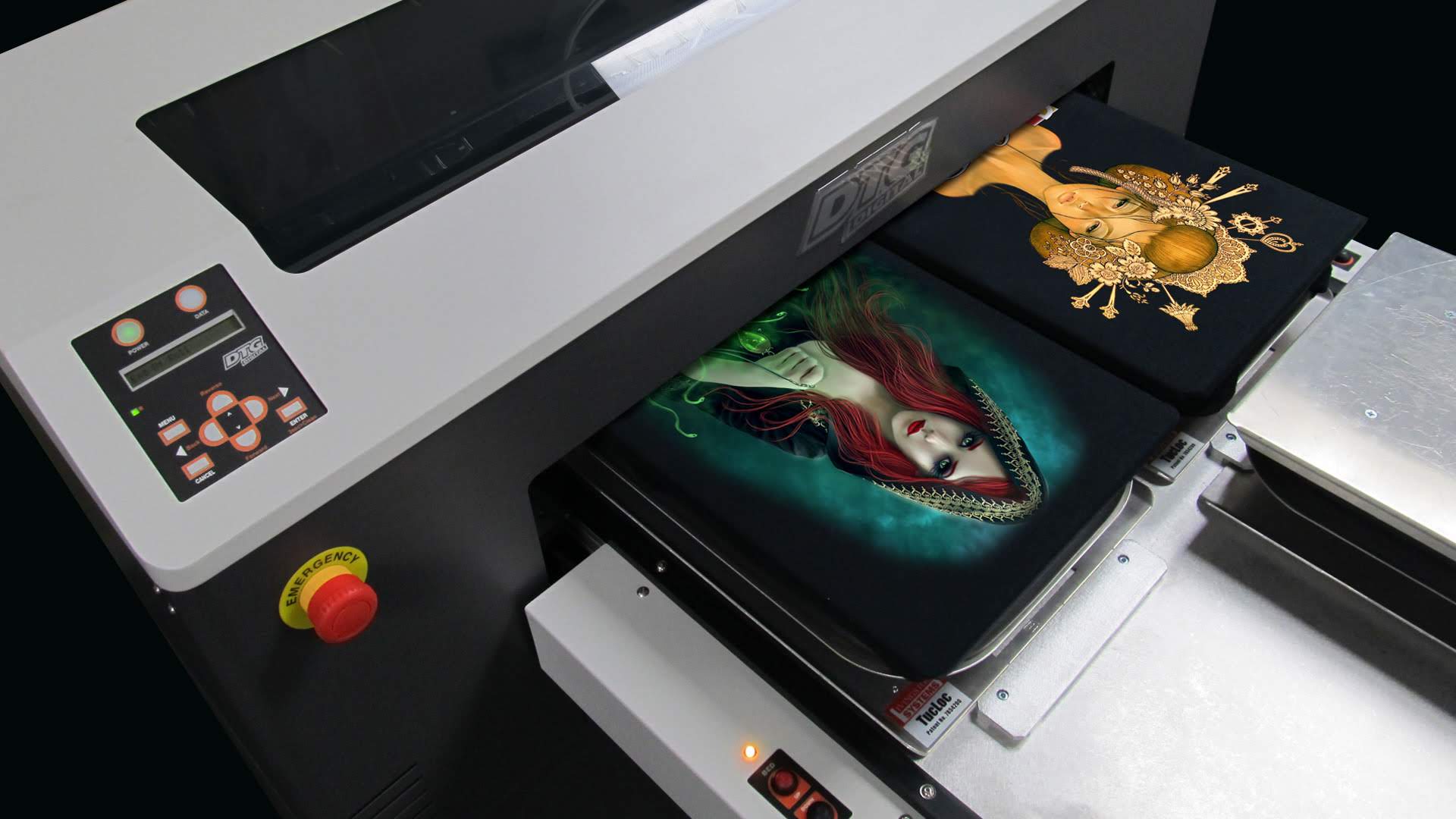 (Image courtesy ColDesi)
Printing on polyester is now achievable with D2. The issue is not whether you can actually print on polyester but the washfastness of the print. By nature, polyester material is designed to repel water and be resistant to stains. D2 ink is water-based, so when printing on poly garments, the garment thinks it is being stained by the ink and reacts by trying to prevent it. This natural reaction of repelling the ink does not show up during printing but manifests itself during washing. The D2 ink does not adhere to the polyester fibers as well as cotton and tends to lose its color brilliance during washing. Some pretreatments allow for D2 printing on 100% polyester garments, however, due to the nature of the polyester weave, the prints look different when compared to D2 printing on cotton.
QUALITY CONTROL CHECK
Make sure you perform quality control tests on your D2 prints. This is especially true when setting up a new process or getting ready to start offering a new type or style of shirt. Some of the key things to test are:
1) various amounts of pretreatment fluid
2) pretreat and ink curing times
3) printer settings
It is also very important to incorporate wash tests into your QC check. You will want to wash and dry different D2 printed garments to ensure washfastness and see if the color fades in the wash.
A part of this quality control check is to help you decide what options your clients have. For instance, many screen printers are comfortable printing on a certain brand of T-shirts that are notoriously difficult for D2 printing. Through prior testing, you will know what the customer should expect and can effectively set expectations. Testing garments and different techniques will let you know whether that service is something you should offer.
PRETREAT PROPERLY
This goes back to testing, quality control, and documenting everything. Make sure your pretreat machine settings are right as this forms the base of quality D2 printing. You want between 28-32 grams of pretreat solution for the average T-shirt. One "pro tip" for pretreating your garments is to use a heat press for about 5-7 seconds right before printing if you pre-treated ahead of time. This smooths out wrinkles, removes any moisture in the garment, and creates a smooth printing surface.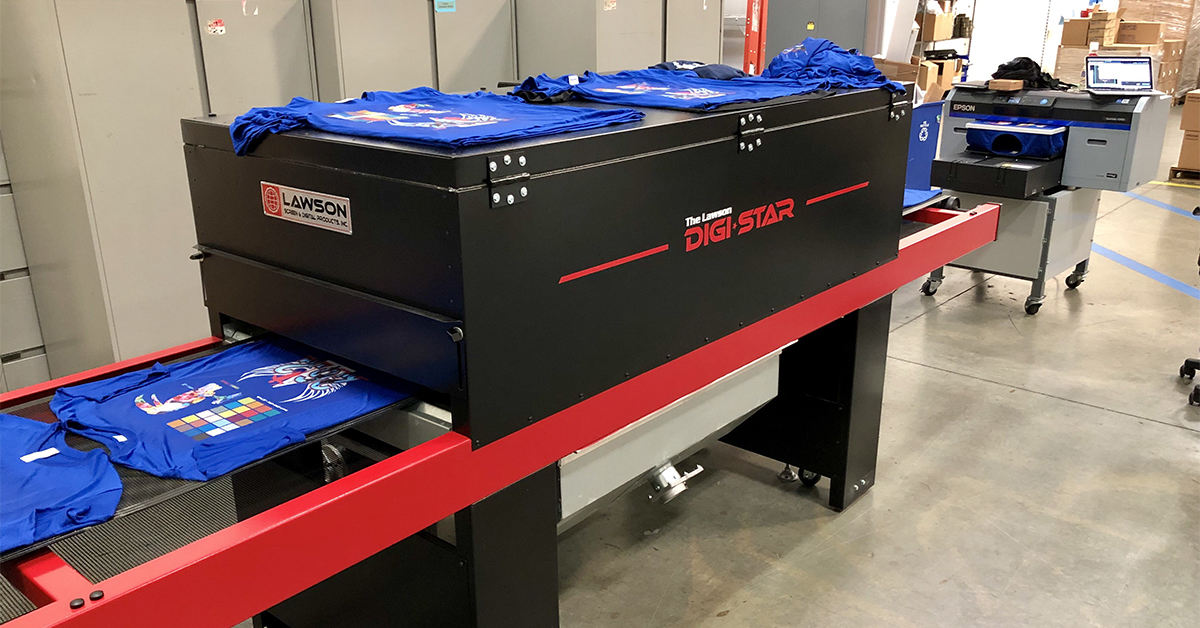 Since D2 ink is water-based, removing moisture is key to a quick and thoroughly dried garment. Dryers that produce a high amount of CFM will dry shirts quicker and better. (Image courtesy Lawson Screen & Digital)
CURING
D2 production shops all use conveyor dryers. It allows for faster production times, both for curing pretreat solution and curing D2 ink. One of the most important factors in choosing a dryer for D2 printing is the amount of CFM (cubic feet per minute). Since D2 ink is water-based, removing moisture is key to a quick and thoroughly dried garment. Dryers that produce a high amount of CFM will dry shirts quicker and better.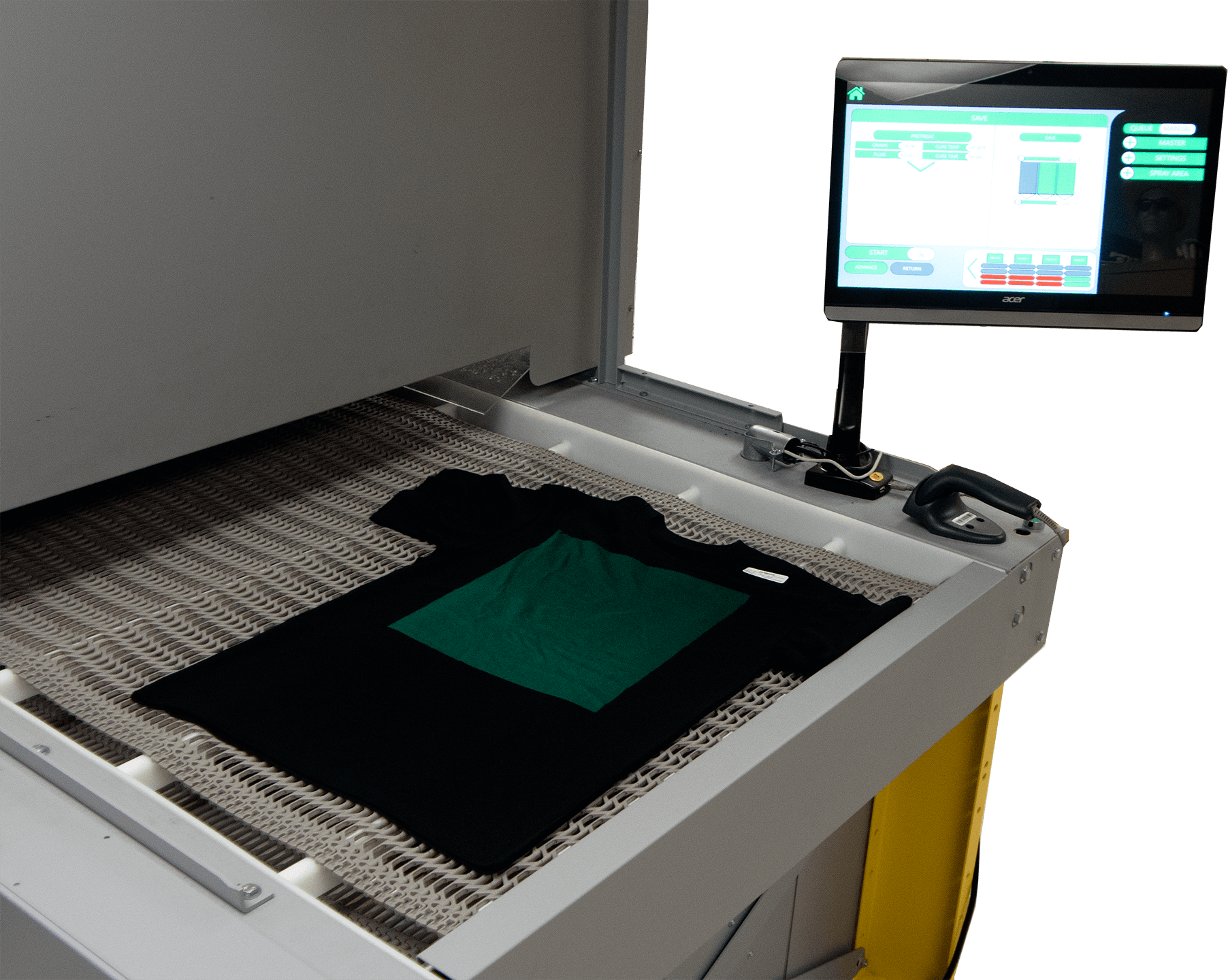 (Image courtesy Brother International Corp.)
PERFORM REQUIRED MAINTENANCE
It cannot be overstated that the required maintenance must be performed to keep your D2 printer in the best condition. Missing even a day or two can have big consequences on printing quality and the ability of your printer to function at peak performance.
Your D2 machine likes a clean and comfortable environment. This includes being in a climate-controlled area with an average amount of humidity. Invest in a temperature gauge with a humidity display. Seeing this information on display is a helpful reminder.
HIGH-QUALITY ARTWORK IS KEY
Use only high-quality artwork. Sometimes you might have to explain to your customer what that means and why an iPhone picture might not produce a good D2 print.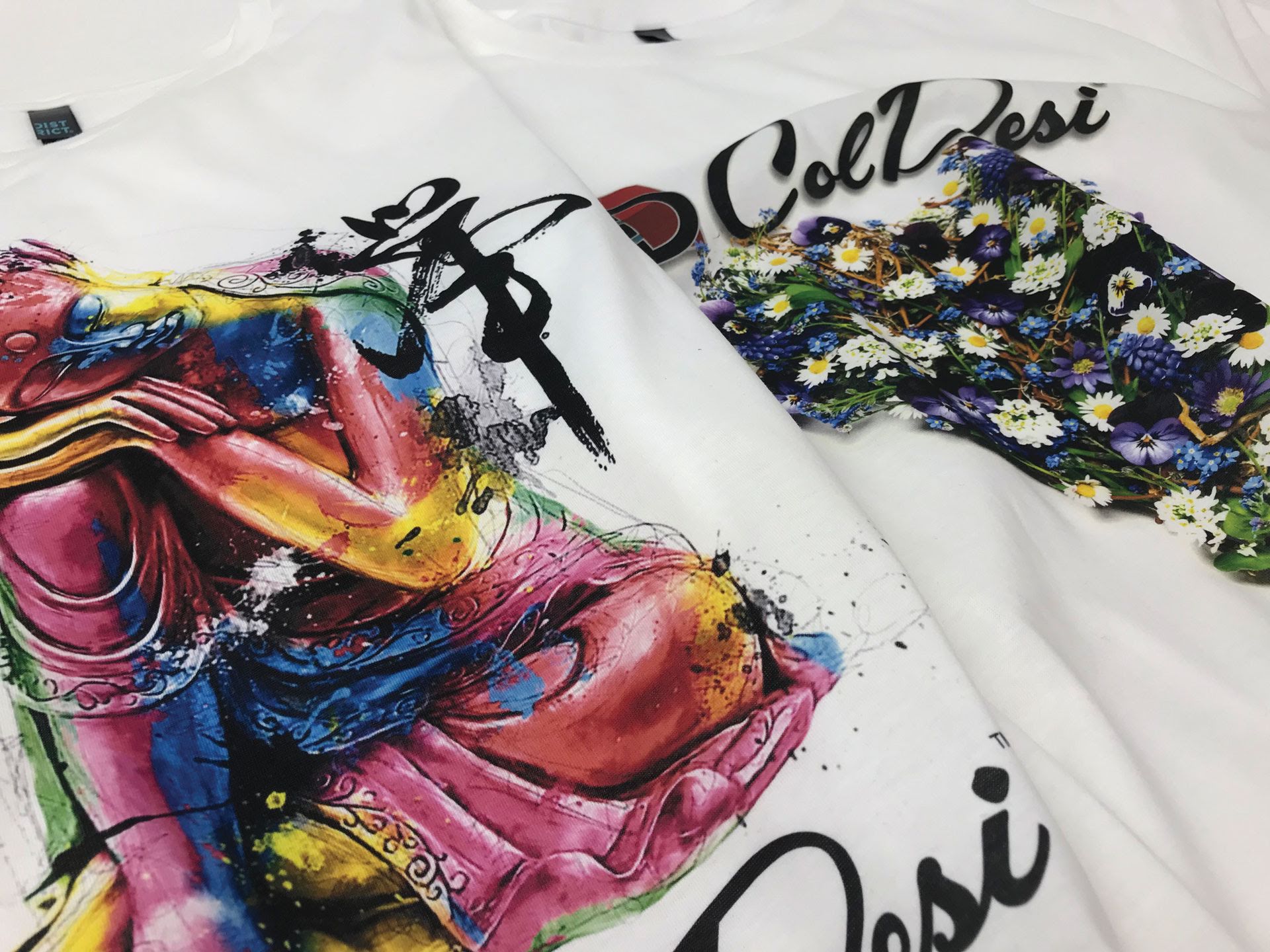 (Image courtesy ColDesi)
These are just some helpful tips that you can learn from large production D2 print shops and start using in your shop today. Try implementing them into your own shop for better D2 production.
This article appears in the most recent issue of Printwear. To ensure you have access to industry news and other articles like this, subscribe today!