Features
Plum Grove Celebrates 40 Years
The family-owned and operated marketing and printing agency reflects on its time in the industry
Hoffman Estates, Illinois-based Plum Grove Inc. celebrates its 40th anniversary as a full-service marketing and printing agency specializing in helping businesses grow.
In December 1980, Peter Lineal, founder, got the keys to his new business, which happened to fall on the same day his daughter Kara was born. Plum Grove struggled to turn a profit in its first year, and Peter's optimism was declining when three ladies walked through the door, waking Peter's infant daughter.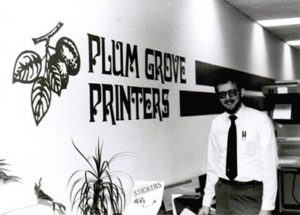 "Kara was screaming, yet immediately became our top salesperson when this nonprofit organization became enamored with my new baby, and ultimately partnered with our business, becoming our biggest client for the next 17 years," explains Peter.
Under Peter's leadership, Plum Grove evolved from a commercial printer to a one-stop-shop that includes marketing consulting, mailing services, promotional products, signs, and trade show displays. In his active role as founder and sales manager, Peter utilizes his decades of printing, marketing, and mailing expertise to serve clients nationwide.
Kara Lineal, president and CMO, joined the business in 2018.
"After enjoying a very rewarding career growing sales and leading marketing teams for manufacturers of consumer goods, global brands, and mass retailers, I made a quality-of-life transition and joined forces with my father in our shared passion for marketing," says Kara.
Together, the dynamic duo brings decades of traditional, digital, and blended "tradigital" marketing success stories, serving startups, local businesses, national chains, B2B, B2C, nonprofits, and franchises.
In its history, Plum Grove has been awarded the Daily Herald Annual Award for Business Excellence (AABE), the Illinois Department of Natural Resources Governor's Pollution Prevention Award, and the Business Ledger C-Suite of the Year, amongst others.
Plum Grove points to its dedicated workforce of 30 individuals when attributing its achievements and success.
Over a third of staff have been together for 20+ years, and more than half have been with the agency for more than a decade. According to the company, this longevity is a defining reason Plum Grove can offer expert insights and experiences to help its clients grow their businesses.