Features
Personalizing Polar Camel Drinkware
Polar Camel drinkware can now be lasered or sublimated for more personalization options to offer your customers. This feature covers the steps to complete both processes.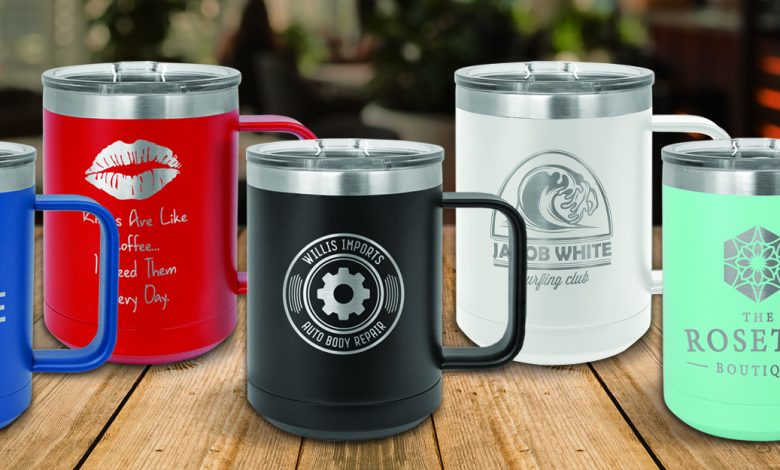 Family owned, JDS Industries is the world's leading supplier of component parts for awards, promotional products and gifts, sign supplies, and many other personalizable products. Founded in 1973 by Darwin and Jane Sletten; their son, Scott, President and CEO of the company, is now the owner along with Mike May, COO. JDS now distributes world-wide from over 1.3 million square feet in 14 warehouses located coast-to-coast. For more information, visit www.jdsindustries.com.
Polar Camel drinkware can now be lasered or sublimated for more personalization options to offer your customers! Here are some tips to help you achieve optimal results.
Polar Camel High Endurance Drinkware is a premier line of double-wall, vacuum-insulated drinkware in the personalization industry. It has steadily grown in popularity the last few years and doesn't appear to be slowing down any time soon! The Polar Camel line continues to expand and is now available in several styles and colors for laser engraving plus stainless steel or gloss white finishes for sublimation. In this article, we'll go over the process of sublimating the Polar Camel drinkware using a convection oven and a wrap; and take you step-by-step through the laser process. Let's get started!
SUBLIMATION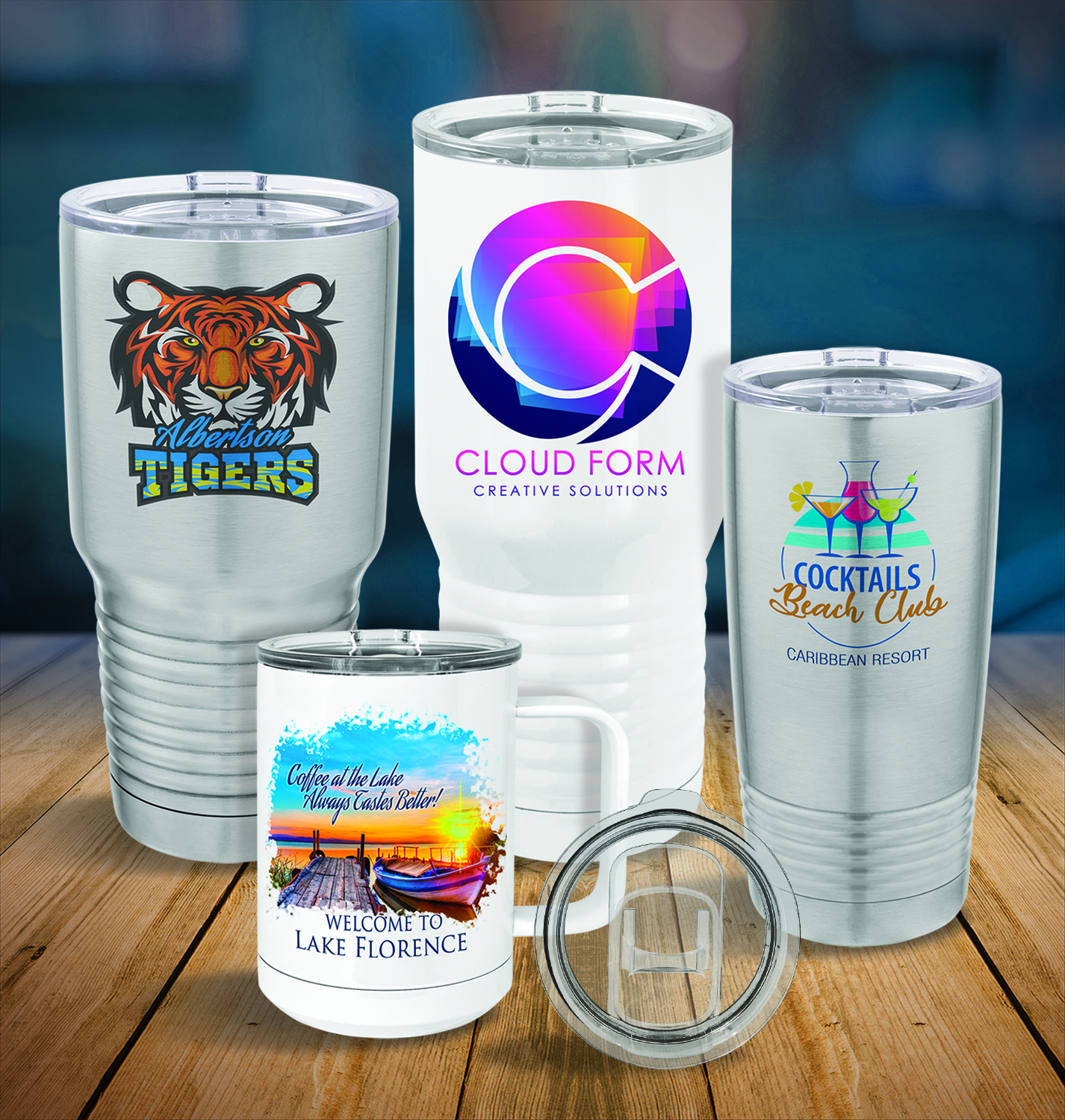 For sublimation, you will need your substrate (Polar Camel), a sublimation transfer, scratch paper, silicone wrap, and a convection oven.
1. To begin, you'll want to remove the plastic lid, then contour cut around the artwork of your transfer, position the artwork 1/2″ from the top of the Polar Camel, and secure it with heat tape.
2. Next, add a piece of scratch paper over the artwork transfer to protect your wrap from the ink. Secure the transfer to the Polar Camel with the silicone wrap, stretching and rolling the wrap over top of itself to maintain consistent pressure. Secure the wrap with heat tape.
3. Place the Polar Camel in the oven using 405 F, 6 1/2 to 8 1/2 minutes dwell time, and light to medium pressure on the wrap as a starting point. Because all ovens are not created equally, the dwell time in an oven can range from 6 to 9 minutes. The settings shown are meant to be a starting point for the best results, and you may have to adjust according to your oven, ink and paper, and atmospheric conditions.
4. When the "cooking" time is up, using heat-resistant gloves, carefully remove the Polar Camel from the oven and remove the silicone wrap and scratch paper with extreme caution – it will be hot! Place the Polar Camel in front of a fan or put it in water to rapidly cool it down and stop the sublimation process.
5. When the Polar Camel is cool enough, you can remove the transfer paper.
LASER ENGRAVING
For laser tips, we focus on the powder-coated 15 oz. coffee mug. You can visit our YouTube channel at https://www.youtube.com/user/JDSINDUSTRIES to find tips on other Polar Camel products. You will need your artwork, the mug, and your desired cleaner. We recommend LA Awesome for removing laser residue from the mug.
Laser Raster settings for Powder-Coated Mugs:                
– 35 watt: DPI 600; Speed 45%; Power 100%
– 60 watt: DPI 600; Speed 80%; Power 100%
– 120 watt: DPI 600; Speed 60%; Power 55%
– 80 watt (Trotec brand laser): PPI 600; Speed 45%; Power 100%
Your settings may need to be adjusted slightly as they may vary depending on the brand, watt, and model of your laser.
To begin, you'll want to remove the driver wheels on the left side to make room for the handle to rotate. Have your artboard set up at 4 3/4″ X 10 3/4″ and center and space art evenly according to the template.  Before sending the artwork, be sure to have "center engraving" checked on.
Place mug with handle straight down towards the bottom of the laser and secure with the rotary clip.
After lasering, clean any residue with LA Awesome.
With the wide variety of styles and colors of Polar Camel available, and now the ability to laser or sublimate the personalization, you have more to offer current customers and attract new ones!