Features
Pennsylvania Minuteman Press Franchise Named to 'Top 50 Fastest Growing'
Scott and Kitty Kurz bought their Minuteman Press franchise in 2011.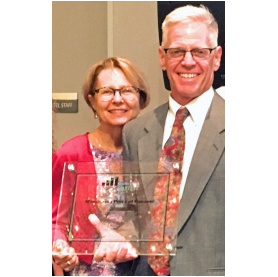 Farmingdale, New York-based franchisor Minuteman Press International announces that its franchise in Hanover, Pennsylvania, owned by Scott and Kitty Kurz, has been named to the "Top 50 Fastest Growing Companies of 2019" list by the Central Penn Business Journal.
The Kurz's took ownership of the franchise in 2011. Since then they have expanded their shop's products and services, they say.
In 2014, they added promotional and apparel items and revenue has been doubling every year. In 2019, they say, those two categories will account for more than a quarter of the company's revenue.
In 2018 they added a salesman to their large-format printing division, and it has been growing rapidly since then, now accounting for about 15 percent of total revenue.
The couple say their business really started growing in 2016, and by 2018 it had achieved 20 percent growth year-over-year.
"We are very proud of this award because of the high level of competition across all business sizes and industries," says Scott Kurz. "We were up against multi-million-dollar companies in other industries such as construction, banking, IT and health. They measured dollar and percentage growth from 2016 to 2018 and we also submitted documents that were evaluated independently by Baker Tilly. To come in at No. 50 and simply make the list is huge for us and we are absolutely honored."
Kitty Kurz says that the couple have worked hard to insert themselves into the community in a positive way wherever possible.
"We thrive in the world of community service," she says. "We are very active in the Hanover area and are involved in groups such as The Hanover Rotary, the Hanover Area Chamber of Commerce; Scott sits on the Board of First Capital Federal Credit Union, and I sit on the Board of Windy Hill Senior Center."