The original Volkswagen Bus came on the scene in 1950. The VW Micro-Bus was a simple passenger cargo van with an engine at the back. It became a rebellious alternative to mainstream station wagons.
Volkswagen is resurrecting its iconic bus. The all-new VW Buzz is an electric van with a modern take on the original Volkswagen Micro-Bus. Volkswagen first showed the concept in 2017 and finally pulled the cover off the production Buzz in 2022. It's for sale in Europe this year and in the U.S. in 2024.
Despite 70-plus years between the first VW Micro-Bus and the newest model, the two vehicles are said to have much in common. We'll see about that. The question is, "Will the Volkswagen Electric Buzz have the same soul as the original VW Hippy Micro-Bus?"
Dude.
Where's my bus?
We frequently work with equipment manufacturers, apparel brands, and suppliers in our industry, such as we did last summer at GRAPHICS PRO EXPO (GPX) where the client planned to print live in the exhibit hall.
Per the client: "This project needs to be a bit trendy. As far as the design, we're thinking something a bit distressed. We've found that vintage tees are most often used in self-expression designs and classic graphics popular with hipsters and young adults. Ideally, We'd like to have a couple of ideas to pitch to management before we land on a final design direction."
We've got it! Peace, Love & T-Shirts…  Says it all. A great self-expression concept. We can see apparel decorators wanting to wear it. We would go with retro theme, classic, old-school VW style Micro-Bus. Vintage rock & roll… again. It's what we do.
The client liked our idea. "Like an old happy hippy design," they said.  They loved the Peace, Love and T-shirts concept. With the demo being in California, we would need the beach theme of course. This design project initiated the artwork development. We knew just what to do!
During our team meeting we discussed the retro feel with colors from the '60s or '70s. Once we decided to go with the "[Peace, Love and T-Shirts hippie bus, the first step would be to put that thumbnail together; a pencil sketch to embody this Summer of Love theme.
After a bit of research, we found a plethora of references for the VW Micro-Bus from its early timeframe. The design was created by re-drawing one of our favorite photos. We built the majority of it in Adobe Illustrator for clean graphics with easy color changes during development, which made it easy to edit. We chose the color palette for the final design based on the size of press used. The print was going on black so we would use the shirt for shadows and wouldn't print black.
After the layout was built and colors laid in, we exported into Photoshop to add texture effects for shadows and highlights. We airbrushed in realism here. The customer wanted a distressed result and both programs worked very well together; it was easy to get the textures we needed. We used sandpaper, cement, and some grungy metal. We imported them and converted to grayscale to use as overlays.
Since the substrate was black and neutral, it required a carefully worked white printer or under-base plate. It was fairly dense in areas because of the bright colors needed, but we decreased some densities for secondary tones. We would let the dark of the garment create the black outlined areas and deep shadows. We also made sure to choke the base plate to avoid any peeking out from under the color on press.
We sent the seps off to the press manufacturer to build their own screens. We didn't see the final results until the show. The prints looked good to us, but that's not where this ends. As Paul Harvey would say back in the day, "And now, the rest of the story." (Kinda dated myself there, huh?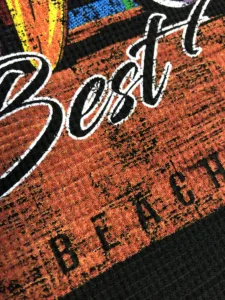 With limited resources these days, and the fact that we probably should have been doing this all along, we are repurposing much more than we ever have. In this case art. Another client was looking for a classic, vintage, retro, beach-style design for a volleyball clientele. We had just the solution: Peace, Love & Volleyball! Brilliant!
Once seps were completed we outputted on CTS with a frequency of 55 lpi at a 22.5-degree angle.  We ran thewhite on N-166 tpi screen at 45 N/cm2 using 65/90/65, a triple-ply, dual durometer squeegee, followed by a flashand smoothing heated iron in a teflon screen. Next, the colored inks and the highlight white all ran wet on wet on N-272s at the same tension using harder 75/90/75s. The final image really had a vintage, old-school, retro look.