Features
PCI Express Partnering with Signagelive
The companies say the partnership will deliver something that customers have been asking for.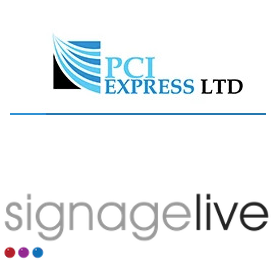 PCI Express, a provider of various types of hardware and other technology to the professional audio/visual industry, announces a new partnership with Signagelive, UK-based providers of a cloud-based digital signage platform as well as software-as-a-service (SaaS) technology.
Under the partnership, PCI Express's EasyStream will allow for the incorporation of live television onto any Signagelive network. EasyStream is an IPTV gateway that allows for streaming terrestrial or satellite TV over an IP network such as Signagelive's.
The companies say that it has always been possible to use IPTV on the Signagelive network. However, cost and complicated setup has sometimes meant projects are delayed or do not move forward at all. EasyStream removes these barriers with a cost-effective solution and setup support, they say.
EasyStream servers come complete with Signagelive integration as standard. The integration allows for the synchronization of playlists containing any configured EasyStream channels with your Signagelive network, according to the companies.