Features
Owner of Zelma's Awards Wins Lifetime Achievement, Retires
Business owner Patty Lingenfelter decided it was time to pass the keys.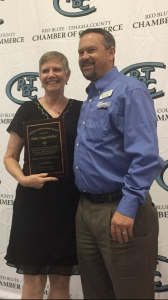 The last few months have been a whirlwind for Patty Lingenfelter. In September, she was honored with the Lifetime Achievement Award from Tehama County, California, and then promptly followed the recognition by retiring and leaving her business, Zelma's Awards and Laser Engraving, in the hands of long-time acquaintance Michelle Hickok.
But to really get a sense of everything Lingenfelter has gone through, you have to start way back in 1994 when her first business opened – JP Office Products. After that, the first Zelma's store came along, a candy and gift shop named after her grandmother. Unfortunately, after about six years, that business closed, but that wasn't the end. A little over eight years ago, an opportunity to buy an awards business presented itself. "When the awards business came up for sale, we just continued to use Grammie's name," Lingenfelter says.
What happened next became bigger than just a trophy shop. The business offers everything from engraving on and building trophies to personalized wine glasses, sublimated photo products, and more. And at the Tehama County September 10th event, all of that hard work was recognized. That night, the Chamber of Commerce gathered together at the Red Bluff Community Center where the sold-out event, including a mariachi band, silent auction, and dinner catered by Los Mariachis Mexican Restaurant, honored businesses and people from around the community. It was there that Lingenfelter received the Lifetime Achievement Award.
"(It) was an incredible honor and surprise," she says. "Attending the Chamber dinner that evening was my last job I would do for them. So, it was really amazing they felt enough about me to honor me."
But after so many years of being a successful business owner, Lingenfelter decided it was time to pass the keys to Hickok and retire. "I met Michelle about 13 years ago. I am a member of the National Exchange Club of Red Bluff (and) she was a high school student at the time, running for California Beef Ambassador," she remembers. It was then she knew Hickok would do great things; however, retirement and selling the business didn't happen overnight. "It took us almost two and a half years to sell," says Lingenfelter. "Michelle's husband, who works for the Red Bluff City Fire Department, had come in to place an order and started asking questions about the business. (Things) went from there; they took over about three months later."
The thought of retirement and leaving the business in capable hands is a good one for her, though. "We hit a time in life that we were ready to do what we wanted to do… (Michelle) is an amazing graphic artist and photographer. The sky is the limit, and I'm sure she will be flying high."