Owner of Crossroads Awards Receives Woman-Owned Business Award
Gina Schoch was surprised to accept the award, since her company produces the awards for the annual event in York, Nebraska.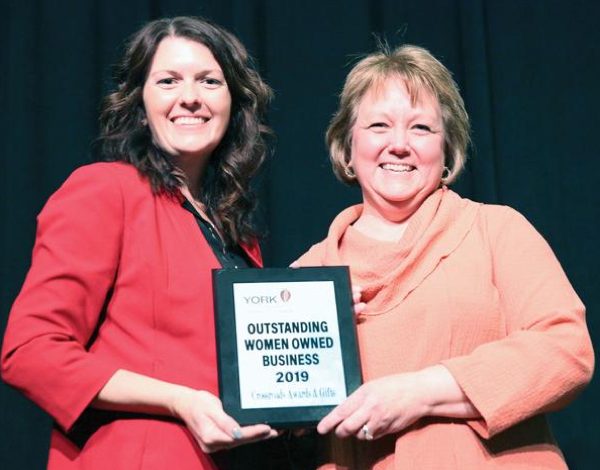 Gina Schoch and her company, Crossroads Awards and Gifts, is the recipient of the 2019 Woman-Owned Business Award deemed by the chamber of commerce in York, Nebraska. She received the award at the York Chamber of Commerce's annual banquet on January 21, 2020.
"I had no idea I was receiving this award," states Schoch. "My husband did a great job of getting our three kids to the banquet without me knowing why. Everyone was very sneaky." Since Crossroads provides the awards for the event every year, with the exception of outsourcing her award, Schoch's family and coworkers had to keep the secret.
"I was humbled to win this award," she adds. "I love being a part of a community that celebrates the accomplishments of others."
According to Schoch, York's town square is at least 90% woman-owned businesses. "I have some awesome peers and mentors," she says. "Being from a small, rural community, it is important to support each other."
Schoch got her start in engraving during the 12 years she spent working in the jewelry section of a department store, where she learned how to use a pantograph engraver. When a local awards business came up for sale in 1997, she thought, "I can do that." However, Schoch explains, "I soon found out there is a lot more to the industry than using a pantograph engraver."
Schoch was able to retain one of the former employees who taught her the ropes and continued to work there until her retirement a few years after she purchased the business. At that time, the business provided trophies and produced award ribbons in-house for organizations such as 4-H.
Eventually, when the ribbon equipment needed to be replaced, they decided to start outsourcing the large orders. "This freed this freed up our time to concentrate more on engraving," Schoch says.
Schoch goes on to say that she started out with an outdated computerized engraver, but soon bought an updated one. She has updated the engraver a couple more times since, although does not have a laser engraver. "I outsource those requests," Schoch says. "I haven't decided if that is something I want to get into before turning over the reins to someone else."
Within the next five or six years, Schoch anticipates selling the business to an eager entrepreneur. "York is a great college town and many who graduate from here soon return to raise their families," she elaborates. "I think someone with strong graphic design skills and a heart for marketing could do very well in the awards business."
Until then, Schoch wants to branch out with sublimation and is looking to develop souvenirs for local museums and nearby towns that "might want to highlight their uniqueness." She adds that she wants to build on the idea that people can purchase a small quality from Crossroads and then reorder only what they feel they can sell.
"The small business climate changes every day," Schoch says. "We have to find our niche, but personal customer service can be one thing that sets you apart from others."