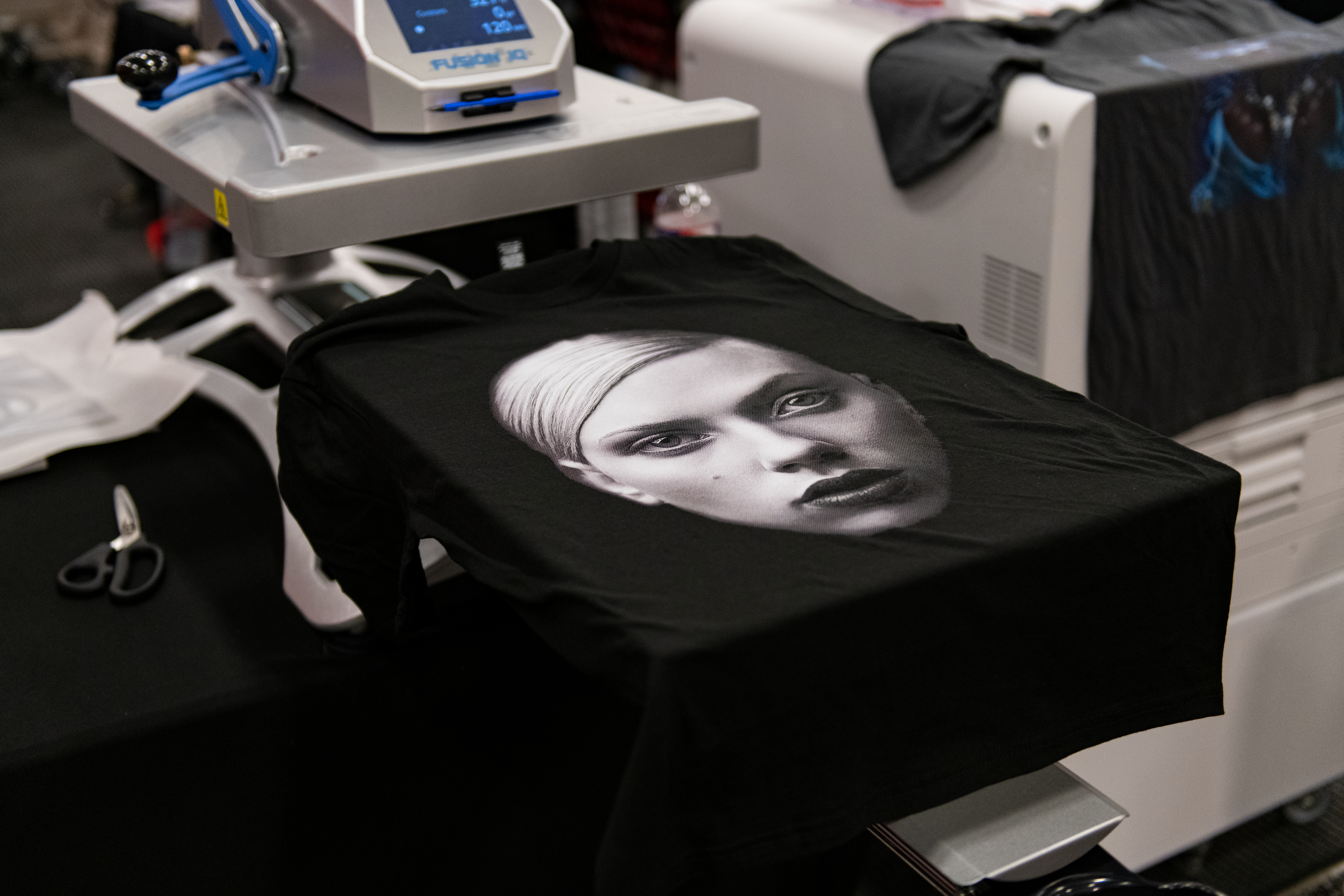 At Decorated Apparel Day, an online educational and sourcing extravaganza on Nov. 18, get up to speed on direct-to-garment (DTG), heat transfers, sublimation, rhinestones, screen printing, embroidery, and choosing the right apparel for a project.
In addition to online, interactive exhibits, there will be a full day of presentations with live chat, including a kick-off panel discussion with industry experts. Registration for the online event is free. Click here to register.
These are the online video presentations on tap for Decorated Apparel Day:
10-11 a.m. ET
Apparel Decoration: From A to T!
Speakers: Jennifer Cox, Tim Gibson, Matthew Meany, Aaron Montgomery, Jason Murphy, Victoria Nardini
Expert panelists will discuss the industry's state, a wide variety of decorating techniques, business advice, and more. Are you a seasoned veteran ready to purchase your next piece of equipment? The panel will be live, so bring your inquiries for a Q&A session with the pros.
11 a.m. to noon ET
Print-On-Demand Efficiency and Scalability with Kornit DTG: Solutions for Every Business Size
Presented by Kornit Digital Americas
Are you competing in the fast-growing, on-demand market? When you go with digital, you enable your business to meet any new demand as it comes. Small orders are just as achievable and profitable as larger orders. You grow with digital by opening yourself to new business and overcoming obstacles long associated with traditional screen printing.
Myths vs. Realities in Heat Transfer
Presented by Neenah Paper
Behind every bright custom-printed textile, there is a story that starts with a printer, ink, and, most commonly, transfer paper. Is there only one way to transfer images onto hard surfaces? Is it always better to use inkjet transfer paper no matter what type of images you are using? Why can't I use my hand iron with all heat transfer papers? Can self-weeding occur with all types of heat transfer papers? This session will offer an in-depth look at what it takes to get a high-quality print on your substrates.
Learn How to Earn More from Your Existing Customers
Presented by Advertising Specialty Inst/ASI
This session will feature promotional products that can be used by trophy and award shop owners, screen printers, designers, and printers interested in growing their business. Discover the top markets to sell to, the hottest products available, as well as the tools you need to succeed.
Noon to 1 p.m. ET
Apparel Decoration from Head to Toe
Presented by Digital Technology Group Inc.
One of the most lucrative growth markets for your business is the apparel market. Learn about the latest technology, tips and techniques from the trenches, trending products you can offer throughout the year, and more.
All You Need is a Heat Press!
Presented by STAHLS'
With so many fast decoration methods out there, it is often difficult to choose the best solution for your project. This class will review everything from heat press basics to the high-level decoration techniques using only a heat press. Subjects include using your heat press for more than T-shirts, creative solutions for challenging projects, and unique finishes and dimensions with a heat press.
1-2 p.m. ET
Get to Know SanMar and the Decorator and Digital Solutions Team
Presented by SanMar
This session will feature some of SanMar's favorite new products, decorating tips from experts, and time for questions and answers.
Lasers are in Fashion: Creating Custom Decorated Apparel with Your Epilog
Presented by Epilog Laser
While they've long been used to create awards, personalized gifts, and branded promotional products, laser engraving and cutting systems are fast becoming a popular tool in the decorated apparel/fashion realm. From canvas to denim to leather and beyond, laser engraving and cutting systems work well with all kinds of textiles, which allows you to make nearly any garment or accessory as unique as the person who's wearing it.
Decorated Apparel Day with Hirsch Solutions
Presented by Hirsch Solutions
Spend a day learning about DTG printing and embroidery practices with a Hirsch customer. Products from Brother and Tajima will be showcased in this hands-on presentation.
2-3 p.m. ET
Go Digital & Scale with DTG Print Technology
Presented by OmniPrint
This year alone, digital on-demand garment printing using direct-to-garment printers has shown exponential growth that should have taken 5+ years. If this is something you've been considering, now is the time to take it seriously and scale while it's booming. Whether you're a startup or small print shop looking to get into digital on-demand or a large fulfillment facility seeking industrial-speed on-demand, learn how it all works in this exclusive session.
Print. Process. Profit.
Presented by GSG
Join our experts as they reveal the hottest new equipment, products, tips, and tricks for a profitable business. Whether you're new to the industry or established, discover new technologies that can grow your business today, featuring Epson DTG, Brother DTG, and M&R Screen Printing.
3-4 p.m. ET
Expand Your Decorated Apparel Business with the Latest Technology in DTG and Dye-Sublimation
Presented by Epson America Inc.
Grow your business and impress your customers with new product offerings that leverage the latest dye-sublimation and direct-to-garment print technology. See how imagination can be seamlessly turned into high-value apparel, décor, promotional products, and more.
Getting Around Licensed Printing
Presented by Transfer Express
When you get into the T-shirt business, you see all those collegiate, football, baseball, and basketball sales. You know everyone buys shirts to support the local college and pro team. But wait, you need a licensing agreement, and they are expensive. Learn when you need a license and when you don't; how to quickly create art that does not require a license; and print on-demand in just seconds once you have a sale.
4-5 p.m. ET
Navigating Your Financing Options in Any Climate
Presented by CIT
This educational and informational session is designed to provide you with critical information to weather any climate and strengthen the way you run your business. Now more than ever, cash reserves are essential. Financing may be the answer to ensure you can keep the cash you need on hand. Learn what you need to know to apply, the best ways to navigate the process, what constitutes a "good deal" for your business, and more.
Let's Talk About Decorated Headwear as a Very Profitable Product to Offer Your Customers
Presented by Melco
Promotional headwear is a growing trend that we won't see going away anytime soon. That means offering the most up-to-date decoration techniques is an absolute must. In this session, we'll talk about where to get your blank headwear and how to do some very creative decoration methods that will set you apart from competitors. We'll review how to use embroidery, direct-to-garment printing, dye sublimation, and vinyl print-and-cut to create truly unique headwear your customers will love.
5-6 p.m. ET
Maximize the Potential of a DTG Printer by Printing More Than Ts
Presented by Brother DTG
Learn how to maximize a direct-to-garment printer's potential by understanding how to print on unique substrates or print locations to create a competitive advantage. Learn from the Brother DTG Print Team the step-by-step instructions for printing shoes, headwear, denim, sleeves, over zippers, and more.
Top 10 Reasons to Invest in an Epson DTG Printer
Presented by Equipment Zone
Recognized industry trainers and apparel decoration experts Terry Combs and Jeff Morgenthaler will teach you the top 10 reasons you should invest in an Epson DTG printer. There are substantial differences in DTG printers and the companies and dealers who sell them.
For a full schedule, list of exhibitors, and to register for free, click here.