Features
OmniPrint Names Chief Operating Officer
Scot Drew joined the company in 2016 and was most recently director of sales. COO is a new position at OmniPrint.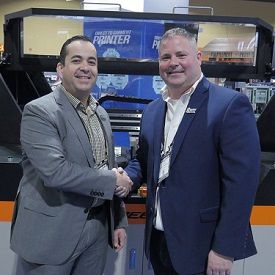 Costa Mesa, California-based direct-to-garment printer manufacturer OmniPrint International names Scot Drew as its chief operating officer, a "new and powerful role" at the company, according to president and CEO Victor Pena.
Drew first joined the company as a sales representative in August of 2016 and was promoted to director of sales in January 2018. He served in the Air Force for five years and has 10-plus years of experience in equipment sales.
"With Scot at the helm for the sales department for the last few years, sales have monumentally multiplied on a yearly basis and continue to do so," says Pena. "Scot's dedication and notable work ethic have empowered him to get a complete hands-on overview of the company."
As Drew steps into his new role, OmniPrint looks to fill the sales director position that he previously held.