Features
Nominations Open for Garment Decorating Industry's 7th Annual REGGIE Awards
The REGGIE Awards annually recognizes excellence and progress in the garment decorating industry.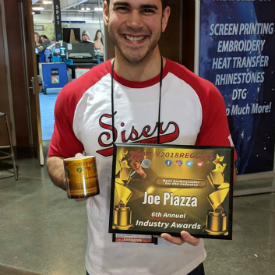 ST. LOUIS, Mo.-Nominations are now open for the 2019 REGGIE Awards, which recognizes excellence and progress in the garment decorating industry.
The 2 Regular Guys podcast accepts entries until Nov. 14 at 5 p.m. CT, and winners are decided based on votes cast by the community.
There are 10 categories for 2019, as well as an open field to submit a new category. Interested parties can send entries via the form on the 2 Regular Guys website. Voting then opens in November, and the podcast announces winners in December.
"The REGGIES are a positive way of recognizing outstanding work in the industry," says 2 Regular Guys podcast co-host Aaron Montgomery. "There's a lot of fantastic work being completed within the garment decorating and personalization industry, and the REGGIES shine a light on individuals and businesses who deserve to be recognized. We keep it light-it's not meant to be a cut-throat competition. It's a ton of fun and builds more camaraderie and support among our decorator's community," Montgomery adds.
Categories for the 2019 REGGIE Awards include:
Best New Product
Best Sales or Customer Service Representative
Company with the Best Customer Service
Best Online Educational Content
Best Industry Educator
Best Industry Trade Show
Best Facebook or LinkedIn Community/Group
Most Influential Young Star
Guest on the 2 Regular Guys Podcast
Best Ambassador for the Industry
Previous year's winners enjoyed guest spots on the podcast, as well as personalized award plaques. The award hosts also point out that "Winning a REGGIE is viewed as a coveted industry accolade and is listed on many of the previous winners' LinkedIn profiles."
To submit a nomination, visit http://2regularguys.com/2019-reggie-awards-nominations.