Features
Nike Unveils Uniforms for 2020 Tokyo Olympics
Nike releases the details of the new uniforms for Team USA basketball and skateboarding.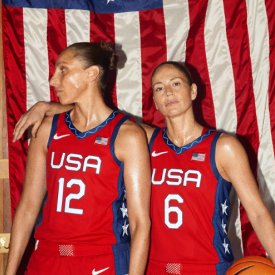 Nike unveils its lineup of uniforms for Team USA at the upcoming 2020 Tokyo Olympics. According to the Washington Post, some of the highlights include new outfits for basketball and skateboarding.
With the women's basketball uniforms, Nike says it sought to pay homage to previous winning teams, as well as the federation's history in the design work. Other implementations for this year's games include a focus on moisture-wicking, limiting seams, and minimizing layers, especially in the track category. The final two components are intended to help athletes with a full range of motion.
Skateboarding, debuting at the 2020 Summer Olympics, also gets its own dedicated lineup. According to Nike, athletes from Team USA, France, and Brazil will compete in uniforms designed with 100% recycled polyester. The outfits also boast what Nike refers to as "pattern efficiency for minimal waste," along with bright and bold styling. The uniforms are crafted in collaboration with Dutch artist Parra and inspired by each country's respective skate culture.
"We take great pride in designing a system of dress that not only helps athletes perform at their best but one that's worthy of these athletes' incredible achievements," says Janett Nichol, VP of apparel innovation at Nike.
To see the full lineup, visit https://news.nike.com/news/2020-federation-uniforms-basketball-track-and-skateboarding.
Look back on this feature to see what the 2020 Tokyo Olympics medals are made of.