Features
New Annual Publication START HERE Makes Debut
The magazine is geared toward those looking to get started, or to existing shops who want to begin offering products or services they are not currently offering.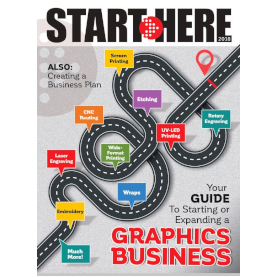 START HERE is a new annual publication dedicated to providing valuable start-up information for graphics professionals looking to expand or branch out in their business. This magazine is brought to you by the creators of Sign and Digital Graphics, Printwear and A&E magazines, as well as the producers of THE NBM SHOW.
Included in the magazine are articles on wide-format printing, direct-to-garment printing, laser engraving, screen printing and much more.
"This magazine is the first of its kind to focus on the most entry-level aspects of starting or expanding a business in the graphics production industries," says editor Matt Dixon. "I know that companies will gain valuable knowledge from this magazine that will help them confidently decide whether making the investment to enter a new market is the right move."
START HERE will be distributed via mail and email to subscribers of Sign and Digital Graphics, Printwear and A&E magazines, or you can pick up a copy at THE NBM SHOW. You can also access the magazine here.