Features
Moving to a Multihead Embroidery Machine
Here are seven things to consider as you transition to a multihead shop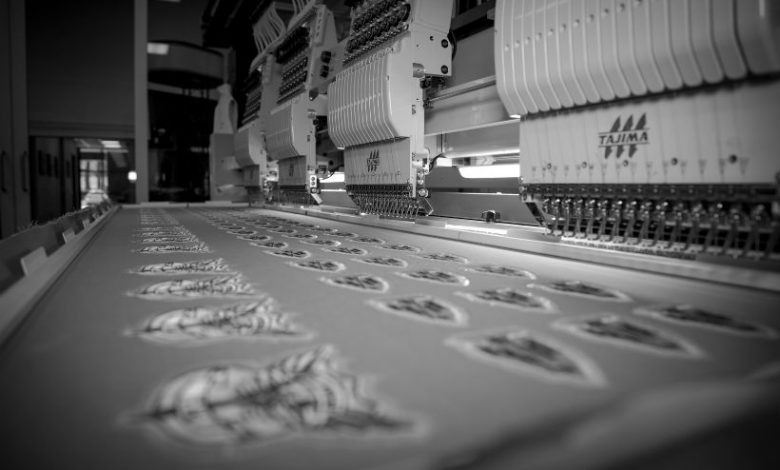 Now that your shop has outgrown its one-head embroidery machine, there are lots of things to consider as you move to a multihead environment. While you'll need to be organized, the big payoff will be stitching four, six, or even 12 garments at a time instead of just one.
Here are seven things to consider as you transition to a multihead shop:
1. Analyze your production output to determine the right head configuration for your shop.
A four-head or six-head machine is a good choice for startups and mid-sized shops. A six-head or eight-head works for decorators with a higher volume of work who want to up turnaround times and production. Look at eight- and 12-heads if you're doing a lot of contract work, for example, and are stitching many of the same garments. Remember that multihead machines let you run multiple items of the same design at a reduced cost per item.
If you also expect to fulfill one-off or custom embroidered items, you should still keep your single-head on hand. Plus, if your multihead goes on the fritz, it'll cover downtime. Your single-head embroidery machine will always be a vital part of your production floor. Personalization, small runs, and repairs can keep single-head machines busy.
2. Evaluate all your costs-like space, labor, utilities, and machine payment.
How much is the rent or lease payment on your space? Utilities? Cost of blanks and supplies? Existing machine payments? How much are you paying yourself or an operator to run the machines? If you're home-based, can you fit a larger machine (space-wise) or can your electrical panel support the additional strain? If not, the cost of moving and rent will need to be factored into the equation.
Tip: If you haven't calculated your profitability per head, it's time to do that. Let's say you sell an embroidered hoodie for $40. Since the hoodie cost $15 and the supplies cost $2, your profit is $23. If you determine that your machine embroiders eight logos onto hoodies eight hours per day, that's a nearly $1,500 profit per day. That way, you can subtract your costs from that, and determine what your new profitability would be when you add heads.
3. Consider your space.
When your shop goes multihead, your configuration looks a little different. You'll locate your hooping table in a central area, at the head of a U-shaped arrangement with the machines or incorporate it into an L-shape. This creates more of an open teamwork workflow so operators can share tasks as well as move garments and supplies within the production area.
Tip: If you're working from home or in a location with a standard door, it may be an issue to fit the larger embroidery machine through the entrance. Be sure to ask your vendor about compact options.
4. Evaluate standard vs. stretch.
In a standard model configuration, the heads are closer together than a stretch configuration, which makes it easy to embroider large, bulky objects like jackets. A stretch machine, for example, would be an ideal choice for a growing decorating company that produces winter jackets, sweatshirts, and blankets.
5. Look for new technology-like a digitally-controlled presser foot (DCP), barcoding, and networking capabilities.
A DCP, for example, enables an embroidery machine to stitch on very thin to thick material or seamed sections without fluttering. This function keeps embroidery quality high, reducing thread breakage and skip stitching. Networked machines easily receive embroidery data by connecting the embroidery software to a network. This simplifies personalization and allows for the smoothest design data generation and transmission to the machine.
6. Pick an efficient multihead machine.
This includes looking for features like fast color changes, quick indexing from color one to color 15, and low power consumption.
7. Choose the right financing.
Most vendors will offer financing or leasing options, but the payment plan will vary, depending on the machine type and company. Vet how flexible or beneficial the plans are for you, and if you find a zero percent financing offer, that helps you eliminate upfront costs and thousands of dollars in interest. When leasing, ask an industry-based leasing company which brands hold the highest value.
Tip: While pricing and financing matter, also look at package deals vendors offer like scoring extra attachments, a license to digitizing software, or more training hours.
The decision to move to a multihead machine means that your shop's order volumes are growing. It's time to invest in equipment that will help you increase your profits.