Features
North Carolina Minuteman Press Franchise Celebrates 8 Years
Owner Chris McGroder shares her five secrets to growth
When Chris and Pat McGroder bought their Minuteman Press franchise in Concord, North Carolina, in May 2014, they set lofty goals for themselves immediately. Chris shares, "When we started, we bought an existing Minuteman Press shop barely doing $10,000 per month in revenue with only one employee. There were three key areas we focused on the first year: hiring additional staff, identifying equipment to replace/upgrade, and increasing revenue."
She continues, "I also left training with a goal to grow to a million-dollar shop. We followed the advice of our field representative and regional vice president to increase revenue through marketing calls, utilizing FLEX for email campaigns, and always looking for opportunities to suggestive sell to our existing customers."
Today, after eight years in business, Chris and Pat have achieved their goals, becoming members of the Minuteman Press International President's Million-Dollar Circle.
Background & why print is alive and well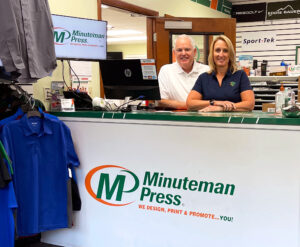 Before buying Minuteman Press in Concord, Chris and Pat had some experience with franchising as well as other industries.
Chris explains, "Prior to purchasing our Minuteman Press business, we were the franchisor for The Perfect Wedding Guide – a quarterly buyers guide for wedding and honeymoon services published in 65 cities across the US. As franchisors, we knew the value of having a proven pattern of success to ensure our franchisees would succeed."
After selling Perfect Wedding Guide, the pair went a different direction — Pat pursued real estate, and Chris earned a master's degree in elementary education and became a teacher.
Chris adds, "After four years of teaching, Pat convinced me we should look at buying another business. He came across the opportunity with Minuteman Press, and we both saw the potential of the business. Knowing that virtually every business has a need for what Minuteman Press shops can offer along with the support of a proven franchise system made it an appealing business opportunity for us to pursue."
As for why printing remains popular today with clients, Chris explains, "With so much information being received through so many channels (social media, email, TV, radio, etc.), printed pieces have a higher potential of being remembered. Print helps to reinforce the messages that consumers are being bombarded with through digital methods."
Five keys to growth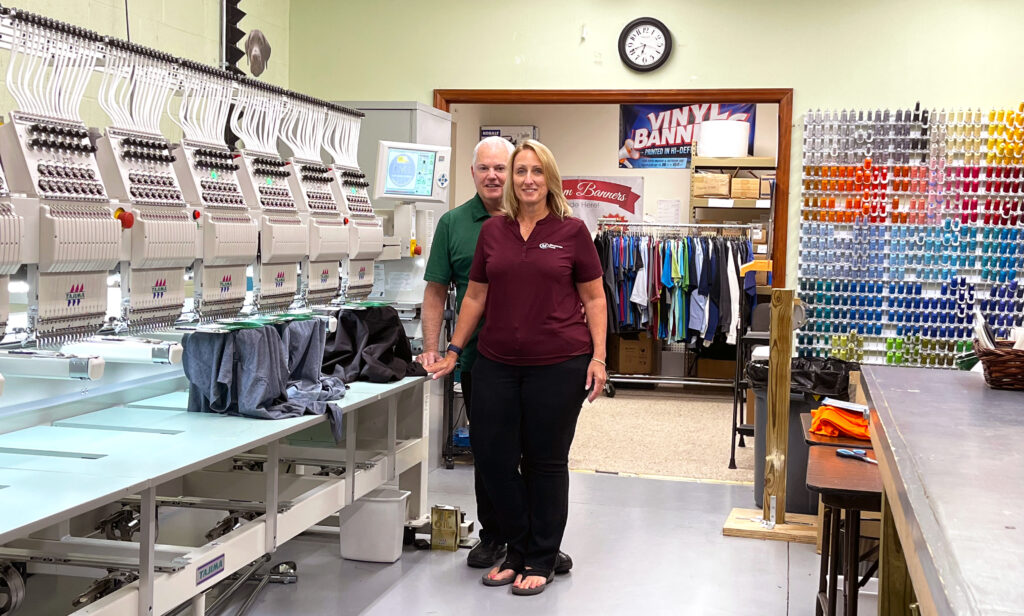 Chris shares the following five keys to growing into a million-dollar business:
Customer service: Creating a skilled, customer service-oriented staff. This is the first impression a customer has when they speak to you. Do what you can to build and maintain such a strong relationship with each customer so that it would be difficult for them to want to go to a competitor.
Look for additional opportunities to meet the needs of each customer: Ask questions and utilize suggestive selling. (i.e., "Your logo looks great on that polo you're wearing! Are you happy with your current apparel provider?") 
Marketing and advertising: Try participating in serach engine marketing programs, which results in Google being a lead generator. 
Get involved locally: Participate in BNI, Chamber of Commerce, and other small local networking groups.
Utilize the franchise: If you're a franchise owner, actively engage in functions like regional meetings, conventions, etc.
Rewards & advice for others
Aside from being members of the President's Million-Dollar Circle, Chris says, "The biggest personal reward is the ability to reward yourself for your own efforts. The biggest professional reward of owning this business is the opportunity to work with such a diverse group of businesses in Cabarrus County and to play an important role in the community. We have relationships with many customers that go back 20 or 30 years. We are also proud of the fact that we continued to grow and thrive during the pandemic."
She advises others, "Remember you are in business for yourself but not by yourself." She encourages people to surround themselves with the right employees and utilize their industry resources.