Features
Minor League Baseball and Peerless-AV Form Multi-Year Partnership
Peerless-AV's display technology will be in place at more than 50 minor league baseball parks by the first pitch of opening day 2020.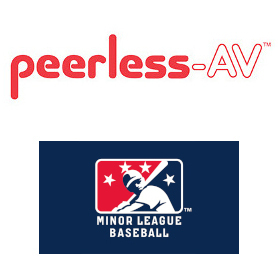 Aurora, Illinois-based Peerless-AV, a maker of audio-visual, digital signage and mounting products that serve the indoor and outdoor digital sign industries, announces that it has been named the "Official Digital Display Partner" of St. Petersburg, Florida-based Minor League Baseball, the governing body for all professional baseball teams in the United States, Canada and the Dominican Republic.
Under the agreement, Peerless-AV will be integrated into MiLB's existing partnerships with Allegiant Air and ISM Connect to establish it as the exclusive provider of screen technologies for Minor League Baseball.
In July 2018, Minor League Baseball established a partnership with Doylestown, Pennsylvania-based ISM Connect, a provider of "smart engagement technology" that it gears toward sports venues, conventions and trade shows and entertainment venues. Under that partnership, MiLB and ISM teamed up to launch the Allegiant Airline Network, which Peerless says is the largest in-venue, digitally-connected smart screen network in sports and entertainment. Beginning this season, select MiLB clubs will have the opportunity to participate in the digital network, with the technology furnished by Peerless-AV. More than 50 MiLB ballparks are scheduled to feature Peerless-AV technology by Opening Day 2020.
The installation process of Peerless-AV displays is underway for Opening Night 2019, and Minor League Baseball and Peerless-AV are planning further placements during the year, they say.
Peerless-AV says its technology will be incorporated into numerous locations-such as concourse LCD displays, video boards and ribbon boards-to further boost fan engagement and partnership opportunities for MiLB and its teams.
"Creating and implementing high-quality display solutions to enhance the fan experience is a key focus for our team at Peerless-AV," says Nick Belcore, executive vice president for Peerless-AV. "With a shared goal of increasing fan engagement through the use of innovative technology, we are excited to be partnering with Minor League Baseball on this initiative."