Features
Michigan Amputee Finds Purpose in Laser Engraving Business
Brandon and Nicole Smith, owners of Cutting Edge Lazer Engraving, share their story
Brandon Smith, a Michigan native, lost his right leg in 2018 after it was irreversibly damaged in a hunting accident.
As reported by Fox 2 Detroit, this was very tough for him — a father, husband, Ford employee, and reserve police officer.
Nicole Smith, Brandon's partner, was looking to find something that could take the stress off her husband. She did her research and explored various companies and different things she enjoys that could be successful.
The couple settled on laser engraving and soon started Cutting Edge Lazer Engraving in Nicole's parent's garage in 2021.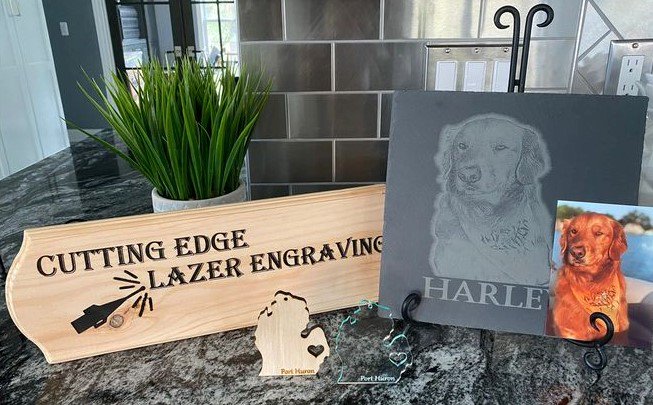 "When we began, we purchased our first laser machine from AP Lazer," Nicole tells GRAPHICS PRO. "Our business took off faster than we could have ever dreamed, and all of it started through word of mouth. We have since grown so big in just over five months that we now have three laser machines and our fourth will be arriving in January 2022."
Despite this success, the couple says there has, of course, been a learning curve to the laser engraving process.
"Our hardest learning curve through this process has been pricing our creations," remarks Nicole. "This is something we've struggled with from the beginning. We have worked very hard to be affordable and competitive while still being able to sustain our business and be successful."
As for the coming year, the couple anticipates more growth within their business.
"Honestly, we have prayed for this for years and our company is so much bigger than we could have imagined already," says Nicole. "As our success continues and we keep growing, I know we will have others join our team to keep up with demand and continue to produce top quality work. We also hope to be able to showcase our work by participating in more gift shows in our area during 2022. One huge growth opportunity we plan to focus on in the new year is to partner with local and national retailers to become their 'house engravers'."
Recently, the couple says they partnered with a Crate & Barrel store in Novi, Michigan.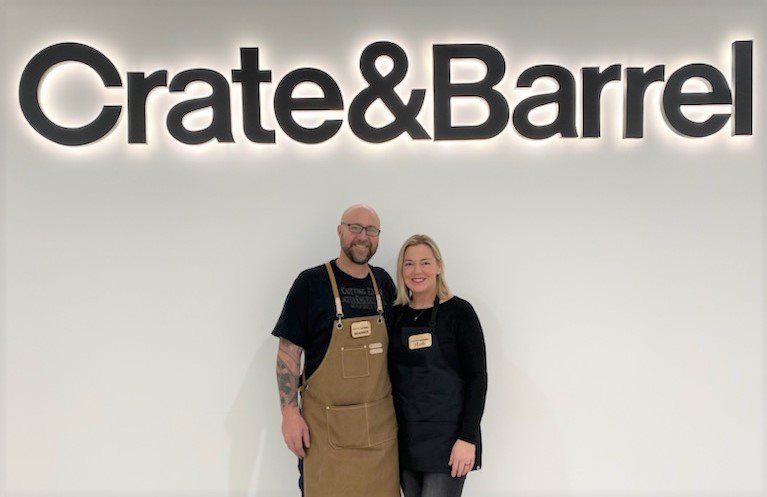 "It was such win-win-win for the store, for Brandon and me, and for customers who were 'wowed' when watching their holiday ornaments, cutting boards, platters, wine glasses, and other items engraved in real-time before their eyes," adds Nicole.
As a product customization business, the couple says they offer a wide variety of personalized products, including wooden decor, kitchenware, mementos, awards, plaques, pet items, etc.
"We work closely with our customers and often learn their personal stories and the emotional attachment to each order," explains Nicole. "We've engraved loved ones' handwritten recipes on baking dishes and rolling pins as well as a handwritten note and signature from a deceased family member on a plaque that we know the family cherishes today and will continue to do so for years to come. It is so rewarding to know we are bringing so much joy and happiness to others."
Throughout the course of their business, the couple says they have had great experiences — from both a business and personal perspective.
"Our absolute favorite aspect of this business is seeing our customers' faces when you hand them their item or bring an idea to life. Being able to take what is basically a 'worthless' item and turn it into a 'priceless' item is amazing. We love when we see the tears of joy when they receive their gift," she adds.
Not only does the business bring their customers joy, but it has also provided Brandon with a new purpose and way to thrive. He says it's great to see customers smile when they see their personalized items.
"If it wasn't for our faith, I'm not sure we would have made it through the past six years after Brandon was injured in the accident," says Nicole. "But we did make it. We really feel that now is our time to give back and we can't wait to see everything that is in store for us and the opportunities that will come from all of this. Every day is exciting, to be honest. We absolutely love what we do. Our hope is to create a legacy for our children to continue for years to come."