Features
LogoJET Names New Solutions Specialist
Shawn Revere has worked in several different industries but says he believes he's found a home at LogoJET.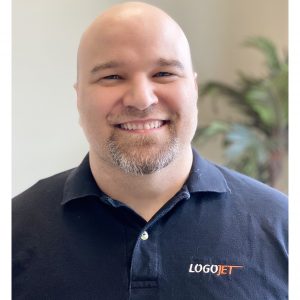 Lafayette, Louisiana-based LogoJET, makers of small-format, direct-to-substrate UV printers and inkjet solvents, announces that Shawn Revere has been named solutions specialist. He had joined the company in July 2019.
Revere's diverse background — including working in manufacturing, hospitality, and the oil industry — has made him a quick study to understand the UV printing industry, according to the company. Revere is also an entrepreneur and continues to manage his own company, The Vinyl Countdown, a vinyl cutter supply company.
A Louisiana native, LogoJET says Revere is known as a problem solver and jack-of-all-trades. He's married to Maria Evans Revere and is the father of three children, the youngest of which has special needs.
"Part of the reason for me wanting to leave the oil field was that I was on call every other week-and that really affected my family life," Revere said. "Having a kid with special needs has forced me to look at everything from 'today is a blessing' perspective."
Another aspect of working at LogoJET that Revere enjoys is the opportunity to meet and talk to new people – and the constant challenge of finding solutions for clients' needs to improve their return on investment.
"Shawn works diligently to make sure customers get what they need to achieve their goals-and often goes outside duties one might expect," says Susan Cox, LogoJET founder/CEO. "I've even seen him help a client fix an adhesion problem with another printer brand and solve an issue."
He says when he met Cox, he could see that working with LogoJET would be a good fit both with his skill set and personality.
"Susan's angle is always, 'What's the story?' You build rapport and listen to what people are saying," Revere said. "I believe in listening to our clients, then working to find ways to help them accomplish those goals. I am proud to represent a brand that resonates with my nature, my interests and my values-as LogoJET's solutions specialist."