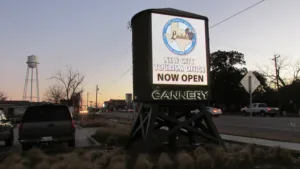 In a softer economy, we are all looking for ways to increase sales, expand profits, and create raving fans among our customers. Studies confirm that it costs five times more to acquire a new customer than to keep an existing one. If we only increase customer retention by just 5%, we can increase profits by 25-95%. Need another incentive? Existing clients are four times more likely to refer friends and seven times more likely to try a new offering by you!
LED displays and electronic message centers are an excellent way for you to increase your average sales dollars and add more profit to your bottom line. These systems are complex, but the display manufacturers have many tools to help you learn the product/applications, and they provide electronic or hard copy literature to augment presentations to your clients.
LED background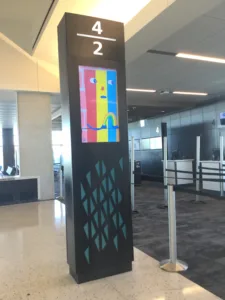 Most have demo vehicles to showcase their products via a truck or trailer, which can be displayed at your prospect's place of business. I've found that the top suppliers in the digital market are great partners during the sales process, and their expertise, input, and assistance often help close the sale.
So, what is an LED? A light-emitting diode is a small electronic semiconductor that converts electric energy into visible light. The chemical compound within an LED determines its color, brightness, and power efficiency. Unlike incandescent lamps, LEDs have no filaments that can burn out or fail. LEDs have 80-90% efficiency, which means up to 90% of their energy can be turned into light and not heat. This makes them tough and durable.
The first LED prototype was invented in 1927. Monsanto used the first commercial LEDs for indicators in 1968. LEDs have replaced virtually all fluorescent and incandescent lamps in our automobiles, homes, businesses, and, of course, signage. And they have almost singlehandedly eliminated the use of neon in signs due to lower costs and the low-voltage current required for power supplies versus the high-voltage transformers that powered neon.
The benefits of LED displays are many. Learning these features and benefits will help you sell them if you do not currently offer them, or increase your closing ratio if they are already a part of your product and service offering.
Why buy an LED display?
• Perfect for indoor or outdoor use
• Low power consumption
• Low maintenance requirements
• Long life spans, even when operating 24/7
• Self-emitting light source and low carbon footprint
• More efficient than LCD and plasma displays
• Available in different shapes and sizes
• Resolution options that offer high-quality visuals
• Programmable content that can be time designated
• Operational from anywhere
• High ROI and low advertising expense compared to other media
Whether your customer is looking for a digital billboard, pylon sign addition, mobile unit, scoreboard, wall display, or interior advertising system, an LED screen has attention-grabbing capabilities. With bright, dynamic graphics, these units can improve fan experience, capture attention, and make your customer's brand stand out from the rest.
Roadside LED signs are a visual beacon for your customer and easier (plus safer) to use than changeable copy boards. They are an effective way to influence decisions by communicating products and services, hours, and a mission to people passing by.
SIDEBAR:
Digital displays are proven to be effective
• 47.7% increased brand awareness from digital signs
• 75% of consumers recall seeing a digital sign in the last month
• 55% of people were highly engaged in the images they saw on digital signs
Source: The Psychology of Good Signage and How to Make it Work for Your Business Entrepreneur Middle East, June 1, 2017. Entrepreneur.com/article/295082. From InfoTrends reports and Nielsen data.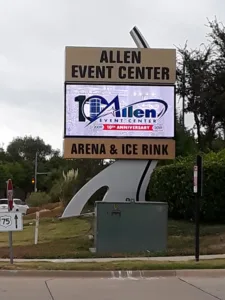 Unlike virtually every other item in society, LED business signage is declining in cost due to rapidly evolving product lines, market conditions, tech, and manufacturing efficiency. LED display prices have dropped by approximately 50% in the last four to five years. That's great news for your customers looking to invest in an LED display.
These systems have consistently been proven to provide the highest marketing ROI. Since they have the lowest cost per 1,000 exposures (CPM), it is common to see an LED display average $0.15 CPM, versus a newspaper ad that could be over $5.00 CPM. The major domestic manufacturers of LED displays traditionally offer traffic count studies and in-depth ROI reports based on the physical address of an exterior projected location for you to cover with your prospective buyer. This alone is a great selling tool.
Due to advances in technology, LEDs have seen a marked increase in brightness through improvements in the diodes and the lenses that encapsulate and protect them. An LED lens is an optical system that changes the light field distribution as a controlled beam whether narrow, wide, or otherwise.
For LED displays in the sign industry, color shift, the viewing angle, and color blending are determined by the type of LED package. Most digital signs use red, green, or blue LEDs and louvers to deflect sunlight for higher contrast. A black matte finish reduces reflection.
Pixels, short for picture elements, are points of light that form letters, words, graphics, dynamic animations, and video images. A pixel can be a single LED, multiple LEDs of the same color, or various LEDs of different colors. They are the smallest elements of the electronics display system that can be individually controlled and turned on or off at various brightness levels.
Most digital display systems have built-in dimmers for night use to limit distraction to drivers on the road. Many municipalities govern the dimming requirements of LED sign displays in their signage codes and ordinances.
Resolution is the number of pixels contained in the physical area of an electronic display. The greater the number of pixels per square foot, the higher the amount of detail portrayed in the display.
Resolution is determined by display size, pixel technology, pixel pitch, and viewing distance. Often labeled by millimeter, displays can range from 4mm to 26mm for resolution and generally, the lower the number, the higher the price. While resolution is a function of your client's budget, the LED manufacturers can assist you with calculating the ideal range based on minimum viewing distances, sign setback, what is allowed by local codes, and the size of the display.
Communication of content to the LED display is typically by modem, direct fiber, wireless ethernet, or radio. Modem use is widespread and preferred and is supported by a cellular system that is generally serviced by a national firm like AT&T or Verizon.
Communication can be set for a certain number of years or for the life of the sign, depending on the product. Modems are ideal because they are military-encrypted, safe, and dependable. I do not know of any instance when a modem digital display from a reputable supplier has been hacked by an outside party.
Another great advantage of a modem display is that the user can program their sign from any point in the world if they have the system communications software on their device (or in the cloud) and an internet connection. Access can be password and user protected by the client for peace of mind and to allow multiple individuals to program the display as needed.
When you have narrowed down your potential proposal by a demonstration, a traffic study for CPM and ROI, and a determination of the best resolution option, another great tool is available from your supplier.
Their art department can pull images from the customer's website or the internet to create a custom movie file that shows potential animations and content on your proposed LED display rendering. You can show this to your prospect on your laptop and/or email the file for distribution to the decision makers.
This is invaluable in showcasing the attention-grabbing graphics and effects that their future display will provide prior to fabrication. It often helps you solidify the sale because it creates mental ownership by the customer through visual representation. They can see the display in action.
Images are the strength of pictures over words
To complete the sales process, the national display providers can offer financing and/or third-party leasing options. Leasing is an ideal way for a client to buy an electronic message sign. It depends on the lease company, but usually a first and last payment is due at the onset after a cursory credit check and approval, and you are paid for either 50% or the entire job upfront.
Soft fees, like permits, installation, primary electrical, and even maintenance can be rolled into a lease. Often, a bank will require a 20-25% downpayment if extending credit for a loan, so a lease provides a lower out-of-pocket option. Typically, a lease can be expensed on the company's financials and is not part of the balance sheet like a loan from a bank would be. Lease terms can vary, but on average, they are five years with a one-dollar buyout at the end.
These suppliers can also offer a lot more than a display. Today's LED systems can be remotely accessed via the supplier for diagnostic and software/firmware updates. These vendors make a commitment to respond to service inquiries quickly (most use a timed-response goal system) and most calls from end-user clients can be resolved without sending out a service technician.
When you purchase a system, you gain access to a community of support. Training is available for your customers via the web to learn about content creation and sign operation. The software that drives the display system is user-friendly and contains hundreds of stills, images, animations, and holiday graphics for the user.
The vendor (or outside third parties) can provide content management services if your customer does not want to do the primary programming. Why is this an advantage to your client? These suppliers and third-party companies that specialize in content are better equipped to create engaging, well-designed, eye-catching graphics than your local car dealer, veterinary clinic, or fast-food franchise.
Third-party content allows your customer's team to do what they do best and frees them up to handle their patrons and core business. These third-party content providers have very reasonable rates for creating standard and custom content. Consider offering one year of free content on a new eligible electronic display purchase. Customers will often renew after the first year.
Have you ever considered what it would be like to start your car and leave it running for the next five years? That's what an electronic digital display does; it works 24/7 without a day off. Most quality manufacturers have a five-year warranty on their sign systems. They continue to stock parts for sign systems up to seven or more years after the end of production of a model to ensure support is available for your customer many years after installation.
LED digital displays generate awareness within the community before services or products are needed. By providing one to your customer, you are helping them stay top-of-mind so their clients think of them first. Digital signs can amplify marketing channels, influence decisions, and enhance an image. And, unlike with social media or traditional advertising, people can't opt out or turn the channel.
LED signs seize 400% more glances than static signs
A lot of innovation in technology has occurred since I first started selling programmable displays in 1985. Energy consumption and heat production have declined drastically, and resolution and graphics capabilities are exponentially greater. Maintenance and durability have increased while pricing per square foot with these collective advantages has decreased.
One thing, however, has remained constant. I have never had a customer ever utter the phrase, "I wish I had gotten a smaller electronic sign with worse resolution." Their future replacement sign will always be bigger and have better resolution. They know the display will be one of their best sales tools and will make them money. LED displays work, and they will increase your customer retention, expand your client relationships, and help your business financially in the process.