Features
Lawson Screen & Digital Products Celebrates 70 Years
The company was founded in 1949, based around Gene Landesman's invention of a device for printing decals and labels. His grandson, Taylor Landesman, is vice president today.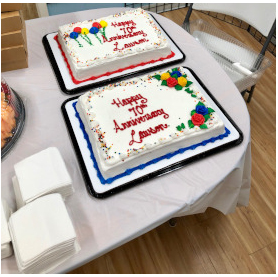 On May 10, Lawson Screen & Digital Products hosted an open house event at its headquarters in St. Louis, Missouri, to commemorate 70 years in the screen printing and apparel decorating industry.
The event offered attendees the chance to chat with representatives from Epson, S&S Activewear, American & Efird, and Action Illustrated, as well as receive hands-on demonstrations of equipment and software.
"Our open house was a great success, and we received so much positive feedback. It was wonderful getting to talk with so many different people," Taylor Landesman, vice president of Lawson, says.
Landesman notes that he was able to connect with attendees who knew his grandpa in the 1950s, as well as those who have trusted Lawson in getting their start in screen printing.
He adds, "Seeing the positive feedback to our new Express EX automatic screen printing press was very rewarding as it has been years in development. Also, so many people are now interested in DTG and hybrid printing that our Zeus Digital Squeegee-Jet was constantly running. Lawson is looking forward to another 70-plus years in the industry."